Posted on 25 Feb 01:06 am
A conversation between Norwegian Sprinter Ivar Njos and myself, before today's 5k.
Andrew: So Ivar, when was the last 5k you skated?
Ivar: Oh, about 4 years ago. It was very cold, slow outdoor ice. –23 Celsius, I skated an 8:45. How about you?
Andrew: Hmmm, 4 years ago as well, in Lake Placid, during a screaming blizzard, I did a 9:05.
Ivar: Well, at least we both will set PB's today!
Sprinters can have a complicated relationship with distance races. The feeling falls somewhere between fear, respect, proving your man/womanhood, and the fact that we need to do them every once in a while to improve our 1000m finish and to keep allarounders from calling us wimps.
Oddly enough, my 5k went VERY well, I skated flat 37's almost the whole way, felt in control, skated a 7:41 and was quite pleased I did not puke up the 20oz coffee I had before the start, (more from pre-race nerves than anything else). I only lost 2 places in the overall samalong, and ended up 5th.
Ivar was a bit faster in the beginning & slower at the end for his 5k, and he did a 7:43! They really made the ice cold & fast in Calgary for these races, just outstanding.
Here is Ivar, skating and finishing his 5k today.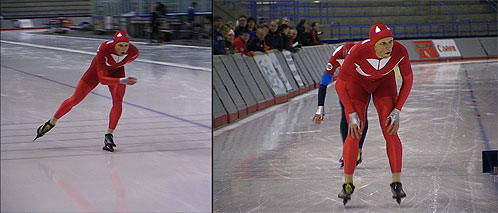 Connecticut-based Vinnie Gagliano decided to be Italian for this competition, and since he actually speaks the language, that is ok with me. Besides, the Italian team has skinsuits, warm-ups, jackets, and knows how to party.
However he needed to use some particularly American skills in his 3k today. Near the finish, he was supposed to cross over from the inner to the outer lane, and forgot until the last possible second.
He took a big sideways step, and did a crazy short track pivot around the cone and into the outer lane. All the European coaches & the Calgary judges thought it was a marvelous bit of skating.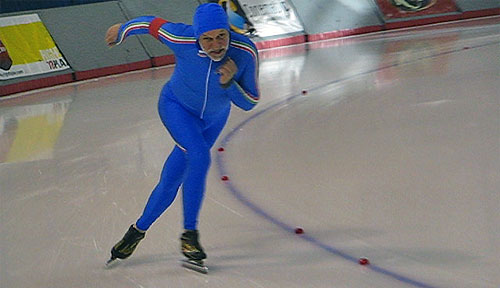 Stephen Gunther is one very smart fellow, after watching a Norwegian in one of the upper age groups skate a freaky fast 3k, he copied the smoothness & extension for his own race. Stephen is another example of how one can mainly train short track, and still skate well on the long track!
A Norwegian lady and a 1500m race, here is some serious focus.
The German fans were out in force, they were doing the wave every time a favorite skater wizzed by. I love the hats and the German flag colored 'leis.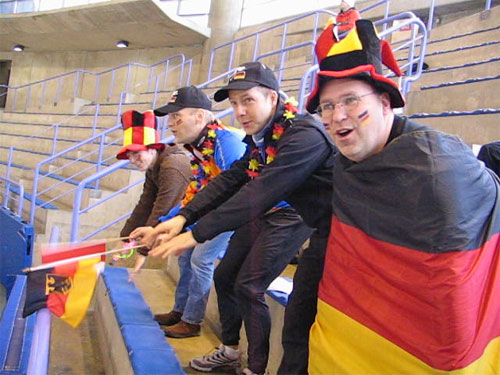 GO UKRAINE!! I tried to come up with a good metaphor to describe the color combinations & patterns of this skinsuit, the best I could do was the Ocean meets the Volcano scene from Disney's Fantasia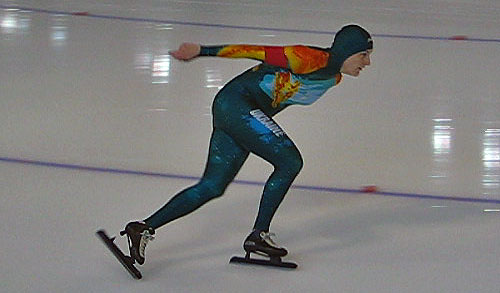 Ready! Set! Go!! Kaari Cox and a very fast Dutch skater start a 1500. She effectively applied the "Skate-to-die" approach to the 1500, skate freaky fast for 700m, and then just suffer to the finish.
Steve Desotell had a wild see-saw battle with a Dutch skater in his 5k. It came down to a shoulder-to-shoulder struggle over the last 100m.
If you have ever watched Steve race packstyle, he always seems to find a crafty way to win if he makes it to the final 100m near the front. However this win was just pure willpower & a lifetime of laps in the legs.
Here he is racing, and then giving his daughter/laptime provider a smooch afterwards as his friends applaud from the stands.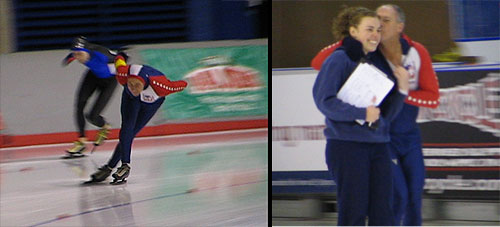 Speedskating is truly one of he best examples of a multi-generational sport I can think of!
Filed under: RACE DAY, on the road