Posted on 26 Feb 05:57 pm
I am 72, I have only been speedskating 6 years, here is my secret; I train with 14-15-16 year olds. They keep me young.

-Arne Kjell Foldvik
I met the magnetic Arne in Hamar last year, He had quite a fight on his hands in Calgary, but he won his third consecutive championship in the men's 70-74 category.
Here he is, charging down the finish of a 3k he won by only .1 of a second, celebrating afterwards, and on the podium with Russian Ramir Kuramshin & Nederland skater Ludwig Meijering during the MASSIVE party & awards ceremony later that evening.
semi-complete results from the world masters championships are available in 2 places right now, an easily browsable over view is at DESG Weltmeisterschaft Master 2007
and there are .pdfs of individual race results at the Calgary Oval website.
back to the racing:
Here are 2 of the good men who make Masters speedskating happen, both in their own countries and as representatives to the IMSSC, Sven-Åge Svensson of Norway and Bram de Vries of the Netherlands. This is Bram's 8th trip to Master's worlds, Sven-Age's 7th!!!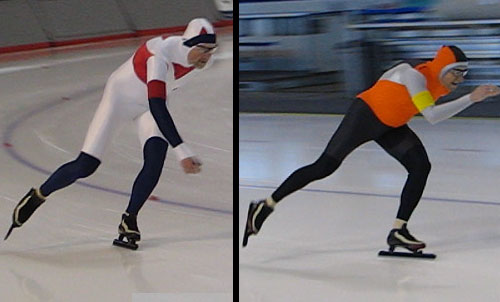 Silvia Tassara, the vibrant, energetic sparkplug of the Italian team. As my wife Jessica says in a comment she left on the day 1 results: Un gran shout-out a tutti miei amici Italiani li in Calgary. Ale ale ale, dai dai dai! Forza!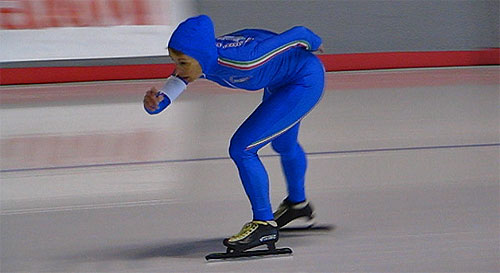 Sometimes that boundary line between pain & joy merges into a delicious elixir that once you have tasted it, can become a driving force in your life. Here are two Dutch women, holding each other up after scary fast 1500's, looking at the scoreboard, and accepting cheers from the crowd.
Both Kathie Zapaticki and Karri Cox came to masters worlds with the goal of qualifying for the final distance (only half of each group gets to skate the longest race). Both succeeded, and pulled off fantastic 3k's. They are in different age groups, and both of them had a moment of seeing their name at the top of the strong leader board as the final 4 skaters went to the start.
American Mary Lou Nicola & Latvian Lasma Kumiste on the track, and on the awards stand after.
Lasma requested the microphone, and here is what she had to say (she makes a joke here about her spinning-sliding 500m finish line crash):

Thanks you very much, all of you, because I am at first time in Canada, and at first time on this fast ice, I think it's one of the fastest ice rinks in the world.

And I am very happy that I was first to find a new sport event! it is in 500 meters; 450 meters skating and 50 meters swimming!!! I thought that it will be a new world record in my age group! Skating and swimming!

And I would like to say lot of good words to the referees, to the organizing committee, to the Zamboni drivers, all the volunteers!!

And I am most happy that we are together again, its once of the year only, and I know and I think that it's not so important for us to win and to receive medals, but for me it is now, it's more important that I have some good society with all of you.
THE PARTY AFTERWARDS WAS HUGE!!!! At least 400+ people. I have discovered a new pleasure in life, drinking with Italians!!! Here I am, holding my 4th glass of cheap wine, with one of the central organizers of the Masters Speed Skating Italia, good guy Paolo Gemme. Instead of traditional medals, they gave participants bolo ties with the arty race logo, I am wearing mine here.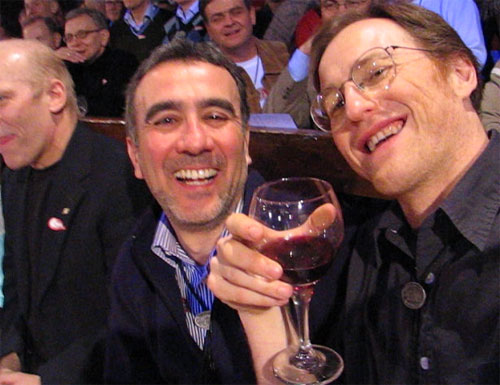 After sweeping their age group, these 3 Dutch ladies showed up on the awards stand wearing new cowboy hats!! I think the pink one is quite wonderful in it's own warped way.
Winners of the super-intense men's 40-44 category
Candian Benoît Lamarche, stands between two dutch skaters, Jan Duif & Rene van Hofslot. All 3 wearing their medals/bolo ties.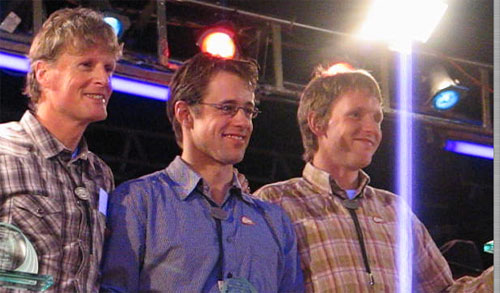 The men's 45-49 category:
Norwegian Jon Arthur Olafsen is flanked by Canadian Pat Kelly and Norwegian, Morten Henriksen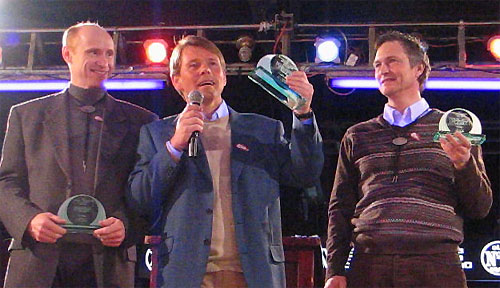 The collected champions, from all over the world, click on the image for a larger version.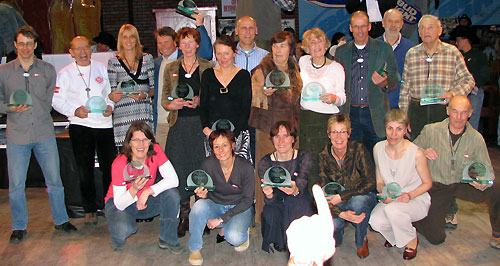 The head of the IMSSC, and a man without whom this event would certainly not exist, is Dr. Volker Serini of Germany, he donned a Cowboy hat for his final closing remarks.
Many Americans visiting Europe want to experience the things we don't have here; Things like medieval castles, roman aqueducts, sexually un-stuffy societies, etc, etc..
When the Euros come here, they want to do the "western thing". I can now die happy, I have seen hundreds of older Europeans cowboy line dancing! This talented bunch of athletes was really good at it too!
There are legendary stories about a party after the masters world championships several years ago in Baselga di Pinè, involving Russians with accordions, vodka, and a bar in the middle of a frozen lake. I think this party will remain on many people's minds for a long time.
Who knows what my own future will bring, but I would love to race this event again, because of the people & vibe, even if that means I have to skate another 3k & 5k…
Filed under: RACE DAY, on the road