Posted on 05 Mar 12:15 pm
Kathie Zapotocki's husband Tim Riley gave me a DVD with 1,712 images on it!
Wonderful Stuff! He gave me permission to re-publish them here.
High angle shot of a Canadian Woman, lots of wonderful technical things going on here; push direction, body/shoulders square, arm swing in control. Sweet!
Warmup-time was REALLY crowded.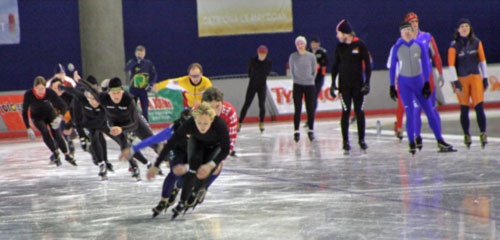 Romanian/American Octavian Moga riding the flat as he drives to the finish of a 500m. Octavian is a frequent commenter here, and I had the pleasure of meeting him in Lake Placid earlier this year.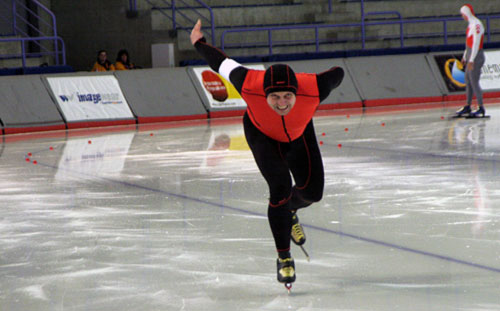 Swiss precision in all forms of timekeeping! Think of all the people, famous & unknown, whom this bell has rung for.
"You're travelling through another dimension, a dimension not only of sight and sound but of mind; a journey into a wondrous land whose boundaries are that of imagination. That's the signpost up ahead - your next stop, the Twilight Zone!"
This was the opening to a wonderful & mind-bending 1950's TV series. It also describes skating a 1500m, although I'd replace the word "wondrous" with a different adjective.
Another example of 1500m twilight zone below, being entered by a Finnish skater and other Europeans.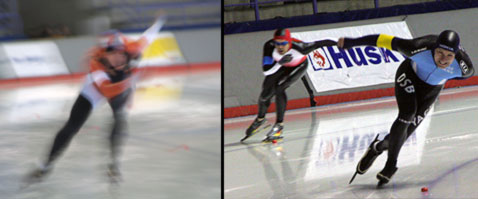 American Mary Lou Nicola racing her own shadow, a shadow also reflected on the ice in an effect I have never seen before.
More Personal Bests!!! The happy scene at the "Wall 'O Results". It was fun to be at a meet where everyone was slaughtering PB's by such huge margins. Almost everyone was in a good mood.
Norwegian Team Group picture, they have a very solid masters program. There is much we can learn from them in theory & practice on how to grow speedskating.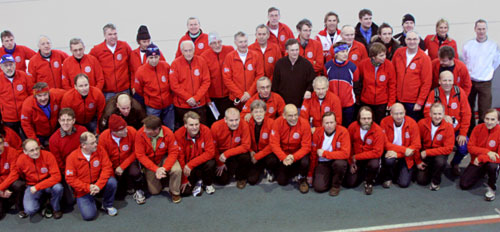 Canadian Robert Lawrence, in "real life" he is a firefighter. If you have ever seen him skate, he certainly lights fires on the ice. Here he is, passing another skater during a 1500m quad start.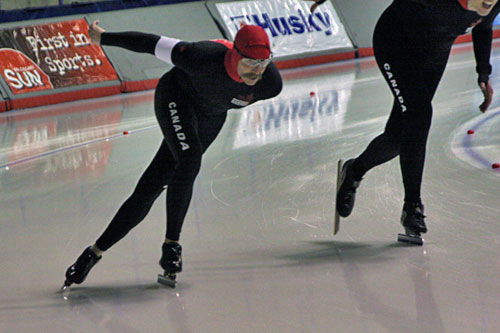 Another Candian, Larry Magloire. He has improved a LOT since I met him at the Pettit two years ago. Because of the unusual body position, this sport responds to hard work & devotion like few others. It's a warm feeling to see someone work hard, and reap the rewards with excellent racing. He really went for it in his 5k as well, this pain was from somewhere in the middle.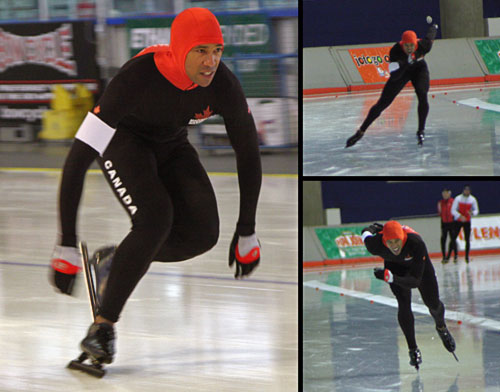 Yours truly, in the final corner of my 500m, and warming up for the 1500m with Brian Boudreau.
I like these shots because this is how skating "feels" (and my back is rounded/shoulders square in this turn shot! I've been working hard on that)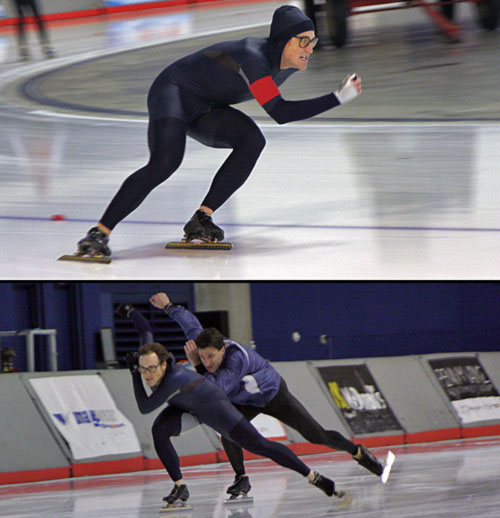 Again, Thanks Tim!!!
Filed under: from the coffee shop