Posted on 06 Mar 10:06 pm
Remember when the circus would arrive in town, and transform some sleepy field or parking lot into a whirring, buzzing, neon cacophony of elephants, clowns, cotton candy and one huge Ferris wheel soaring up into the night sky?
Well, This coming weekend is the world single distance championships, and the normally peaceful Utah Olympic Oval is suddenly overwhelmed with coaches, trainers, fans, and skaters milling about in multi-colored warm-ups and suits.
Construction crews are everywhere erecting bleachers, TV crews are settling in, buses rush back & forth from hotels, and there is the constant hum of voices.
It feels like the circus is in town, like something special, dangerous, & extraordinary is going to happen in this strange, white building.
Here are some images.
A Korean and Japanese coach watching a Chinese Skater.
The Dutch media finishing an interview with a Dutch Skater. Oddly enough, the fellow in the Germany Jacket is not a German, it's Gianni Romme, a multiple Olympic medalist for Holland, who now coaches German superstar Anni Friesinger.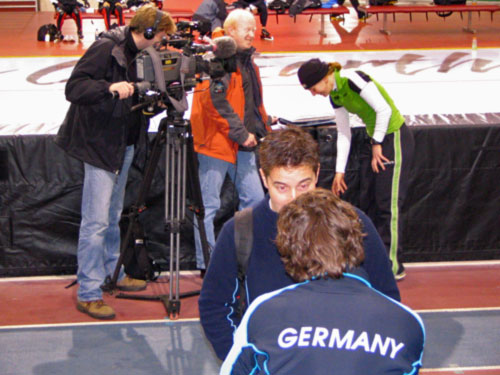 Japanese Skaters… WHOOOOSH!! You can get windburn standing on the side of the rink when 3 human beings come whipping past you at extreme velocities.

Chris Needham traveling at warp 9. He skated a Personal Best of 35.1 last week in Calgary, and is poised to join the elite membership of the 34-club. His hard work has paid off this year with some exceptional races, placing him firmly in the top 20 in the world. Check out this knee drive/pressure! yeah…
Even though he won't be able to hear me, I will be yelling for him every step he takes during this weekends racing.
2 trains worth of Canadians, one of women, one of men.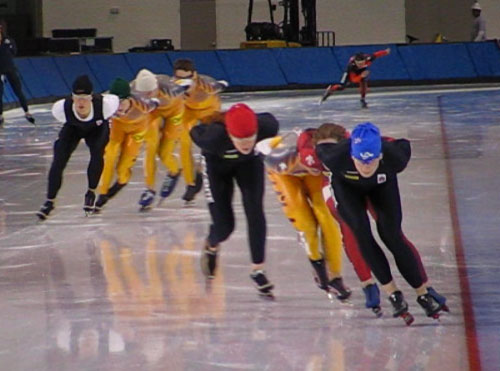 Why is it that so many European & Asian teams always are in perfectly matching suits/warm-ups-etc, and North Americans often display such a motley assortment of training garb & hats?
Filed under: from home