Posted on 06 Apr 03:10 pm
During Master's Worlds, a number of Europeans came up to me and said "and who is this Trevor Marsicano??!?!?!"
I did not understand why they were asking, but then I saw a printout of results from Junior World Champs, AND TREVOR HAD WON THE 3K!!!! AND SET THE INNSBRUCK JUNIOR TRACK RECORD!!
Trevor went on to finish 3rd in the overall samalong; here he is on the podium with Dutch skaters Sjoerd de Vries and Tim Roelofsen, (pic from pzc.nl).
Junior world championships are often an indicator of tomorrow's stars. Just looking at the list of who has placed highly in this event over the years, you can see some amazing names. It's also been 14 years since a USA junior man stood on the final podium.
After his accomplishment at Junior worlds , racing a 3k at the Pettit during the America's cup, Trevor broke Derek Parra's 3k track record, (Derek skated a 3:55, Trevor a 3:51).
This is running with some heady company! Do we all have ringside seats to the arrival of a new force in long track?
I know Trevor somewhat, as he skates in Saratoga Springs, and is an Alumnus of the snows of Lake Placid. So first of all, Trevor, welcome to the blog!
Thank you Andrew for giving me this opportunity. I've had an exciting year and it's great to have a chance to share my story.
1. This is your first time on the podium in a major international event, what was running through your mind as you stood there?
I was just like "WOW!" When they announced "from the United States of America" I was so proud to have the opportunity to represent our country. It was also a moment where I realized that my thousands of hours in a skating position and hard work had paid off.

I couldn't help but thank God for providing me with this opportunity to have this great experience and I was thinking of everyone that has helped me get to the podium.
2. Junior skaters face many challenges; For example; how do you balance being a student and trying to excel at the top level.
I worked really hard to finish high school my junior year. It was a goal I was able to achieve. This year it gave me a chance to see if I could take my skating to a higher level and think about what direction I want to head with my education. A summer goal of mine is to find a way to bridge the two together next year.
3. You competed in both the world junior short track champs, and the world junior long track meet. How different were those experiences?
As far as the competitions go, in long track, it's just you and the clock. You're trying to be the fastest time. Also you may have either 1 or 2 races and that's it. In short track it's you against the other skaters in your heat trying to advance through to the next heat or final. If you're successful you have many more races. If you advance to the next heat, you have very little time to get ready for your next race. You have just enough time to cool down, sharpen, warm-up and race again.
4. There are many Elite US skaters who mix long & short track, Shani Davis, Tucker Fredericks, Charles Levielle, etc etc.
It's a unique aspect of how American skaters approach the sport. How do you combine training for Short/long track? How does it help?
Well the off ice training is the same for each sport. Of course, the on ice training is very different. Whichever discipline my next competition is whether it be long track or short track, that's the one that I will train for on the ice. Each sport helps the other one in many different ways. I believe my short track history has made me strong in long track. For example, short track has made my long track corners very strong. Long track has helped improve my short track skills. For example, it helps with what little of a straight away there is. I could go on forever on how each sport helps me in the other.
5. Here is an image from the always excellent website OhnoZone: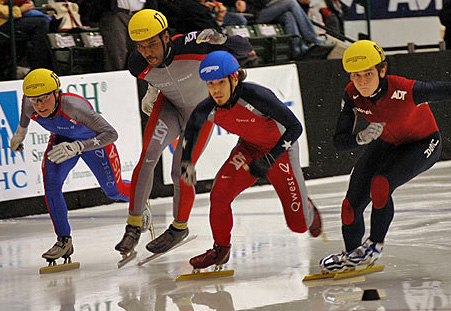 Those are some pretty phenomenal skaters that you are blasting off the line with! You are on the left, then we have Shani Davis, Apollo Ohno, Misi Toth, whoa! Were you a little intimidated going to the start line?
Yes I was (haha). I was scared to be honest. Once I got off the line it felt like a huge explosion from everyone bursting off the line. I was excited to be on the line with them but petrified all at the same time. It was a great learning experience!
6. It seems to me that in speedskating, an excellent season is often earned in the arduous training leading up to the season. In your pre-season, can you give an example of a super hard training day that helped you earn these fantastic results?
I would wake up and go to the weight room and lift super heavy for 2 hours. Then I would come home, get something to eat, go to work for the afternoon.

Then I would have a 3hour dryland workout filled with dryskating, jumps, turnband and other various exercises with a weight vest on my back for the entire workout.
7. Speedskating can be a physically, technically and emotionally brutal sport, what do you find really hard & have to work on all the time?
Making the best with what you have to work with (i.e. a bad race, lack of ice time, and/or sickness) and no "excuses". You have to decide in your mind that you are going to overcome every obstacle in your way and still achieve success.

I feel like that is what I am constantly working on. Not just in skating but in life also. You have to keep forging ahead despite the adversities you have to face.
8. Tell us something about yourself or your life that those of us who meet you through skating might never suspect:
I had a difficult middle school experience. I was a good kid, had good grades, and never got in trouble. I was quiet and shy (quiet people can be misunderstood).

It made me a target for kids who gained power from tormenting kids like me. Once day after standing up for a student I was assaulted. The administration did not handle the situation well and one tormenter turned into fourteen by the end of the year. As a result of the despair, humiliation, and loneliness I began to suffer with depression.

While I still battle from time to time I am proud to say I have learned how to manage it so it doesn't control me, my life, and who I can be anymore.
9. What is one thing you would encourage young skaters like yourself to do?
One thing my parents have always encouraged my sister and I to do is to volunteer and show respect to the people who have made a difference our lives. You never know when you will have the chance to make an impact on someone, kind of like a ripple effect.

When I was in third grade, Pat Maxwell came into my class and talked about the Olympics and speedskating. A few years after that, I needed a change from hockey and something to help me through my difficult middle school years. So I remembered Pat coming into my third grade class and thought I would give speedskating a try and here I am now!
10. Even though it was your legs & lungs & soul that skate, no one truly steps to the starting line alone. Who are the people who you would like to thank, who have been such a part of your results this year?
God and Jesus have guided and carried me through all the good and bad times (I am strong in my faith and proud to admit it), a super supportive family, awesome coach, great friends and fans.

I would like to give a shout out to my sister Sam (the best sis ever, pictured here), my parents, Liz and Paul Marchese, Mark Boudreau, Pastor Buddy Cremeans and Northway Church
Zen Haiku speed round
1. Favorite post-workout recovery food
Apples
2. Current long & short track skates/blades setup.
Long track - Marchese's & Maples.
Short track - Marchese's & Maple Golds.
3. Do you miss hockey?
I miss the sport of Hockey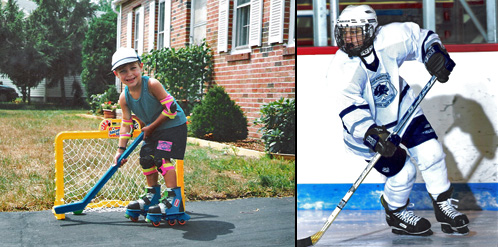 4. You brought the crowd to its feet in Saratoga Springs short track race, Lapping the pack twice in the 3k. Good memories?
I could feel the energy in the rink. That was inspiring to have that kind of support which fueled me on.
5. Do you have a myspace account? it seems as if the majority of your generation does.
Yes I do - www.myspace.com/trevo2000
6. 3 songs that get you fired up.
Believe by Suzie McNeil, Rebirthing by Skillet, and Whispers in the Dark by Skillet
7. Apollo Ohno talked about his 500m gold medal as "the perfect race". What is the closest to "the perfect race" you have ever skated?
Probably my 3000m in Innsbruck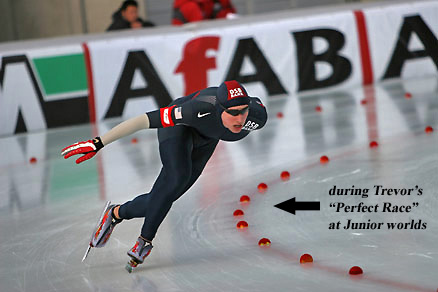 Here is trevor's 3k on YouTube (I am not sure who shot this, but I assume you would grant Trevor copyright?)
8. So you have a special thing for the 3k, in both short and long track. Why? Genetics? Hard work? Willpower?
It is a very character building race for me.
9. What movie could you watch over and over?
Facing The Giants
10. Magazine or book under/next to your bed right now?
Bible
11. How many times did you fly to races this year? And what do you never leave home without?
At least 12 times and I always take my skates (haha) and my bible.
12. Do you have a pre-race superstition?
A quick prayer is always a must.
Thanks Trevor for your answers!
I end this particular Zen 10 with a funny thing about one of the first times I crossed paths with Trevor.
I always talk about the fact that Metric speedskating is ultimately you vs. yourself. In 2004 I skated the Charles Jewtraw allaround in Lake Placid, and I made up some "awards" for the skaters who improved their personal bests by the widest margin at the meet.
I made the awards out of some worn inline wheels, wheels from the first pair of speedskates I ever owned. I picked worn wheels to recognize all the hard work that goes into going faster than you have ever gone before.
In one of his first long track meets ever, Trevor won one of these; as we were corresponding & creating this interview, he sent me a photo of himself with this award!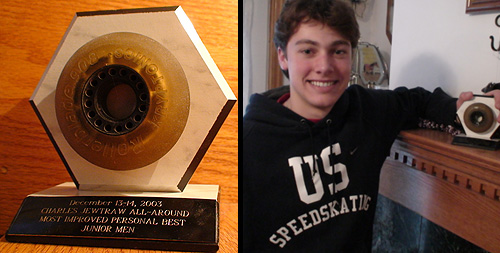 Seeing this made my day. Keep on keeping on Trevor!
Filed under: Zen 10 Questions: