Posted on 18 Apr 10:36 am
Two friends of mine who I have written about here, Liam Ortega and John Loquai, have recently been in the media.
Here is the article on Liam in the Fairbanks Daily News
And this is the article on John in the Evangelical Covenant Church website
It's worth noting in these interviews that both of them talk about what they need to do, more than what they already do well (and these two rockstars do MANY things very well).
Liam & John talk about focus, preparation, analysis & attitude. There are plenty of talented people on the ice, but this sport can crush your heart in some very unfunny ways, so these attributes become as important as sharp skates.
As athletes we spend so much time on equipment, & sharpening our skates, how much time do we worry about sharpening our attitude & work ethic?
The better you get, the more central it becomes. Liam once kept a food journal for a year, and noted how what he ate affected recovering from workouts. How much faster is he because he understands this about himself? It's an example I have always told myself I should follow.
These two were connected in that Liam missed the world cup team last year by a tiny amount of time in the 5,000m, less than .3 separated him from John in the standings.
John was thrilled to make his first team, and learned a lot racing the world cup circuit. I interviewed John in November when he got back, but the death of my old laptop ate most of the video I shot.
One thing John talks about in the article linked about is how speedskaters, even national team skaters like him, have to struggle financially to survive. It's a reality of many sports that demand total dedication, especially the small ones, and is a topic worth a wheelbarrow of blog posts on its own.
But John did get a job working at the Utah oval, and he now drives the Zamboni! I love this picture of him, and I'll be cheering for both of these good guys this upcoming season.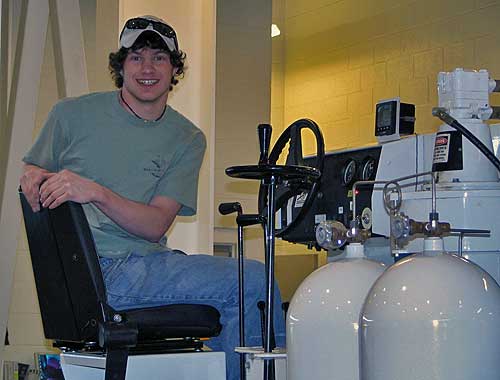 Filed under: from home