Posted on 04 Jun 01:08 pm
There are many theories about training, and many ways, in practice, of applying them.
Theory: Train your weakness, race your strengths-
Practice: If you are not a climber, do hilly bike rides with excellent riders who can rip your legs off at will, my heart was raging in the low 190's as I shot this, Keith was at 160.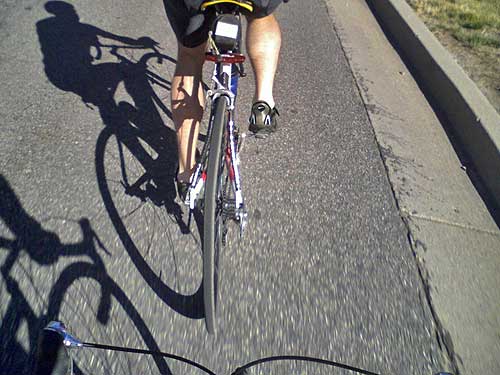 Theory: watching the scenery makes climbing feel less painful
Practice: it kind of works… briefly… maybe that's how racers make it through the Tour & the Giro.
Theory: A brick falls faster than a kite-
Practice: on the downhills, Keith, it's your turn to chase! ; )
Theory: Make sure your equipment matches the requirements of the activity
Practice: I'm wearing one of my father's Jerseys that's probably 30 years old, oozes 70's vibe, and is made from magical fibers called "wool" shorn from a mythical creature known as a "sheep".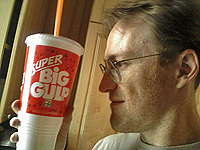 Theory: Bad, tasty habits are the hardest ones to break.
Practice: My brother bought me daily diet cokes when I was in Texas, now I drink them all the time, damm!!
Listen carefully, & you can hear my brother & John Dimon laughing at/with me, as they welcome me to this foul addiction. I suppose there are worse things to be eating. I do drink the splenda version, not the evil aspartame that is present in most diet sodas.
Theory: When feeling down, watch videos of old races to get psyched up for training hard again.
Practice: YouTube.
Someday the current crop of elite skaters will be retired, & what has been done on pavement & ice will be gone. But video on the internet is forever!
There is so much on Youtube that is amazing, just a search for names like Sven Kramer & it brings up all sorts of beautiful skating!
However, for some reason, my mind is still on the bike:
I had read many accounts about the finish of the 1989 world championships, where Laurent Fingion and Greg Lemond went at it in a horrific rainstorm.
And this morning, I happened across it on YouTube. WOW! This is some of the most exciting, freakishly ballsy crazy road racing I have ever seen. They had already raced over 100 miles by the time this video starts.
Fingion & other riders are desperately trying to get away from Lemond's well known finishing speed, Lemond chases down everything, & then the pack is joined at the very end by an exhausted Sean Kelly, who was the best road sprinter of that generation. Insane racing.
Greg Lemond once said: "it doesn't get any easier, you just get faster". This finish meant something special to him, as a photo of him coming across this line first is the top right photo on Greg's own website.
Filed under: from the coffee shop