Posted on 11 Jun 11:46 am
I always endeavor to bring people the "inside story" of skating culture whenever I can.
Does this include x-rays?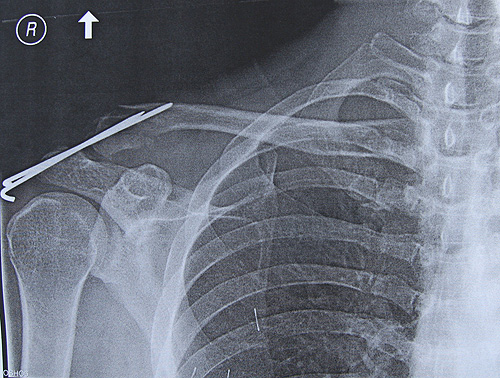 Jim's Cornell's collarbone is healing nicely. I wonder if he sets off the metal detectors at an airport?
The thing that fascinates me about this high definition x-ray, is that you can actually see the tissues & pathways of his lungs under his ribcage.
This picture feels like looking under the hood of a very powerful car, while the motor is running!
In my early 20's, I experienced some heart trouble, and got to watch an ultrasound of my own heart doing its indefatigable, relentless, lifelong stroll.
I could feel it thumping as I watched it pound along. Then the doctor touched their keyboard, and inflowing blood pulsed red, outflowing blood pulsed blue. Incredible.
Why is it that only when we are "damaged" that we get to look "under the hood"?
If it was easier to see "the motor running" of our internal selves, maybe we, societally speaking, would treat ourselves better….
(note: I'm certainly not talking about bad luck sporting injuries like Jim's!)
Filed under: from the coffee shop