Posted on 13 Jun 10:10 am
Even though you "are what you eat" to a great extent, I don't recommend chowing down on inline bearings for breakfast.
What would you call that? Bearing-O's? ABEC-5 crunch? Ultimate Fibre?
Actually, there is a reason I am boiling my bearings.
In 2000, I raced the Casino-Niagara inline marathon during a biblical rainstorm. While skating 26 miles through occasionally ankle deep water, the bearings I had used for 5 years of racing caked up with goo, crud, mud, slop.
It was so bad that after the race, the wheels were impossible to turn with hands.
I dismantled my wheels, & put the bearings in a Gatorade bottle & filled it with water. When I got home that night, I replaced the water with solvent & let them sit for a week.
Still no go, they were cruddy, crusty, & barely turning.
Most normal people would have thrown them away, but because I've inherited the pack-rat gene (it's genetic, along with the ability to wrap Christmas presents), I've never tossed these rusty-goobered-mementoes into the trash.
Yesterday as I told this story, my friend Kim Kraan recommended:
"Just boil the crap out of them, I mean really crazy boil, so the bearings are just hopping along. Then dry them out in an oven. You would be surprised at what you can save."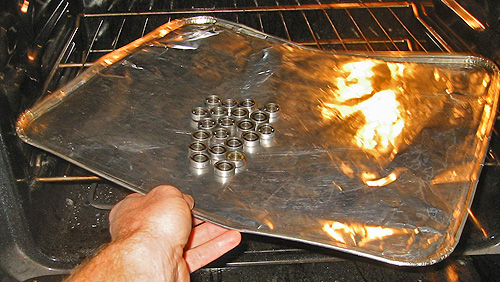 My gosh, IT WORKED!!!
Now they are not "race fast" anymore, but they turn very nicely, and after a few training sessions, I think will be respectably fast.
So here is the first recipe I have ever published in this blog-
Take one pile of abused bearings & remove bearing shields if you can
Scrub rust off with citri-solv & a stiff toothbrush if you are motivated (I wasn't)
Add bearings to a pot of ferociously boiling water while preheating stove to between 300 & 400 degrees F
Stir bearings frequently, noting the nasty color the water gets
After 15+ minutes, remove from stove,
Run cold water into the pot, cooling the bearings, spin them under running water, removing more crap
smack bearings hard onto a paper towel, tapping out lots of water
Place bearings onto cookie sheet
Immediately bake until ALL water evaporates & remove from oven (it took 10 min)
Once bearings are cool enough to handle, replace bearing shields & relube
Skate!!
Final important step: Clean kitchen & grubby/greasy/sandy pot VERY WELL so your wife/housemates don't flip.
p.s. Kim & Eric are running 4 inline races in Salt Lake city this summer, more details & prize list here.
Filed under: from the coffee shop