Posted on 25 Jun 09:06 pm
Often serious athletes turn skating into a monastic, excruciating, solitary activity; just you & whirring of wheels or hiss of blade.
Maybe the only company being a workout plan, HR monitor, stopwatch, and the hum of heart, breathing & ambition (if you are lucky, you can find a group to suffer with)!
This is a kind of skating I honestly do enjoy; however—
Skating can also be a rolling goofball party on wheels with a bunch of buddies, with no real destination but company & exploring.
For example:

This was the crowd at a Salt Lake City Friday night skate last month. We skated all over town, with the final destination being a local bakery with excellent cookies!! My friends Kim & Eric are the architects of this.
This past Friday, I took my nice camera along, and got these images of urban fun.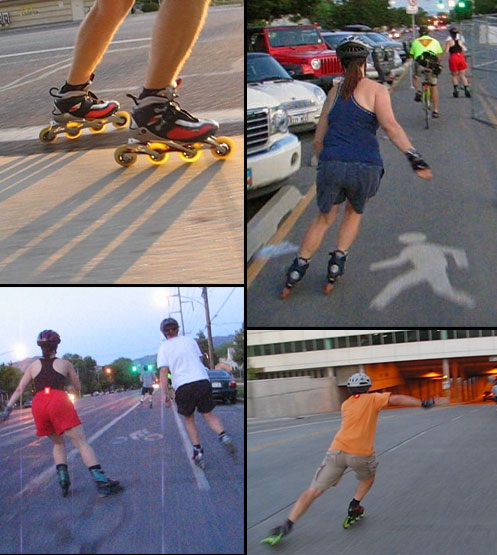 After a 100 degree day bakes Salt Lake, it's wonderful to wander in the cool breeze, gliding above bands of heat rising from sun-baked asphalt, chatting with folks from diverse backgrounds about everything & nothing.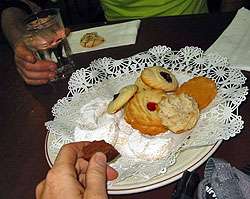 Oh yeah, the cookies at the end are wonderful too, (why have I published so many pictures of food recently?)
I talk about the "skate-tribe" every now and then; often I'm referring to the usually friendly/sometimes carnivorous tiny fishbowl of the ice racing world.
But if you open the definition slightly, and do a bit of internet-trekking, one sees an INCREDIBLE worldwide gathering of skaters for fun night inline skates.
This is when I see the international skate-tribe really in evidence.
For example:
Amsterdam
(they have "flying nurses" & blockers)
London (here is a good article about it)
The famous San Francisco Skate
Helsinki (due to the "midnight sun" they don't call it night skating).
St Petersburg (here is a report in English, warning, Beautiful Russian skaters!! This skate seems amazing)
5,000 People every Monday in Geneva, Switzerland!
(they even have a skate game, but you can play only in French & German, I couldn't figure it out).
here is an image they grant useage for, wow, that's amazing numbers of people.

my gosh, some German guy even put up the NIGHT SKATE SEARCH ENGINE!!
Do I sense a huge underground movement, a cross-cultural phenomenon? Something so media-reclusive, it thrives on the internet & in the smiles of the folks who do it?
Almost all of these websites very creative photos attached, of happy people skating through canyons of concrete & neon. Group hugs full of grins, Russians greeting the morning (they skate midnight to 5am) Japanese skating with light sabers in their hands, every kind of skate equipment & skater imaginable…
Makes me want to hop on a random plane with skates in my carry on, & find like minded (or is it wheeled?) souls.
Different languages, unique cultures, different cities, but all gliding along….
Filed under: from home