Posted on 16 Jul 12:17 pm
really, it's the Napa Valley Inline marathon, but Tim made a comment that I just keep laughing with every time I see it. This is quite the first person narrative, but in a marathon, it's hard to watch others.. I am posting from a sandwich shop in Winnemaca, Nevada
147+ skaters toe the start line, men & women, half marathon & full marathon.
A solid mass of humanity dissipating nervousness through catching up with old friends & affirming the full-spectrum plethora of reasons the skate tribe gathers at events like this. I cross paths with the "pocket rocket" Grant Foster for the first time in years, old friends from the skate tribe are enduring.
The air is quite cold, the sun casting slanting light onto the floor of the Napa valley.
Skaters warming up for the race do loops in the few patches of sun.
I have not done an inline race of this caliber & size for five years. I feel really good, but it's a good untested against anyone other than a handful of salt lake training partners.
The godfather of skating (at least in California), David Miles, calls us to the start.
147 people aswirl within themselves, from all over the USA!
NYC, Ohio, Florida, Texas, Arizona, Utah, Nevada, Alaska & even Shanghai, on their toes, ready to react.
GO!!
The massive pack swarms off the line, some crazy competitive like me, others just out to enjoy a sunny skate with friends on an outstanding course.
This races travels along a constantly rolling road, with occasional true hills tossed in. It's a straight out skate for 6.55 miles, then a 180 turn back to the start-finish. The half marathon finishes there, the full marathon turns around & does it again.
I've written about Mike Anderson before on this blog, he & I had a very intense duel last year at Masters Nationals. He's a nice guy, as well as being extremely strong, an "allskater" who understands the advantages of combining ice & inline in his training.
Immediately Mike hits the front along with 2 other skaters in full Bont team-getup. They get the party started in warp-speed style.
Quickly the pack thins to 20 who can skate the consistent 24+ mph speeds. I'm relaxed in about 5th place, & I can feel the jostling & swarming behind me.
In the second set of rolling hills, Andy Zak takes the lead and starts pulling hard in the power-packed ice centric style that shows his 10 years of 5k-10k world cup stud/long track ice national team (ice to inline!!) experience, one by one skaters are falling away.
Now there are 15…..
I actually have a moment of guilt, listening ot the sounds of painful, ragged breathing behind me, as I feel completely relaxed & fantastic, not hurting at all, & rolling fantastically well.
I briefly see my buddy Uel, as the pack surges along one side of the road, he is in new boots and his shins are locking up. He is a phenomenal skater, knows many of the California crowd, but today Uel does not look happy.
I take my turn pulling the pack hard through one of the few flats in the course. The sun is now truly shining into the valley, and we round a corner to a view of walls of fog curling away from low-lying areas. Does Napa valley fog taste of grapes?
Another "pocket rocket" Rob Motta Jr, in the blue team SAFE colors, takes several hard pulls through another set of rolling hills. The pack is down to 8, a skater in an Ohio jersey steps in front of me, then Knut Skarpass in his wrist-to-ankle glittery suit & an aero-fishtail helmet. I pass them both on a hill. I'm breathing steady-hard now, but still feeling fantastic.
We hit the turnaround, 6.55 miles in, someone hollers that we do it in 17-something, given the hills, that's freaky fast. After the turnaround, and now going back up the course, I see scatted packs & individuals & flashes of faces from the Salt Lake city crowd.. Uel has been dropped, having suffered complete shin-lock, Eric Lineback is leading a big group with his game face on. Brittany Heise & Uel Jr. are both looking strong on their way to winning their categories in the half-marathon.
After the turnaround, Mike puts some pressure on. Opens up a gap on our group with Andy Zack in tow. I holler "watch for the Bont block, lets organize the chase."
Ohio-jersey takes a pull, but the gap does not close, then Grant Foster stomps up a hill & bridges up to Mike and Andy. Crap, that's the move!
Now it's 5 chasing 3 in front. They have a 50 meter gap.
But there is a moment, when the 3 in front are on a flat, and I see them stand up & look at each other for briefly & slow the effort. I go to the front, accelerate as hard as I can and close the gap in a minute or two of hard work.
3 more are dropped by these attacks. Now there are 5 of us left in front, The speed feels great but this hurts now. I focus on technique & efficiency, consciously trying to relax the gnawing pain in my lower back. Gotta love marathons.
The 5 of us settle in and work effectively together. No one skips any turns pulling, and I happen to lead the group through the halfway turnaround to the cheers of volunteers at what will become the finish line 13 miles from now.
The five of us are working smoothly & strongly, the speed is still quite high. We are all working hard, but Mike looks awfully relaxed, & I can sense him patiently gathering energy.
Somehow, the head of a race always "feels" different after the defining selection has been made, it's a focused & nervous energy. Concentration & power, & you can feel the energy coming from the scattered spectators "oooh, here comes the leaders". Often it's a lot quieter in the front than in chase packs, more focus, less chatter.
Is this what a tour de France breakaway feels like? Probably not even close, but it's the closest I will ever know. A wordless ethic of shared suffering & effort. We are all driving hard with no break in the skating position. If I can make it to the final kilometer in this quintet, I've surely got the strongest sprint.
But the finish is still a long, long way away, and Grant & Mike know my fast-twitch nature.
I take a long pull up a hill & notice a van in front of us with its back open, cheering people with video cameras taping. Cops manning intersections smile & wave. The bear has now climbed onto my back with teeth & claws out; I'm breathing hard & can start to feel the first cracks in power, push & technique.
We are eating up the miles at a steady clip. I don't know if we are being chased by any large groups, I've never looked back, everything is focused on driving up the road.
The asphalt is mostly excellent, but there are a few cracks & rough patches, lighter skaters like Grant, Andy & Rob get bounced around in stuff Mike and I just are bulling through.
We hit the turnaround for the final time, 19.65 miles into the marathon, 6.55 to go. Mike decides NOW!!!. With Grant following he goes to the front on a false flat and starts ripping.
His wheels make a huge whooshing sound as his long legs crank out his maximum sustained power. He's not a sprinter, this is his gift, this is what he works so hard to be able to do.
Faster, faster, faster,
I don't know how long this goes on, my memory is like crinkled video-tape broken from race-inflicted brain damage. The world narrows to Grant's flashing ankles in front of me as tunnel vision sets in (Mike told me later, he kept glancing back between his legs and thinking "Crap, they're still there!").
I'm burning like a meteorite cracking to pieces, no quarter asked for, none given,
On a small rise Grant inches away, then he is 10 feet ahead. I look back and don't see anyone behind us, it's down to 3.
A thought occurs to me "I'm a sprinter, I don't belong here" that mental lapse precedes my physical collapse by an instant & I am finally broken, smooth technique becoming clomping skates, Grant and Mike Motor away.
I try to compose myself, can I turn staggering back into skating?
Andy Zak catches up to me. We both have fundamentally ice-brewed, low tempo, power & glide ice technique, one-arm swing up the hills & hip fall into each stroke. But he is still skating well and I'm in a world of hurt.
I try to share the work, but he is stronger, I cling into his draft for a mile, maybe 2, hoping to recover, I try to take a pull, do my share, but have nothing (Andy said later that just by listening to my breathing rate, he could tell I was a mess).
Small rises I popped effortlessly over earlier seem like vertical walls I'm dragging myself over with my fingernails. After repeated fingernail drags, I have no fingernails left, a nice full-body terminal burn sets in.
And even on the flat I can't hold onto Andy's draft. He motors away in pursuit.
Far up ahead I see Mike on his own, climbing a hill with unstoppable tempo, Grant foster is sitting up, he's looking back at the Zak train catching him.
I'm in 4th on the road, Rob Motta in his team S.A.F.E. blue must be chasing me back there somewhere, plus I know that in marathons like this, there are usually big packs eating up the miles through sheer weight of numbers.
From never looking back during the first 22 miles, now I'm glancing over my shoulder every minute.
The final 4 miles are some of the hardest I have ever skated. I try recovering then increasing the speed, sitting low, sitting high, high tempo, low tempo, nothing works. I know every trick in the book, but sometimes the book is no help..
By now I am passing some of the slower rec skaters finishing the half-marathon. On a downhill, I zip past a zaftig woman in bright clothing, uncertain on her rec skates. I yell "You go girl!" and she answers with the biggest yodel-howl of joy I have heard in a long time.
Fun, this is fun!
Miraculously I struggle through the final miles with no one catching me. Racing is sometimes a game of small percentages, and whatever I had that let me cling onto Andy for that brief mile pulled me clear of Rob & whatever groups were chasing.
Sweat has poured from my helmet into my sunglasses, the world is a soupy blur, the morning chill has turned into an insistent heat.
I've rarely ever been so grateful for a finish line. Here is a link to the results.
*********
An hour later, at a wine tasting across the road from the finish line, another skater asks me "Hey, what hurts worse? Ice or inline?"
Although there is nothing quite like the pure lactic brutality of a long track 1500m when you really go for it, all skating, when you are determined enough to crack through the limits of what you can do, asks you hard questions about yourself.
When you find that answer that has no words, just that internal knowledge of perseverance, it's satisfying. All skating is as hard as you & the racecourse make it.
(and yes, wine tastes better after 26+ miles)
*********
At the awards ceremony, I did not expect to be on the podium, as I finished in 4th place, but Mike had registered himself in the master's category, so even though he was the overall winner. He was not on the Pro-elite podium. It just seemed wrong that he was not up there with Andy, Grant, & Myself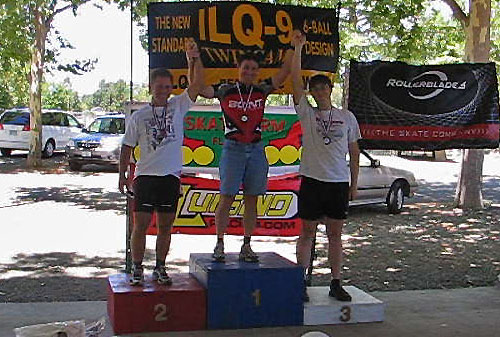 So as piles of people gathered around with cameras to take pictures of the top-3 pro-elite, the three of us called out to him in unison, saying "hey, come on Mike, get up here!".
Stuff like this is one of the reasons I love this sport.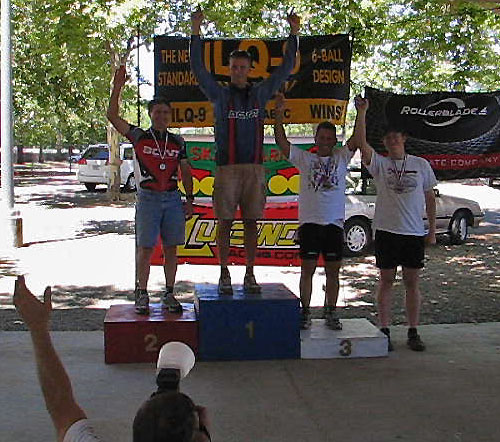 ***************
California note:
Every state in the USA has its own character, and part of California's is the folks who live & skate there.
There is a fellow who is famous for skating inline events backwards! I saw him, or at least his wiggling butt, out on the course, and I got to meet a guy who skated the whole race on his one wheel skates!
They actually work, he keeps two feet on the ground, and snakes his way along. I asked him how well they work, he said "slow, and check out my website, one wheel skate"
I looked & could not find it.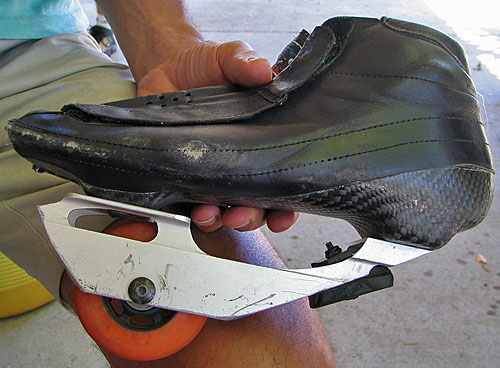 It takes all kinds, and California seems to have many of them.
Filed under: on the road