Posted on 19 Jul 12:10 pm
These images are courtesy of Darlene Prois, thanks!
for larger versions (I did a bit of cropping), click on the images for full size originals.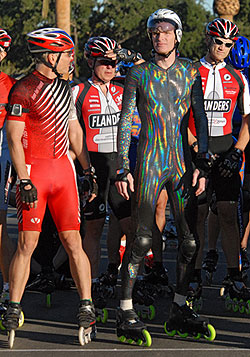 As my body slowly recovers from the damage of a marathon, it's wonderfully strange to look at the difference between memory & the objective proof of a photo.
Here is one thing my memory still can't quite wrap around, Knut in his crazy skinsuit & areo fishtail helmet.
It's worth saying that the skinsuit did not really look like this, as he moved the light was reflected in a constantly changing pattern from it… It was kind of like multi-colored trippy disco-ball. I was behind him during the race for a few moments, it was quite dazzling.
Here was the start; clearly visible is my open-mouthed "holy crap!!" reaction to racing in a big pack again! The eventual winner, Mike, is on the far right, with a very ice looking long track complete extension to his push.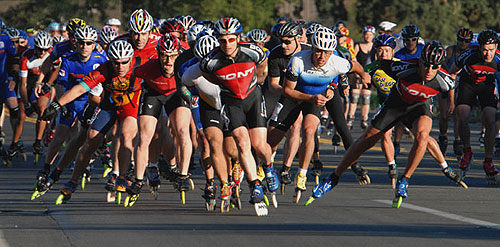 A good view of the course, it rolled & rolled.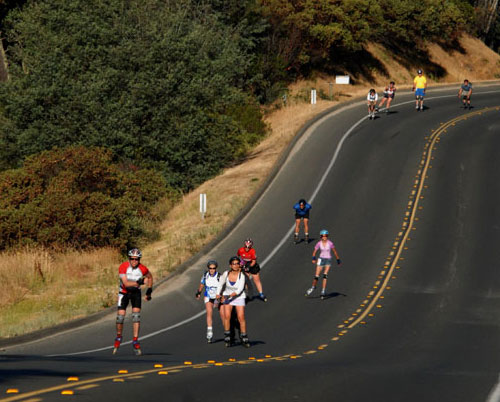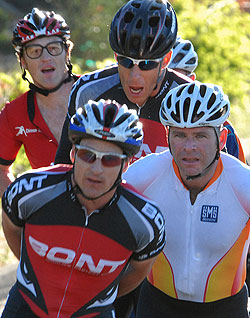 The breakaway of 5, working hard.
Grant Foster in Front, Followed by Andy Zak, Mike Anderson, Myself, & Rob Motta hidden behind us.
As I am fond of quoting
"it never gets any easier, you just go faster"
-Greg Lemond
I think the expression on Mike's face proves this. Remember, when I say he was the "strongest" in the race, that doesn't mean he did not work incredibly hard while applying this strength.
Here I am leading the breakaway on the hill, I actually wrote about this moment, as I looked up while skating & noticed photgraphers in an open backed minivan.
We must be near the top as I am double pushing. You can actually clearly see that I am "pulling" the legs together like scissors, helping add oomph to the underpush.
Gosh, I am so friggin pale compared to the other guys! At the back of the group is Rob Motta in the blue, he did a ton of leading this day, and it's only odd chance that the published photos show him in the back!
In marathons, groups of similar ability skaters tend to gather & skate together. Here is a bunch of rec skaters on a nasty hill a mile or two from the finish. You really don't need expensive equipment & flawless technique to skate a marathon, it's a very open sport.
I want to end this with a thought to accomplished inliners. If you wonder about who the largest sponsor of big marathons is, it's folks like this.
The vast majority of attendees at marathons are rec skaters. Their own personal battles & reasons they skate, turned into race entry fees, make these events financially possible. Without them, there would be no outdoor racing worth spit.
Many advanced skaters understand this, but some don't.
So when you are speaking to an intermediate/rec skater, answer every question about training or equipment, be encouraging, be kind, keep that sparkle in your eye and the memory of all the folks who have helped you in your thoughts, because honestly, you are speaking to one of your sponsors.
The sport will be stronger for it.
Filed under: from the coffee shop