Posted on 20 Jul 12:36 pm
It's a beautiful summer evening for….
a minor league baseball game!! a couple of skate-tribe friends casually mentioned they might go. So Jess and I rode our bikes to this absolute jewel of a park, to watch the AAA Salt Lake Bees.
I think there might be no sport more different from long track ice than baseball-
Lets think of some attributes-
winter, ice, solo, electronically timed, steel bladed shoes, brutal effort, you travel fast, coaches yell clear words & numbers
vs.
summer, grass, team, no time limit, leather gloved hands, pastoral contemplation, you throw things fast, coaches use mysterious silent hand signals.
We go to the ticket counter, and ask for seats in the shade, $16 later, we get our randomly assigned seats, wander up to the stands and sit down next to
ALL SORTS OF SPEEDSKATERS!
Bottom row: short trackers Cherise Wilkins & Sonia Milan, then LT-er Ron Macky.
Top row: Jessica, Matt Hotchkiss, John Loquai, & Nate Defranco & his girlfriend

It was nice Chatting with Cherise, we know many people in common from the Rochester skate tribe & even though we had never actually met, we had been to each other's websites.
Skating is a very small, very weird world.
The baseball game was very exciting, the beer & nachos & home runs flowed, and conversation ranged from how they pick the world cup team, to training, to what kinds of beer cans make the best beer can pyramids (there were was an expert architect in attendance who shall remain nameless).
Not only does he have one of the best "pain faces" in the entire skating world, no one can sing "take me out to the ball game" like Ron Macky, seen here resplendent in his Milwaukee Brewers hat & jersey.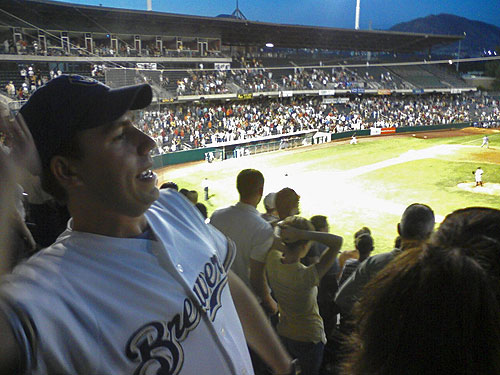 You can take the man out of Wisconsin, but never can take the Wisconsin out of the man, or baseball from your heart once it's there.
We never did cross paths with the folks we intended to, but they saw our locked bikes & left a note.
Once part of a subculture, always part of a subculture!
Filed under: from home