Posted on 14 Sep 09:33 pm
Over the years I've owned almost every kind of blade there is, Bont, Maple, Zandstra, & of course, Viking.
Somehow, no matter what I try, I keep coming back to my trusty Vikings. They are like a pair of comfy shoes that I skate quite fast in. On ebay last year I bought a pair of classic Viking sprint specials, and they are so much fun to skate on (slower than a clapskate, but fun).
I mentioned to my host, Jules, that I'd like to visit the Viking Factory, to see the place my blades were made.
Ignorant American that I am, I did not know that they don't give public tours. But Jules is resourceful, and made several phone calls. Because of this website, and my connection with Dimon Sports (John has been a big Viking customer for many years), he was able to arrange one! Mazzel Jules!!!
Oddly enough the first photo I see walking in the door is inline racing!! These guys are racing on 2-wheel Viking skeelers in the late 1940's . The combination of wheels & ice has gone on for a long time!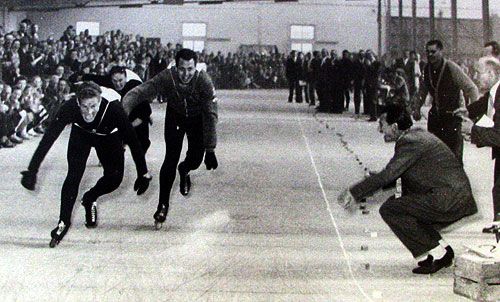 Henk, Simon, and Bianca were wonderful hosts, and I saw many things that I'd like to relate about the largest speedskate manufacturer in the world. The first room I saw was their "Hall of fame" containing the following bits of skating eccentricity.
The VERY FIRST clapskate from February of 1985, note how there is no true pivot, the boot itself flexes.
The different stages that metal is cut, shaped, and folded to make an old-style hardtail Viking skate.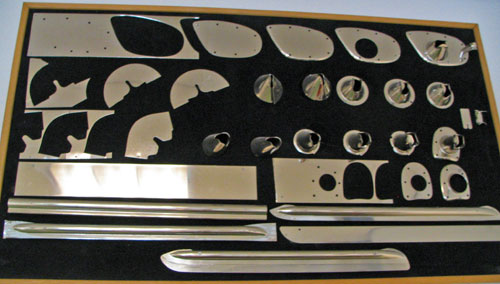 Olympic 10k gold medalist Bob DeJong had his old Vikings turned into a pair of dancing shoes for his moment on "dancing with the stars".

A computer in your skate? Actually this was a mechanism that Viking built so you could use a toe-start, & use the superior pressure of fixed blade for the first few steps, then after a set amount of time it would release to a clap-skate for the rest of the race.
The ISU banned things like this, but the prototype lives on. I wonder if it uses Mac or Windows operating system? (probably Mac! fewer crashes! actually the viking blade straighter machine runs on ancient MS-DOS!!)
There was poster after poster of signed Dutch & German world champions; among them were these fast North Americans: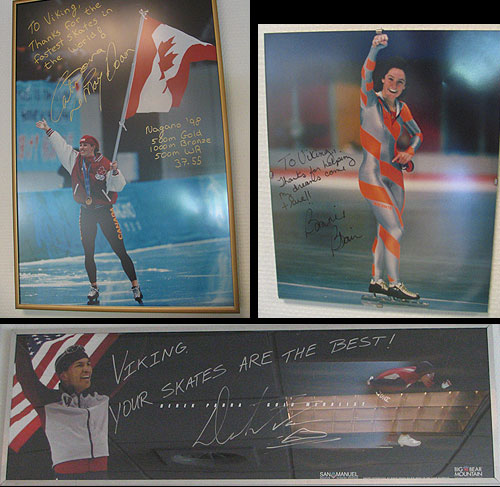 After the hall of fame, we went into the very heart of the factory & saw every step in the blade life cycle.
All blades start out on this massive roll of flexible steel, and then are fed through a machine that stamps them into blades, you can see a bin of them behind the spool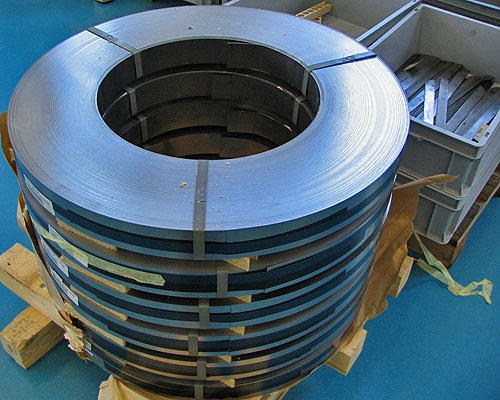 Then they have the tube welded on, and are sent to the Viking blade robot. It needs no breaks, no vacation, has minimal healthcare needs, and if you have bought a pair of top Viking blades in the past 7 years (roughly 50,000+ blades) this fella has handled them.
You have seen the robot in action in my previous post-
Although some of their boots are made in China, and some in Romania, there is lots of activity by guys in blue jumpsuits.
After the blade construction facility we were led upstairs to a room that was off limits until very recently.
About 5 years ago, Viking must have realized that with custom boots becoming more & more common, they had to get into the custom boot game if they were going to continue being a "skate" company, instead of just a "blade" company.
Only in the past 2 years have they even allowed folks like me into their upstairs room where they make them.
Here is a rack of boots for the German National team, although the only name I can read on them is Sverre Haugli, and he is an elite Norwegian Allarounder.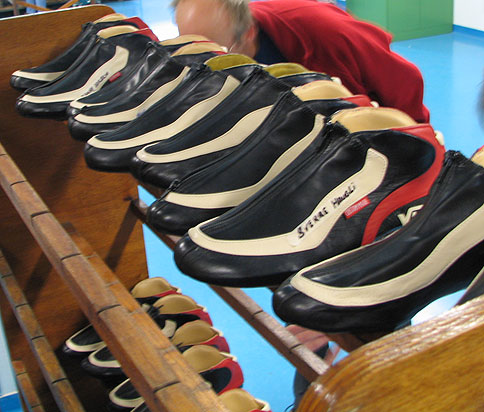 Here is a set of boots for Jan Bos, what I would give for just a few moments to skate as smoothly as "the catman" does. Will world cups be won on this boot?
As customs go, these boots have a radically different philosophy than most North American customs. They were not that stiff or freakishly light. They were built with "ice feel" being paramount. Viking believes that a boot needs some inbuilt flex to feel the ice (Van Horne's flex a little bit too, same idea), this is quite unlike my SS customs, or a Marchese, that are so stiff you can almost skate short track on them.
Note that one of the logos on Bos' boot is printed backward, they gave some long convoluted answer about the one facing the TV cameras being correct, so that is why the one on the other side is backwards. I've noticed almost their entire lot of customs look like this.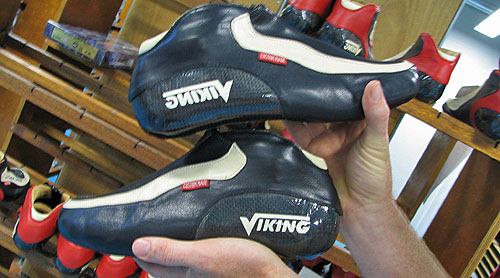 They save the foot castings of everyone they do boots for. This is their WALL OF FEET. Just for the completely skate-crazy fans out there, click on the image and you can see a full size version, you can read many of the names on these boxes.
For Eric Gee in toronto, just starting out on making customs, I thought you would appreciate this larval custom boot.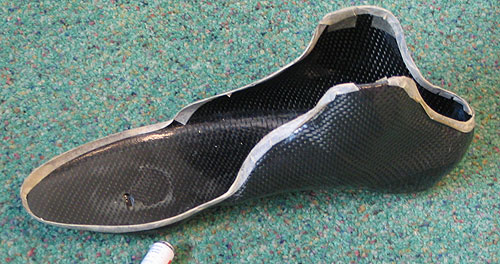 Back down the stairs to their warehouse. OMIGOSH! THAT IS 100,000 SKATES!!!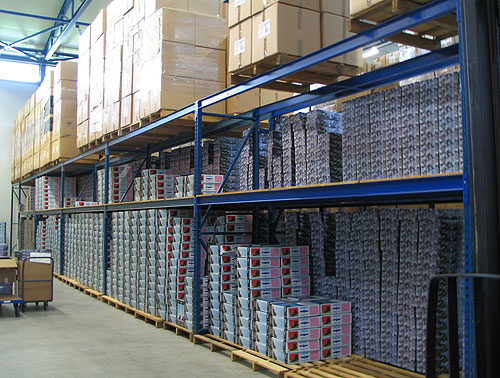 These shelves were truly endless-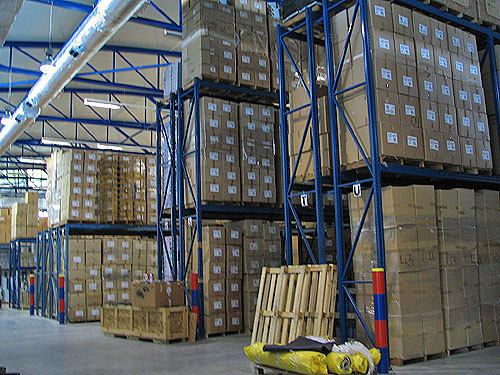 There is a weird secret to the Viking factory in these shelves-
On a normal year, they will sell 20-30,000 pairs of skates. But in a year where significant natural ice covers the canals in Holland, they will sell over 100,000 skates!
You can't just make that many skates all at once, so they have them in stock. Just waiting for the canals to freeze, and the Dutch public to go crazy again.
The Dutch wait for ice like skiers wait for snow, and you can imagine how this company feels about global warming!
And how about these littlest Vikings? They look warm & comfy & like I would have put stickers all over them if they had been mine
If you are looking for breaking news from Viking, I think there are 2 things worth mentioning, that are not commonly known.
1. Viking will be releasing a brand new short track blade in a few weeks. They used to have one some years ago. But this is a whole new design. The first prototypes should be in John Dimon's hands soon.
2. Viking has been doing experiments with heavier skaters using slightly thicker blades in certain conditions. Their PM 1.1 blade is an example of that, and it's a blade that already has world records to its name. They found that depending on the size, power & style of the athlete, on "warmer" indoor ice a thicker blade has better feel & speed. Lighter athletes or hard outdoor ice are best served by the standard thickness (or thinner). They also are making their 1.1 mm thick blades by starting with 1.3 mm steel, and grinding it down.
Whoa, this post has gotten long. Again, I want to truly thank Henk, Bianca, and Simon, for being wonderful hosts. (when I arrived, Bianca knew John Dimon & I are Diet Coke addicts, so guess what she had waiting!)
I've always known Viking blades as a "thing" now I know some of the good people who make the company work.
Filed under: on the road