Posted on 17 Sep 10:12 pm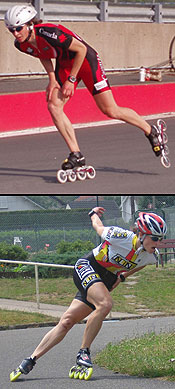 Meaghan Buisson is an elite Canadian inline speedskater & the women's solo marathon world record holder. She has won marathons racing in Europe, and like many talented inliners, is now is focusing her considerable mental and physical horsepower towards the goal of Vancouver 2010.
I also happen to think that she is possibly the best skater/writer I have ever come across. Her control of language simply blows me away.
I write like a determined carpenter, Meaghan is more like a concert violinist, & you can feel her soul playing out during the concert.
Due to its often intensely personal nature of her style & some of the demons she wrestles with she does not publish her work on her website, or even beyond a small circle of people.
But I urge her to someday make a novel out of it (I jokingly call it "The Book of Meaghan"), as that fits her style better than the daily carpentry of a blog.
Or she could find a Canadian news outlet that is interested in paying athletes who have skills far beyond merely skating freakishly fast in a circle. What does it feel like to be a Canadian Olympic hopeful? She tells the story amazingly well.
Meagan will be really easy to recognize during races in Calgary this season, even if you don't remember her face from these pictures;
Just look for the skater with the huge ankle brace built right into her boot. She is skating with several ligaments missing. THAT is determination.
This is something she wrote back in July:
We started back on ice last week. Or, rather, my group started back on ice last week.

My skates are currently in Montréal, where Mathieu Turcotte (ApexRacingSkates.com) is making me a carbon fiber ankle – integrated into my actual boot, so I can go around corners with my current (and permanently) wobbly ankle. There is some question as to whether or not this venture will be successfully. As Mathieu said when we met a few weeks ago to go over the options, "They didn't teach me THIS in school!"

In light of limited alternatives, I'm willing to take the risk…

But until my boots arrive I can't skate.

So while my teammates are slowly building up distance, working on drills, and gliding around with the Oval with contented smiles on their faces, I'm passing hours of mind-numbing cadence gliding back and forth across a slideboard.
Two minutes on… Two minutes off… Two minutes on… Two minutes off…

I'm still smiling though.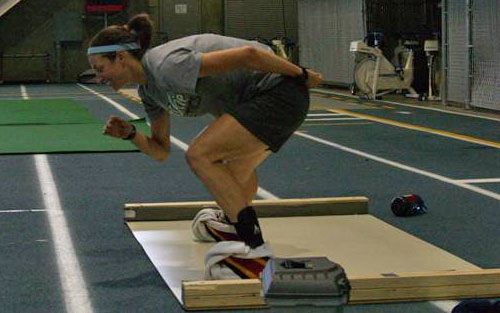 At some point this season, two minutes will be a thoroughly decent 1500 m race!

Top Blade

Every July, the Olympic Oval is over-run by the future.

In a weeklong series of skating camps, a couple hundred kids ranging in age from five through thirteen+ years old converge in mass upon Calgary and promptly turn the predictable rhythms of Oval life completely upside down.

During these weeks, many Oval athletes (and coaches) tend to become somewhat bitter, hiding from the masses, doing programs away from the Oval or muttering to themselves when forced to train indoors as children disrupt programs by jumping across training mats, slideboards, and cables in a never-ending game of tag.

As one of the Oval coaches finally exclaimed in exasperation during imitations last week when about ten impish children tried to mimic his skaters, "Don't talk to them! You'll only encourage them to stay!"

Ummm… isn't the point?

Training at the Olympic Oval during Top Blade is like being overrun by a litter of puppies – you have to watch where you step, but even when they're causing trouble underfoot, they're just so darn cute it's hard to stay mad!

I personally love training through Top Blade.

It's so easy to become jaded and cynical out here – training hard every day without thinking about life beyond the tightly controlled and artificial world of long track ice. The Olympic Oval places long track speed skating on par with the gods. For the most part of the year, skaters are revered based on numbers, in a sport defined by words such as "serious… competitive… genteel… tradition…" There is a definitive *way* things are done at the Oval, as steeped in tradition as any rational logic, and very little seems to sway that path.

But Top Blade kids don't know that. And thus wreaking havoc while descending upon the Olympic Oval in one collectively screaming bundle of hyperactive energy, they promptly knock the Olympic Oval right off its pedestal, trampling all sense of humourless propriety wildly into the ground.

There are few times in my life when I actually like chaos. Top Blade is one of them.

Throughout my athletic career, I've raced everything from grassroots competition right up to major international multi-sport games. I love watching really good athletes perform their sport, and stand in awe at some of the feats of athleticism I am privileged to now see each day.

But for everything for which I've been blessed through sport, there is nothing little more motivating or wonderful to watch than little kids simply having fun on skates.

Happiness is a group of eight-year-olds scampering around the Oval, eager to skate, excited to learn, and celebrating movement every day. Motivation is watching the littlest kid at the camp – an impish five-year-old - skating wobble-kneed about the Oval for the first time, fall down, stand up, then keep going with a huge grin across his face. Wonder is seeing a group of teenagers stop dead upon walking to the Olympic Oval for the first time, look about in incredulous delight, then exclaim, "This is, like, SO cool!"

Because they're right – it is pretty cool.

And having them around to remind us of that fact, if only for one week each year, brings as much to us as anything the Oval can possibly provide to them.

Skate like a child. Love what you do. Play.
Filed under: from home