Posted on 23 Sep 11:20 am
Here are a few notes & images from this past weekend's time trials (results are here at DESG).
Stephanie Combs, the subject of an earlier post, just missed qualifying for US nationals in the women's 500m by .17 of a second. You can see here the light very slightly coming through under the front of her blade.
If you look very carefully in certain side-lit pictures, you can see this as proof of where an ice speedskater's weight needs to fall on the blade during the glide. It's sooo different from wheels.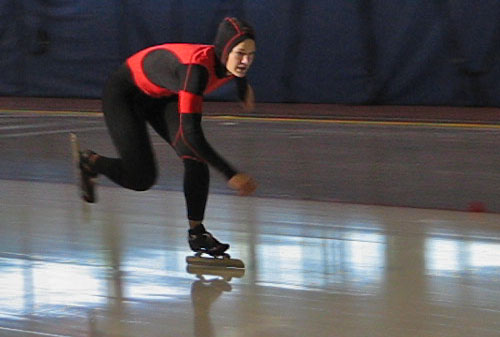 Keith Carney, ripping along about half-way through his 1500m. This is the split second before Keith's right foot touches the ice. You can clearly see the pressure, push direction, & length of his left foot stroke.
The moment of COMPLETE left leg extension is the best for pictures, because it's pretty, but studies show the maximal pressure that makes you fast happens much earlier in the stroke, like right here-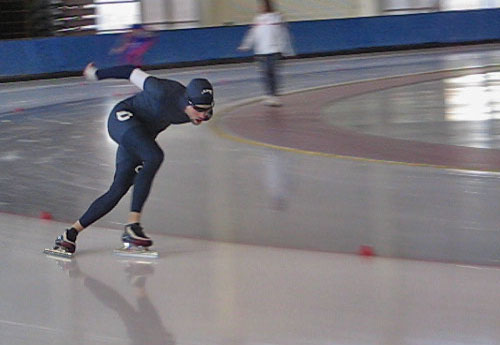 (to be more exact, I've heard of studies showing that good skaters & elite skaters might have the same maximal recorded pressure, but for an intermediate it's a brief moment, for the elite, their technique creates high pressure from very early in the stroke till almost the end of the push).
A very wonderfully odd race was run. Two of the best 500m skaters on the planet, World Cup champ Tucker Fredericks and former 500m world record holder Joji Kato, were paired together for a 3k.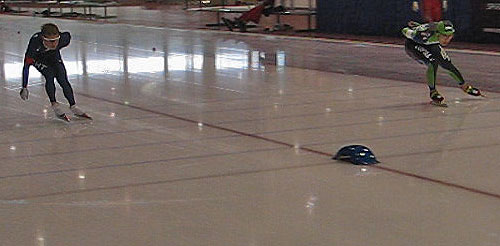 This was just for technique & training, as you can see by Tucker's hair flying in the wind.
& this is me, roughly 2 seconds into my new season.
This is one of the only video frames of the 500 & 1500m I raced that looks even remotely like speedskating. I raced like an inefficient pile of inflexible, spastic garbage & I am quite pissed off.
It's too early in the season to care much about times (and I don't.. too much….) but my execution in both races was terrible.
What's really weird is that last season, all summer I lifted weights like a freak, did sprint-centric short duration plyometrics & dryland, & raced a 2:02.52 1500m during my first race weekend.
After this year of mega-endurance inline & cycling. I step to the start line 10lbs lighter & feeling like a completely different athlete, & race an almost identical time (2:02.08), with almost identical lap splits.
Maybe….. this…. is….. just… what… I…. am……
Filed under: RACE DAY