Posted on 27 Sep 03:32 pm
1. Here is a photo I took at the oval a few days ago of a Japanese university team skater training at the Utah Oval-
They love their speedskating! and I really enjoy watching them train. I wish there was less of a language barrier.
2. For a project I am working on (unconnected with this website) I followed the national allaround team for a lap as they wound up to speed. They were doing multiple 29-30 second laps, that's roughly 30-32mph (50+Kph), and I shot some interesting video.
This is the closest I have ever come to visually documenting what long track at speed feels like (a 25 second lap is quite insane from this perspective, someday I will capture that on video, if I can ever go that fast again!).
This was in the middle of a long set of these fast laps, so the skaters were already tired as the clip begins. I added in a slow-mo bit of the fast parts, so you can really see the push direction, corner rhythm flow, and control. These guys can REALLY skate!
It's worth noting this is not even close to their top speed. Liam Ortega is leading, then Pat Meek in red, Chad Hedrick, John Loquai, and Ron Macky is last in line wearing all black & enjoying the considerable draft created at this speed.
Start the YouTube below, or click here for the quicktime.
I really need a helmet cam, going this fast his while handholding a camera is difficult, and frankly, a tad bit dangerous. Also I tend to not breathe as I try & hold the camera steady.
It's hard to skate very far without breathing (even for an already distance-challenged sprinter!).
3. I've got a nasty "owie" that hopefully does not develop into an "injury". And it's in an interesting spot.
First of all, I hurt this muscle doing VERY intense off-ice turn simulations, & the muscle that I hurt performs this function according to wikipedia:
The action is primarily to lift the upper leg towards the body when the body is fixed or to pull the body towards the leg when the leg is fixed.
that second half sounds like a turn, doesn't it?
Can you guess what muscle I hurt?
Here is a hint, I'm quite sure speedskaters have VERY developed versions of this muscle compared to the rest of the population, and in average people it's about the thickness & length of your forearm.
Guess again…..
Scroll down for the answer

Ok, I admit it, this is a trick question, but a fascinating muscle to understand. I am fairly sure I hurt the upper part of my Psoas major. It lies inside the ribcage, and connects from the inside of your spine into the lower pelvis.
This is a trick question because despite its size, you can't see the Psoas, at all, it's completely internal.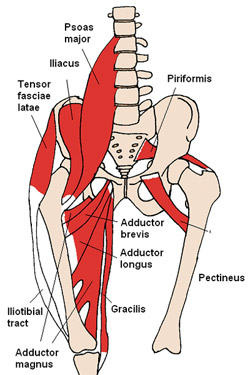 I never knew about this muscle until I looked at the actual human dissections at the Bodyworlds III exhibit in Portland. The Psoas is HUGE, and so essential to what we do on ice or wheels (or standing up, for that matter) -when it's hurting, skating in a powerful position really stings.
The quadriceps get all the attention, but just like the unheralded & virually unknown Piriformis, the Psoas is one of those little essentials in the magical symphony of hip flexors that keeps a skater going.
note: this feels like an "owie", not a true injury, a bit of rest, minimal intensity, and I should be ok in a few days.
Filed under: Audio/Video