Posted on 01 Oct 03:18 pm
I've been home for two weeks, and have a few reflections about the trip I recently took. I wrote this post mostly while in Holland, but only organized it this past weekend.
International travel is an essential thing for Americans to do. Even though we are a culture profoundly in love with the "road trip," America is a very isolated country; -isolated physically, socially, intellectually, and emotionally, from much of the rest of the world.
So here are a few thoughts-
10. "God made the world, but the Dutch made the Netherlands"
This local saying is historically accurate, because of the 15,000 square miles of the country (it's about the size of new jersey) over half has been reclaimed from swampland and the ocean.
There is a constant struggle with/against the water that defines foundational Dutch culture. The Dutch claim that they are resourceful because they "…are always fighting the water."
Maybe speedskating is part of that triumph over water, it's the moment where this tremendous threat, becomes something they can walk & even fly across.
Needless to say, global warming has the Dutch a little bit worried. They call the land they have reclaimed from the sea "the Polder" and its VERY lush, green, and pretty.
9. Wooden Shoes & Windmills
Really, these popular icons mean something else entirely. They are not cute, they are symbols of the constant fight against the water.
The windmills are running to keep pumping water out (modern ones are generating electricity for pumping stations). And wooden shoes are cheap, waterproof footwear for poor farmers, the upturned tip helps them not sink into the mud.. Also, coincidentally, they provided a nice hard surface to strap an iron blade onto.
Translation for the non-dutch-
Wooden shoes = Steel toed workboots for tough farmers.
Windmills = insurance against your real estate investment/house having it's value washed away in an instant (As the American housing market crumbles, I wish I had a windmill proof against this rising tide).
8. Bike Paths
Holland is about 250 kilometers long and under 200 wide, and somehow they squeezed 6,000 kilometers of bike paths in there. It's a cycling and (when its not raining) inline skating paradise!
From bankers to grandmas, fashionable hipsters to blue-collar workers, children & junkies, everyone rides an old, beat up cruiser in every weather condition.
Bikes RULE the streets. Cars & even the massive trams give way to the swarms of cyclists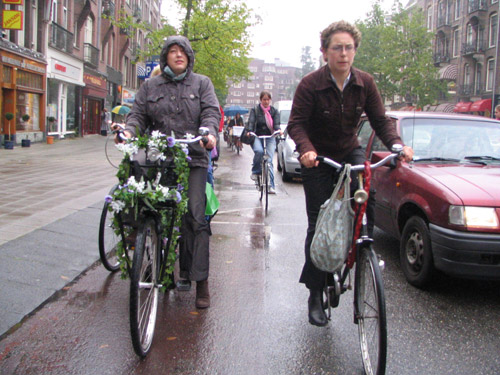 Here is a bicycle parking garage near central station, downtown Amsterdam. 3 floors, thousands upon thousands of cheap cruisers. The boat is also mass transit!
In the past 10 years, car ownership has quadrupled, and massive traffic jams between cities are becoming normal. However for inter-city transit, bikes still rule.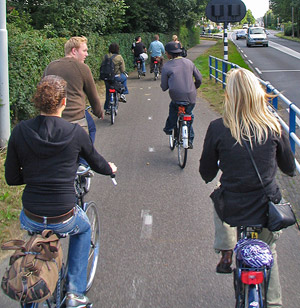 7. Amsterdam Canals at night
A quiet, rainy evening, full of pedestrians & beautiful lights on the water, click for a larger image-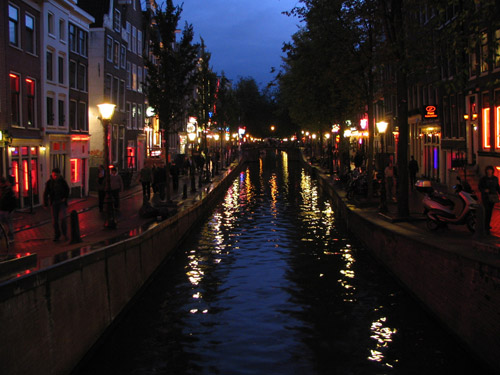 A discerning observer will notice the red lights along the windows on the sides of this picture, and these signify the legalized prostitution of the red light district. The women stand in the windows & beckon to you, if the curtains are drawn, they are "busy."
It's a little shocking for people from sexually repressed cultures (like, umm… America) to see this.
Lest my fellow Americans get all indignant & huffy, look in the phonebook of ANY American city, what the heck do you think the "ESCORT SERVICES" section is?
This is just how our culture does the same… exact.. thing…. In every society, there will always be women who sell sex & men who buy it. How it's done is just local detail.
6. For George's Wife
I did this brief video for people to see the awesome inline skating that can be done along the shores of the inland seas (the Iselmeer). I did this video for George's wife, who has never seen her husband, a 3 time elfstendentocht finisher, skate. George is in his 50's, and can still really motor along. (click here for the quicktime)
The music is a local drinking song, about a father, a son, the ocean, & loss. It was recommended to me by several Dutch friends, they say it's one of those songs that make people sway, sniffle back a tear, and sing at the top of their lungs.
5. Pannenkoek
Definitely in the category of "yummy beyond all comprehension!" we have an apple sugar Pannekoek, and then a Brie & Pineapple!!!
Why did this trip so center around food? It must be all that endurance work I did this summer, it made me hungry!
4. The Elfstedentocht
Translation to Americans: To have finished this 200 kilometer race is like having been allowed to play in the Superbowl. And a Superbowl that only happens roughly once every decade or so.
Here is Jules's timecard & finish medal. You pass through 11 cities, and get a stamp at every city along the way. Even the leading pack does this, and if you miss a stamp, you are DQ-ed
3. Overheard…
While taking the picture of this monolith to the right, I overheard some Irish tourists, having an absolutely screaming argument behind me. I will never forget what one young woman said (imagine this said in the thickest Irish accent you've ever heard)-
"We are not in bloody Dublin anymore, we've been in Amsterdam for DAYS, and I haven't had one f***ing joint yet!"
We met quite a few folks from the UK who were over in Amsterdam to sample these "coffee shops" that don't serve much coffee at all (including a really neat couple in their 60's Jess & I had a lovely chat with over a pint of Belgian beer).
2. Raw, Pickled Herring
My father has a rule, "If there is something on the menu that scares you, this is what you must order." I have had many interesting meals following this rule, and this local delicacy was quite tasty.
Raw herring is basically Dutch sushi that makes your breath smell like gasoline for a while.
But a son never truly tops his parents. My mom & dad are in Italy, and emailed me that they ate sea urchin roe and spaghetti!!! I am both disgusted and jealous at the same time.
1. The Anne Frank House
Just go and see it. It hurts. A lot. Go and see it. This picture is the water in the canal, reflecting the house, on the day I visited.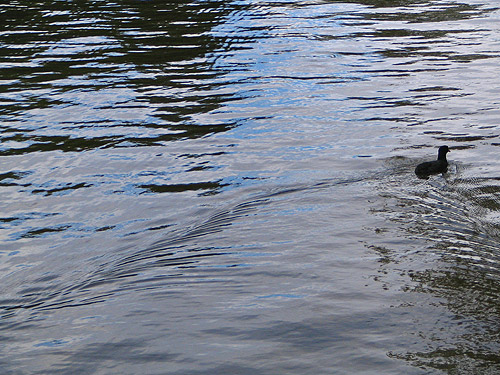 The central message of this house is not the past, it's the future;
The Anne Frank House is there to remind us that Fascism does not always wear a swastika; Fascism adopts local customs & cultural camouflage.
Claiming to be the super-patriots & the most true to heritage & country, fascism is about hatred & fearful disgust of people who are different. Religion, ethnicity, language, sexual preference, anything that is used to leverage a "cult of personality" by a few individuals who use a fearful, downtrodden public for their own machinations, -that is fascism.
And fascism is what murdered Anne Frank, and this is what a civil, decent, open society that truly believes in "love thy neighbor" must fight tooth and nail against, exposing it for what it really is.
I did not mean to end this entry on such a down note, because I loved the Netherlands, and want to go back, especially when I will have a chance to skate ovals that have pacelines so long, they meet in one long mobius strip of churning athletes.
But sometimes living in this world means seeing awful things with open eyes
Filed under: 10 things about: