Posted on 20 Oct 03:07 pm
Speedskating isn't a sport. It's a lifestyle.
-Teri Willingham
After reading this on Teri's blog, I can't get it out of my mind. This statement carries with it joy, pain, winning, losing, pros, cons, awesome people & some rather dysfunctional weirdness.
Maybe speedskating is a "normal" sport in other places, but so many people in Utah MOVED here to do it, it's a very odd, intense, friendly, & frequently bizarre subculture.
There certainly something about speedskating that lends itself to an absorbing focus. Maybe it's because do it very well demands a complete athlete who tries perfecting the physical, technical, and psychological elements needed to skate fast (no one ever does for more than a fleeting moment, therefore…)
It sucks when your obsession does not go well; but for a moment on Friday morning, I removed the monocle of skating from my brain, & looked east to the sun lighting the sky behind the Wasatch-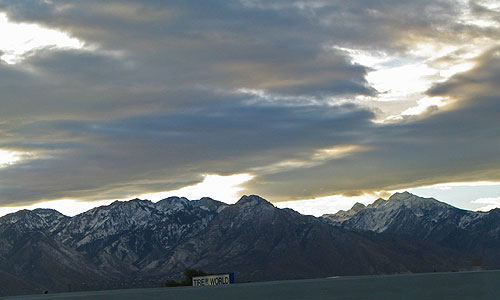 Then west to the Oquirrhs.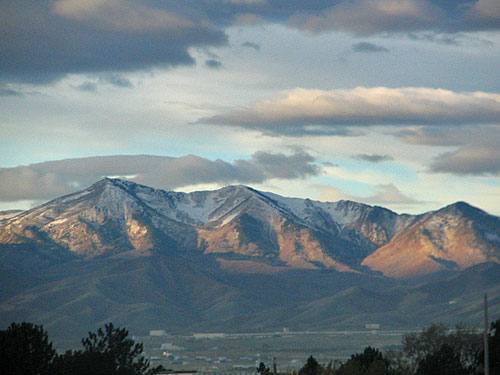 Finally, the sun bursts forth, & my foul mood changed for the better, I'm ready to skate again with redoubled commitment, and actually am looking forward to this weekend's 1500m!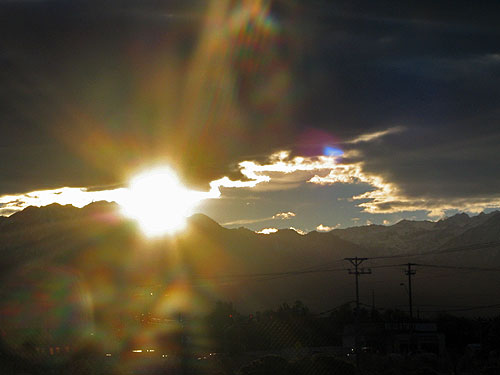 After an easy race-prep workout at the rink, a man with a heavy Finnish accent walks up to me, and says: "hey, are you Andrew Love? fantastic website!, thanks so much! There is nothing on the web quite like it."
This never fails to blow me away, Robert Brandt is a Finnish distance skater in the USA for some intense training before Finland's fall world cup selection. I hope he makes it, he has skated the world cup before. Finland is having a renaissance of good sprinters, and now there are some strong men like Robert trying to put their mark on the distance races as well.
(Saturday addition)
I forgot to put my memory card back in my camera after downloading these sunrise pictures. CRAP! So all I have is words about this weekends races.
Robert is really enjoying skating on the fast ice here, in fact it was so fast, one of his contacts blew right out of his eye in the backstretch of his 500m.
He almost smacked the outer wall while skating the final turn half-blind, and he STILL set a PB in the 500m by a half-second! He was on a fast pace to crush his 3k PB as well, but the speed caused him to misjudge a turn, and he stepped on a block, wham!
He's fine, and was very excited about the lap times he was skating. Results from the races can be seen here.
International skaters are beginning to arrive in town from all over. Swiss athlete Roger Schneider battled the altitude & jet lag, and came within 1 second of his own Swiss national 5k record. An excellent 6:30 5k.
When I remarked on his fast race, he grinned and said "next weekend!"
8 time inline world champion Pascal Briand is also in town, and starting to build towards his own world cup goals. I met him when I skated in Norway several years ago, he's a good guy. Speaking of Norwegians, their national team should be here shortly.
As for American skaters, with fall world cup trials only 1 week away, people are starting to become pretty intense, stressed, the training load has been reduced and its almost time to really throw down. There was some excellent racing today.
My own 500m still is suffering from minimal summer gym time, but I set a 1500m PB by 2 seconds!! Whooo! 1:57.88!!! I never thought I'd see a number like that in front of my name. I'm not shy about hollering after a PB, and I whooped with joy when I saw this number on the scoreboard.
Always celebrate PB's! always!!
Paul Narhwold also tried the float-for-300m-then-RIP!!! pacing plan, and knocked a second off his own PB as well. Go Paul!!!
To skate a world class time, the elites need to push the "ludicrous speed" button right from the starting gun, and have the fitness/technique to sustain soul-bending velocity the whole way.
But for us mere mortals, there is something to be said for easing one's way into the lactic-acid bonfires of the 1500.

P.S Don Neslon just emailed me some images of my 1500m today!
here it is 600m in- my back could be rounder, but all in all, not bad..
and here is 1350 meters in, swimming in a boiling vat of lactic acid…..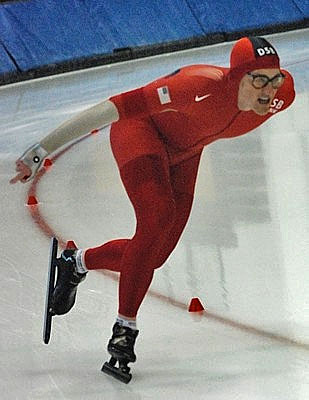 for those that really care, my splits were 25.51 (300m) 28.33 (400m) 30.33 (400m) and 33.71 (400m). Not fast compared to a world cup skater, but quite fast compared to me.
Filed under: RACE DAY