Posted on 25 Oct 01:19 pm
This is inline world champ Jessica Smith, flying through the morning sunlight, during an easy race prep workout….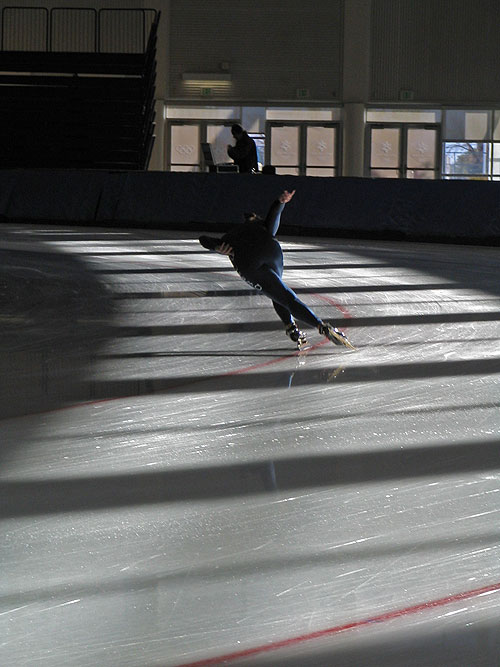 In the background is one of the oval staff, messing with the electronic timing system.
Tomorrow, and for the rest of the weekend, that system will see a lot of use, as the world cup qualifier & America's cup I begins.
I often talk about "doing your best, & being at peace with it", and even though that is absolutely true; in the coming races, there will be definite winners & losers. And for those who spend the majority of their waking hours trying to become the best, it's an awful feeling to be on the losing side.
Although Jessica Smith is a skating rockstar, and should have no problem making the team, there are an unusually large number of skaters this year who are truly in contention for only a few slots.
Last year I missed the team by .1 of a second, and it's something I will take to my grave as a failure (after great starts, my turns were awful, failure is the right word).
This year, I'm not in realistic contention. In fact I will only be able to race on Friday, then am driving right from the rink to the airport & going to a wedding in NYC.
Although much will be made of those who make the team, the strength of any team is often directly proportional to the depth of the competition required to make it. That implies there will be many who are phenomenal, dedicated, try hard, and don't make it.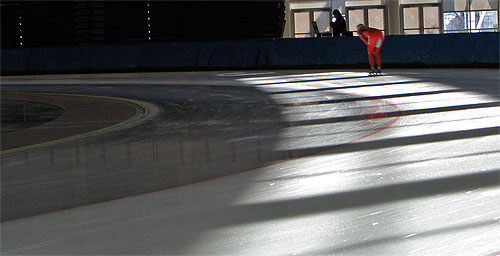 Many skate fans remember Dan Jansen & what he went through. I think an equally interesting story is his brother, whom from what I understand, trained every step that Dan did for 12 years on the national team, and although he was a world cup quality skater, he never made the Olympic games.
So here's to Mike, and everyone who steps to that start line, and throws down their best, even if it's not "good" enough.
Filed under: from home