Posted on 21 Dec 01:58 pm
If you listen closely, you can hear skiers & general outdoorsy types celebrating. Utah is getting pounded by a blizzard.


But humans aren't the only mammal who loves the snow.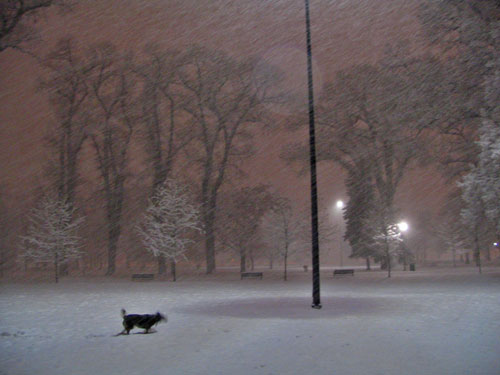 Just to have the eyes open on a night like this can give a person enough to see & think about for a lifetime of blog posts.
No matter what the world of people throws at you, sometimes the outdoors is a true balm.
Short track Nationals starts this weekend. I am going to wander over & watch a bit. Short track is amazing, exciting, and I love watching the top folks whip around.
However, it can be a tiny bit dangerous-
As I was skating long track, I heard a scream and a big "BOOM" from the wall of the short track rink. Word quickly spread among the skaters that Mary Grace had broken her ankle in the final practice before nationals!!!
Crap! This sport has so many ways of breaking your heart along with your bones. I have two other friends who just have had season ending injuries, and are struggling with the emotional fallout.
Injuries are part of sports, but it's a sucky part. The only lesson to be learned is to appreciate it when you feel good, because it can be taken away in an instant. .
The Utah oval ran some races on Thursday afternoon, one week before nationals start. So I was able to race during my lunch hour! Since I blog about a lot of other people, it's only fair to link to Flyin Brian, as he wrote about a race we did vs each other.
This is us, about 670 meters in, just as it starts to really hurt. Brian and I train a lot together, this was fun.
Thanks to Robert Lawrence for the photo. My 500m on this day felt great, as good as I will be for this year. I was not so great for this 1000.
Before the race, Brian was in his skinsuit sitting next to the start line, on a work-realated conference call. He puts his phone down for a moment, races a 1000m, and then gets right back on the phone.
That's workingman STYLE!
Filed under: RACE DAY