Posted on 23 Dec 02:22 am
This was an amazing race, with human-dragster hybrid J. P. Kepka ripping off the line in the same style that saw him set a US national 500m record earlier in this day.
Apolo Ohno and Jordan Malone ran him down and then…. the finish got a little bit messy.
Messy like my car gets messy after a cross country road trip.
I'd love to hear the opinion of the knowledgeable and experienced short track minds on the final passes, and do you support the call the ref's made?
Music for the slow-mo is by Susanne Vega. Click here for the high quality quicktime, or press play to start the Youtube below.
I do want to call attention to one moment of perfection in this race, just as Apollo passes J.P., check out this extension & incredible compression.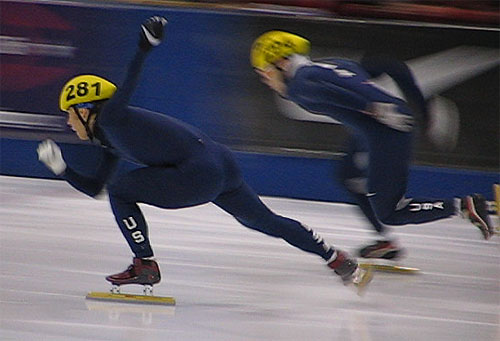 To find this skating position at the end of a short track race, while at top speed, with nationals on the line..
It awes me the same way as when a baseball player hits a 550 foot home run, or a quarterback throws a ball 70 yards, and a receiver catches it with one hand on a dead run.
And goes…. ALL… THE… WAY!!!
Filed under: RACE DAY, Audio/Video