Posted on 03 Feb 02:37 pm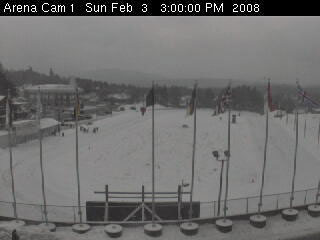 Right now in Lake Placid, the final races of the 2008 age-class nationals are happening.
This image on the right is from the ORDA cam, it's refreshed every hour, and conditions look challenging. At the start line, or maybe in full throttle 3000m final sprint, is a group of skaters.
Gotta love outdoor skating! I could not make it to this race, and it hurts to miss pack nationals on my "home track".
But an athlete must pick his battles; I'm focused like a bullet in flight on master's worlds, in Germany, 4 weeks from now.
There have been several comments this week on a post I made almost exactly 1 year ago, discussing the Rink at Petosky, Michigan.
There is power in that primal spot where a curious athlete first feels that amazing, addictive feeling of skating. It can almost be as powerful a memory as recalling the moment where you gave/received your first truly intense soul-burning high-school kiss.
Sigh…. (sound of memories rushing past)
I sent my camera to Lake Placid along with my friend Brian Boudreau, and so although I might not be there, my "electronic eye" is in Lake Placid. In a few days I hope to have pictures.
Till then, here are a few more "Desktop Friendly" images I have taken of this rink.
This is a view snapped December 22nd, 2002. The clouds, the Adirondacks, the steely colors of winter, yeah!
The skater is marathoner Bob Tysen, who was scary strong at this time. Bob recently had surgery on his left knee, and he can't crossover anymore. It sucks…
Looking in the other direction, this is Jessica on classic Vikings, skating down the finishing straight.
The building on the left is the 1980 "Miracle on Ice" hockey rink, just behind it to the right are the rinks from the 1932 games.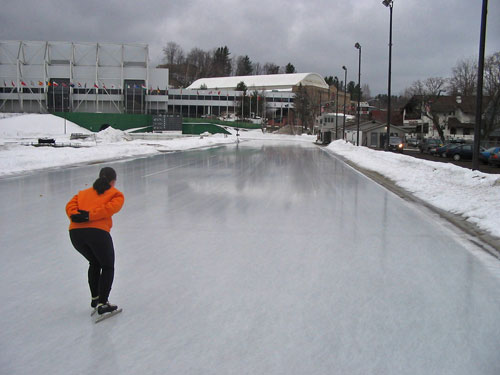 I asked Jessica what she remembered about this day:
I hadn't been to Lake Placid before, but I had heard of how horrible the weather usually is in the winter.

The oval was a pleasure to skate on, and though I hadn't skated on a long track before, I remember thinking- this isn't so bad. All these people are exaggerating.

I grew up messing around on figure skates on frozen New Jersey Lakes, skating with friends in Wollman rink in Central Park, and inlining in Liberty State Park. I have a slight clue about how to skate.

At Lake Placid, I remember feeling my legs burn and feeling kind of foolish for bending my knees so much and sticking my bum out. But then that's what you're supposed to do when you're speedskating, so I figured, whatever.

Then I saw the picture, and I was shocked. It looks like I'm barely bending my knees at all.

The people I met on that trip were lovely and very friendly. I've made enough trips to Placid since that I can't remember who I met on that particular one, but I'm sure John Dimon was part of the group, and possibly Peter Doucet and Eric Gee.

Good people, good times.
Filed under: from the coffee shop