Posted on 21 Apr 05:00 pm
Training monotony is something to be avoided like the plague, both in the body & the soul, as doing the same thing all the time leads to stagnation.
So just for giggles, I showed up at an "Alleycat" sprint race on my track bike. These are urban races that sprint the full length of a city block from a standing start. I was racing with the same bunch of biking neo-beatniks I filmed during the Salt City Sprints
Some of these urban riders are quite quick off the line, and there was a smattering of true bike racers as well, including fellow speedskater Inacio Lopez.
The bikes ranged from titanium & velodrome worthy rides, to things scrounged from dumpsters & rattle can painted.
I had good sprint legs this day, and ended up winning $30 for first place of the 30-ish riders, plus as much beer as I could drink at the after-party at the W Lounge (2 PBR's was all I could down & still manage to bike home safely).
In addition to the sprints, they also had a fun event, called "foot down", where the spectators form a ring, and the cyclists circle like sharks within the ring, and try to knock each other off their bikes.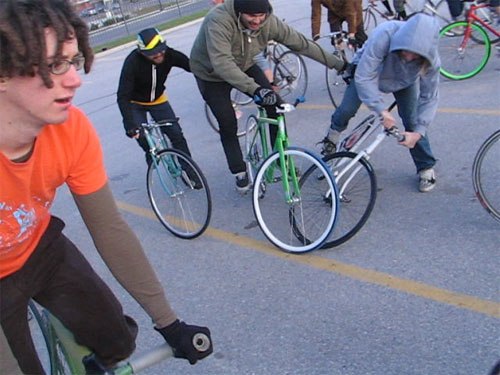 The spectators slowly contract the ring during the event, and as I said, it's low key fun, note the fellow drinking a beer during this-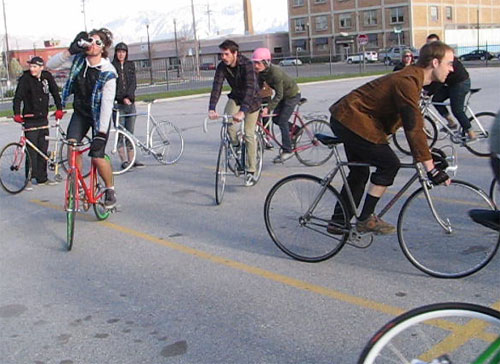 My aluminum track bike is similar structurally to the beer can this fellow has in his hand, so I skipped this part of the competition.
However it got me thinking, imagine a short track event, maybe a relay, where the spectators are on the ice, creating an ever shrinking circle pad barrier. Contact would be natural!
It would eventually become just one long, endless corner pivot, punctuated by the thud of bodies into the pads.
If that does not attract the attention of ESPN, I am not sure what would (half naked, fur-wearing cheerleaders?)
It is one of the true mysteries in sports that short track is not all over American television, as it has EVERYTHING Americans love about sports….
Oh yeah, maybe if we did it in WWF masks, or in Speedos, or…..
P.S.SaltCycle blogger Blaue Reiter wrote about this event, and called me a "heap-big speedskater and general cool dude" in his post.. That made my day… Yeah!
Also he took a nice picture of me in my super-secret, holey, 18 year old, "bike-race-day-only" flannel shirt that few speedskaters have ever seen. Damm, my secret is out!
Again, this was just a lot of low-key fun.
Filed under: from home