Posted on 01 Dec 04:15 pm
Here is a test that was performed this weekend–
What slows an athlete down more? Becoming a new father & not sleeping much, or a brain injury that almost kills you?
It's great to see Liam Ortega back on the ice again. He and I have identical personal bests in the 1000m, and we were paired this past Saturday, carrying out this theoretical test.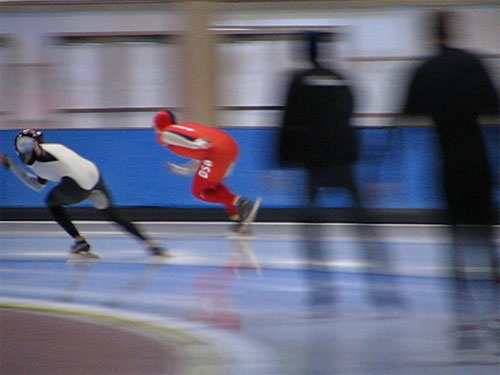 It's always fun to race good friends, and great to see his recovery.
I got a nice draft on the backstretch, and slingshoted into a solid lead 600m into the race, and then Liam came blasting past me with 150 meters to go. You can see a video Don Nelson published of the race here.
I am glad that Don was pointing his camera at Liam, not just because he has better technique than me, but because I almost fell over in the final corner my legs had locked up so badly.
But Liam is still lacking his sense of taste, the central long term effect from his injury, so did victory taste as sweet?
; )
Filed under: RACE DAY