Posted on 21 Dec 04:48 pm
Here is Ryan Bedford, checking Vicky Daignault's skates at an early morning short track practice.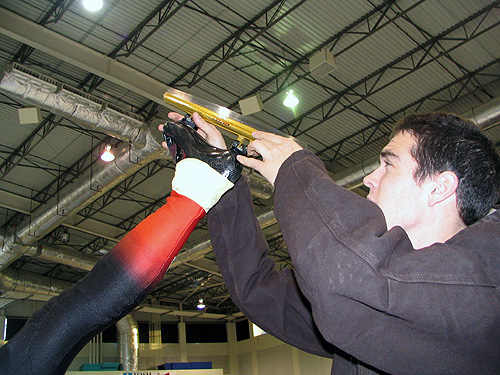 Ryan is one of the very few skaters who dares attempt the grueling & technically insane back-to-back challenge of US short track & Long track national championships.
This is not a posed photo. They were doing this and I walked over, camera in hand. It's like Ryan is adjusting the sights on a rifle. (word just in, thanks to Linda commenting on a previous post: Ryan just earned a world cup berth in ST, finishing 5th at ST nationals. He coud earn a slot in the LT champs too! what will he choose?)
Here is Torino Olympian Maria Lamb, about to step on the ice for an easy workout, one of her last leading up to US LT championships.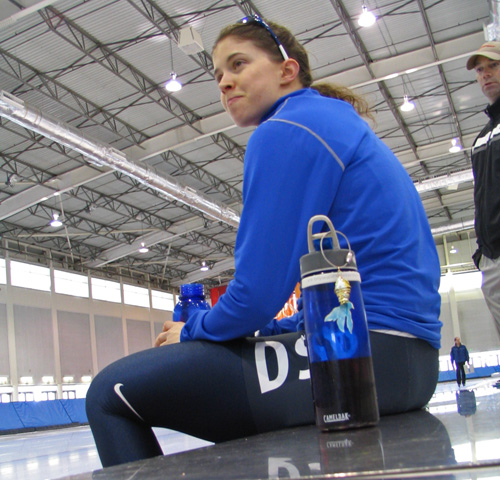 Peak week workouts are fun, easy, you go fast & feel great, and it fuels optimism going into US championships.
I like the little metallic fish she has on her water bottle so she can tell it's hers.
Here is my little RZ, in the Salt Lake city airport. Quite interested in everything going on around her.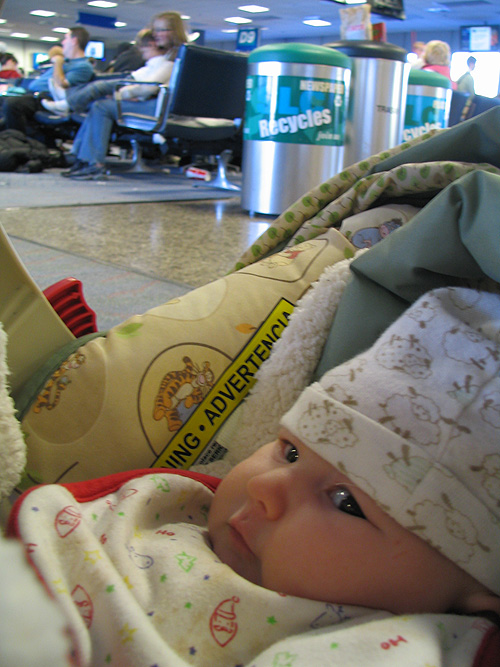 Traveling in with an infant can be miserable. I was so worried, I handed out earplugs to the rows in front and in back of us on the airplane.
RZ was a rockstar, & just hung out, intrigued by everything, her eyes darting around her as fast as they could go.
I thought speedskating was a great technical & emotional challenge. I have found its match; Being a big guy & trying to change a dirty diaper in a tiny airplane bathroom. Wow… Intense….
Our little family arrived safely in Newark, and now I am in one of the most peaceful & beautiful places I have ever found on planet earth. I won't reveal its secret location, but suffice it to say it's a lake in rural New Jersey.
And no, that is not skateable ice on the lake. It formed during snowstorm, and although it's an inch thick, it's rotten and cracks with impressive & scary noises when stood on. I did try.
Skating, traveling, family, and ice. A small thing like "US national championships" mixed in there. I will be competing at LT nationals in Milwaukee in a week. What a long strange trip its been, and is, and will be.
Filed under: from the coffee shop