Posted on 31 Dec 03:35 pm
I am finally home, and trying to organize the vast amount of material I have from nationals.
I finished the video from the sprint completion very early this morning, and will be processing/posting it later today. It rocks like an avalanche, so keep your eyes open for a steady stream of good stuff–
Thanks to Sarah Beetham, Charlie Mahoney's fianceé, for this image of me zipping along during a 500m. It's like I am headed right at the camera at a weird angle to the track, but I do have proper nose-knee-toe alignment.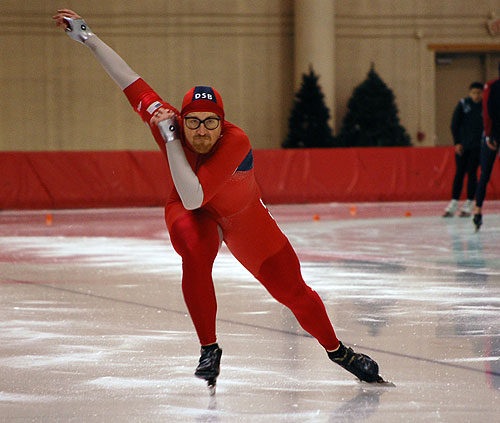 That skinsuit makes me look fat. I am pushing 205 right now, & that is a lot of Love to accelerate from a standing start, but I digress…
Did I have goals at nationals this year? How could I have a goal? I work full time, I have a lovely daughter, and between her amazing birth and a back injury that sidelined me at a critical training period, it's been a challenge.
That said, I am intensely competitive, and have learned the hard way that to go really fast on skates requires an intricate blend of factors; it's a physical and psychological puzzle, and this year I am missing most of the pieces. I do remember where the pieces go, but that only counts for so much.
But I would not be happy without goals, so I did have two:
I wanted to enjoy the experience of racing nationals like I did the very first time I qualified in December of 2003. That year I was like a creative kid during his first visit to LegoLand. It was a huge emotional high.
In 2004, 2005 & 2006 I had sacrificed & trained freakishly hard, and had expectations of results. I did race well, but did not have what I would call an "enjoyable" time, even though in 06 I did earn cat I. Last year nationals in 07 was more fun, but I was in a lot of pain from a chronic injury, and was still stressing out of habit.
So fun was goal #1 this year, but also I wanted to be faster than I was back in 2003. That first year I skated 38.8 & 39.0 in the 500, and 1:20-ish 1000m races.
I did accomplish both of my goals.
For the body I am wearing right now, I got about 95% of what it was capable of. My 500's were 38.31 & 38.41, and my 1000's were both in the mid 1:19's.
All these times were light years slower than my sea-level PB's from 2006 (37.1 & a low 1:16), but this year's races felt "good" to skate.
I made connections with so many people who matter deeply to me; I had so many conversations that reminded me of the unique, warm people who are drawn to this sport, and so I am at peace, goal accomplished.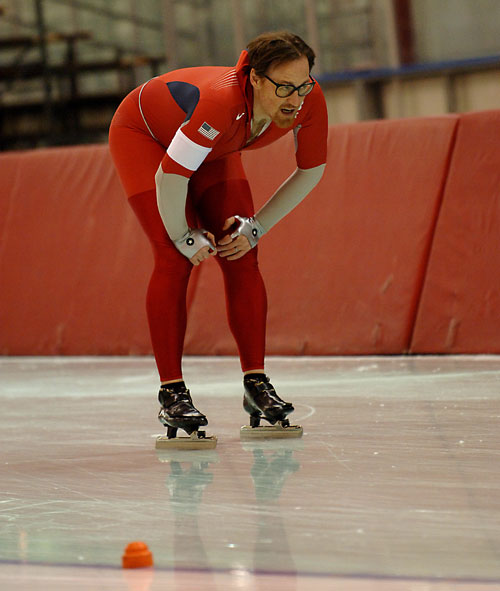 Filed under: RACE DAY, on the road