Posted on 12 Jan 11:32 pm
Is a picture worth a thousand words? As someone who blends photography & writing, it's a question I do think about.
Sometimes a picture can be the beginning of many words too:
Thanks to the Needham family for the hat. Of course joining the Red Sox nation is a choice weighted with implications, & the members of my family who are hardcore Mets fans might say something about that.
RZ also has a NY Giants Jersey, and from my awesome cousins, Cleveland Browns gear.
People keep kidding me if I have already bought her skates. Really, I don't honestly care, as long as she is happy (is being happy incompatible with being a Red Sox fan?).
What I see in this picture is her eye color, that seems to change a little every day.
Here is another picture, on how I take RZ & Lilly for walks.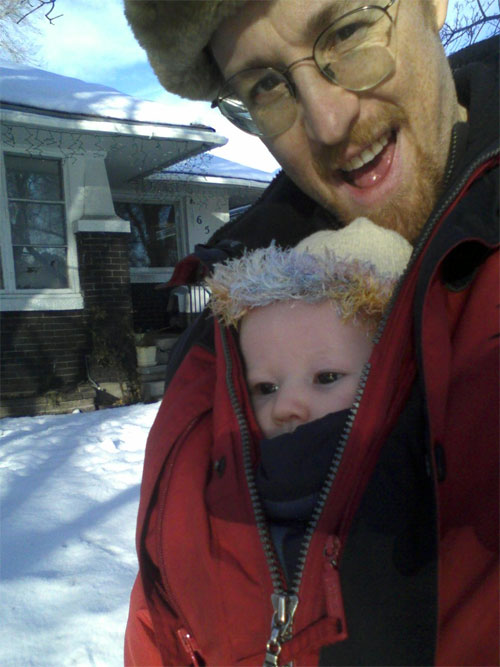 As a man, you never realize how many women avoid eye contact, how so many instinctively protect themselves. UNTIL you are walking around with a baby in your arms, or in a carrier, then suddenly you are avalanched with smiles and warmth & trust as if you were the best looking fellow on the planet.
Of course though, they aren't really looking at you.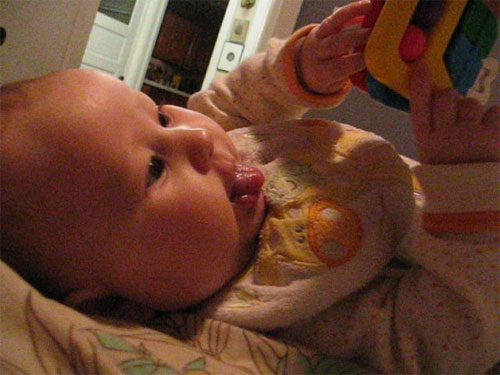 This is a moment of PROFOUND discovery & intense concentration.
RZ is just figuring out this very instant that she has HANDS, and that she can change & move the world with them.
Never forget that lesson, my lovely daughter. It will always be true, no matter how old you become.
Filed under: baby stuff