Posted on 08 Jun 01:18 pm
Walking in the park, pushing RZ in the stroller, with my "brother-by-another-mother" Evan, his 7 year old Ben & 6 year old Ellie in tow, and I see Josh Wood & 2 other inliners zip by at warp speed, double-push firing on all cylinders. Their wheels a hiss of speed.
They were upright at this split second of photography, trying not to run over a walker, but trust me, these guys were hauling.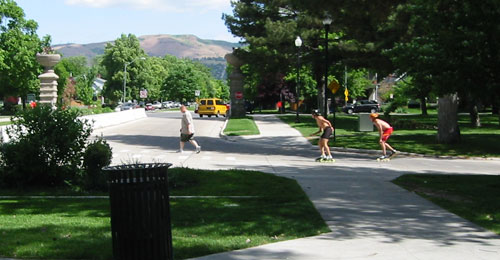 I am at a distance from skating. As out of focus as this photograph. I remember how it feels & miss it. Am racing my bike a lot from sheer convenience. Still lifting big in the gym, but have yet to touch ice this year.
Why? I'm doing serious training in the lifelong sport of being a "Daddy" . It's an endurance event in it's own right, requiring fortitude, strength, a good heart, the capacity to suffer, and no real finish line.
Jess was at work, Evan's wife Susan at a coffee shop with her Laptop. So Evan and I had a morning in the park. 2 dads & 3 kids. A swinging good time.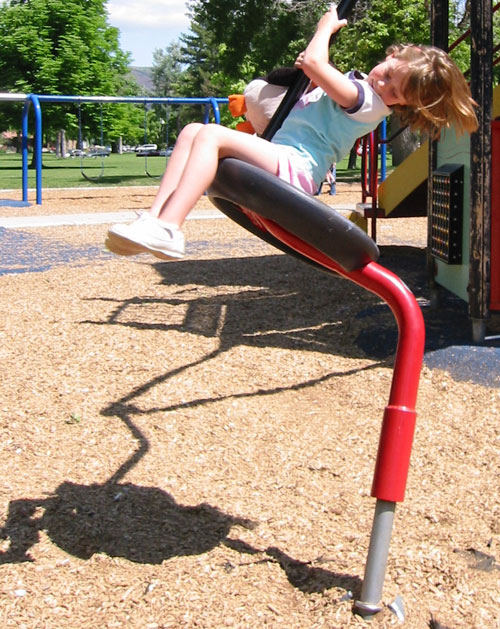 There are these moments when you feel the "wheel of life" turning. A grandparent recently told me "you think you feel that now? Just wait till your kids have kids!" I love Ferris wheels. The explicit rotation of perspective. Ben & Ellie are at the very top here.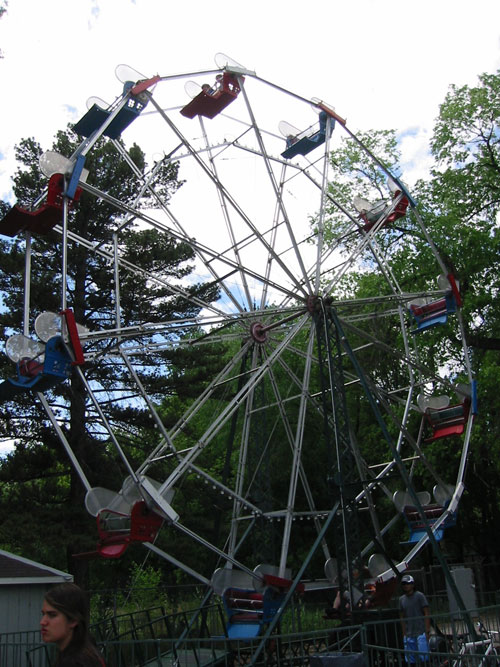 I wondered out loud how long these little cars had been in service, the woman standing next to me said "well, I rode on them when I was a kid in the 60's" wow… .
Compared to killing myself with training every day, is hanging out with kids as rewarding? absolutely, here is Ben feeding Ducks.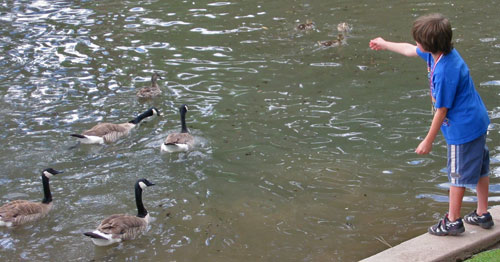 Susan remarked later, that this photo should have been titled "Daddy dressed me this morning". I am guilty as charged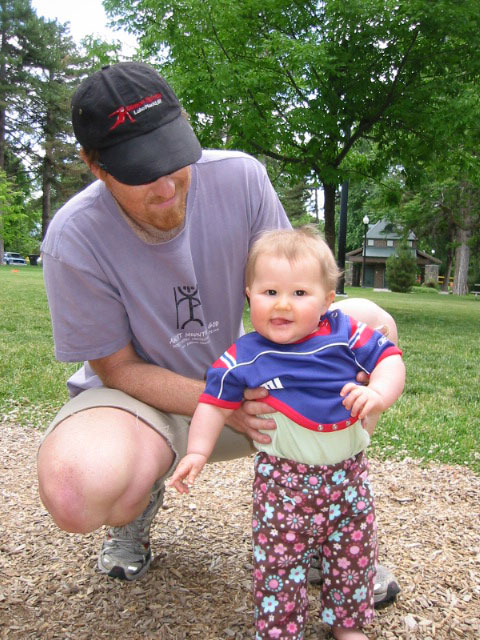 I've known Evan forever. We have tens of thousands of cycling training miles together. Endless races we can tell stories about for hours. It's wild to see each other in this new phase, this new mode. We were comparing what we had to pack for our kids, the difference of his "Kid day bag" vs mine.
Ellie & Evan, at a moment of maximum cuteness. What a journey children lead you on. It's not you leading them at all.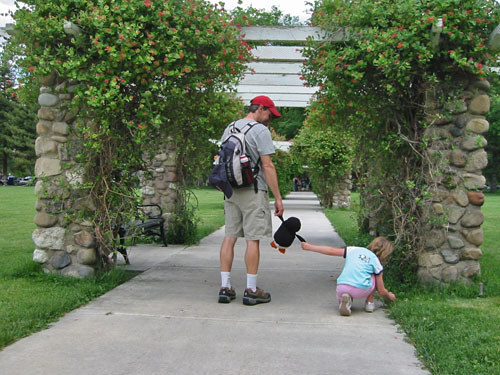 Ellie was picking flowers in the above photo, and stuck one of them in RZ's foot. My daughter absolutely has my feet. Not Jessica's E.T. toes.
RZ wanted to eat the flower. Not good, so she ended up grabbing & gnawing on my old Dimon Sports hat instead. John Dimon, where are you?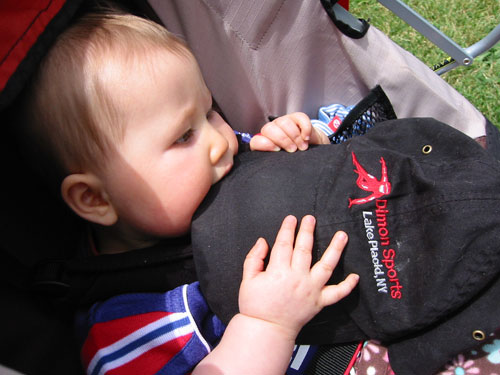 See, this IS about speedskating! No better way to improve the immune system eh? Or maybe just ensuring RZ has salt in her diet.
Ben moves so fast, I kept missing photos of him doing things like standing on top of the adult drinking fountains! Boy energy must be the raw fissionable material that powers the sun. Son=Sun. I don't think that linguistic coincidence is happenstance.
Boys do eventually grow to be men, & there always is some of that crazy energy left in them. Jess came home from work, Susan from the coffee shop, and Evan and I headed up into the mountains on bikes.
Maybe not as fast as we once were, but still hollerin boys in our hearts, especially when Wasatch singletrack swoops & dives like a rollercoaster.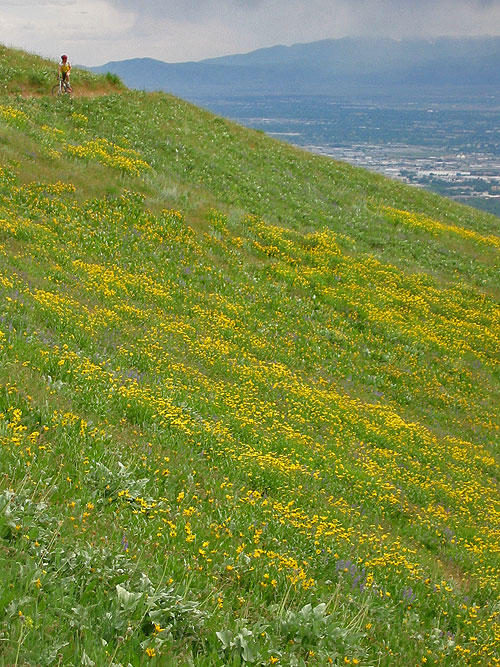 And perspective-laden Dads in others; the wildflowers are in bloom across the Wasatch. Massive fields of them lining the trails, & I kept thinking of Ellie, RZ, Ben. These little beings that mean so much to us. Our own individual flowers in a sea of kids.
A sea that can be wonderful, but also sometimes capricious & brutal.
Before RZ was born, I asked Marty Haire what being a Dad feels like, he said "Well, you suddenly understand, when you hear about something horrible happening to someone else's kids, you understand why that matters. And it gets to you, even if you have never met the people involved".
True. So very true.
Filed under: baby stuff