Posted on 25 Oct 10:59 pm
A bigger crowd, a weekend crowd, and the 1500m pain cave for both the men and the women…
If you are not a speedskater, someday ask an experienced long tracker about the 1500. Note the sudden change in the facial expression as the memories all come rushing back.
It's probably the most complex race to train for, to pace correctly, and it really, really hurts. It feels like one can do far more damage to the body in a 1500 where you really go for it, than in a 2 hour bike race.
On to the races!
Maria Lamb, big lean/pressure, and flying past 3 time Olympian Catherine Raney about 600m into the race, made the 1500m team. Stunningly, Catherine did not.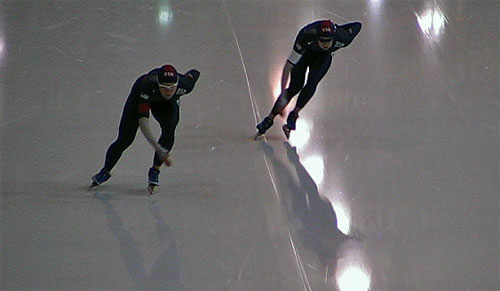 Anna Ringsred trains with a group of international athletes up in Calgary & shows excellent corner pressure here.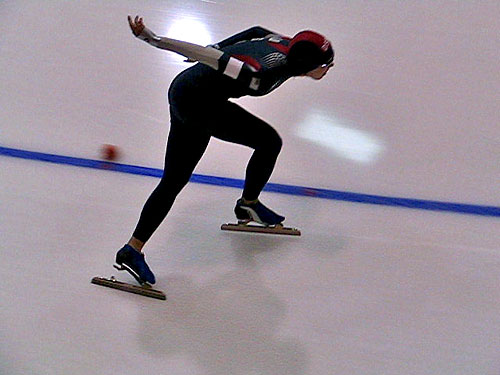 Anna was chasing Heather Richardson, who started out fast like most sprinters. Anna fell behind, clawed her way back, and then with one lap to go. Somehow Heather reaccelerated through the pain of the last 100m
Heather made the 1500 team, Anna, a few meters back, just missed.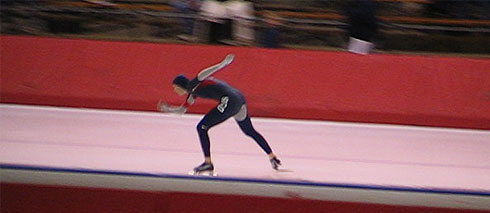 But the real story of the day was former world sprint champ & Olympic medalist Jennifer Rodriguez. As she blasted off the line in the 1500m, the lights of the Pettit almost look like a runway, and she is accelerating into that moment of just soaring skyward.
She said afterwards to me that she used to get really nervous for races, but now it's hard to get excited after so many years. Even the Olympics can feel like just another race.
But you would never know that is in her mind, as her body races with focus and intensity, and she won the 1500m by over 2 seconds.
Like a lot of people who grew up inline racing, she has a stylistic habit of reaching really far to the inside with her left leg (Derek Parra did as well.)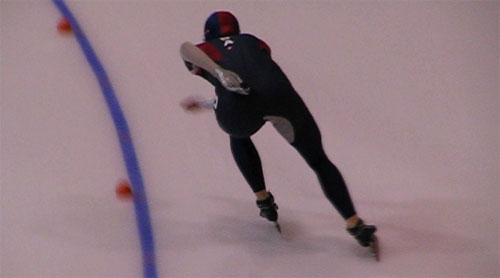 The thing is, Jen & Derek can create pressure during that reach. Most can't.
Onto the men…
Marty Haire, 2 time Masters Allaround Champion, keeping the young-uns honest & throwing down a solid race. Swift Skinsuit? Pshaw.. Marty rocked in his Saratoga club skin..
Marty, Bruce Connor, Brian Boudreau and myself reprented the masters world decently well in Oly Trials. Speaking of the Boudreau-isaurus Rex, wow… What a 1500m
On the Brian Scale of 1-10, I think it was a 13. The challenges of being a masters skater, of combining a job, age, & elite level training are truly steep. It's just awesome to see a guy in his 40's throw down hard & beat some of the young men who train full time at this.
But as the 1500m pairs went on, the field narrowed from those of us "happy to be there" to the people who want to make a World Cup/Olympic team,
Nick Pearson, big guy, big speed, big lean. Just missed the team by a tiny amount.
Shani Davis–he is one of the most perfect technical skaters out there. Is he strong? yes, certainly, but he is also efficient and precise. These few steps, 600m into his 1500, are poetry in 26 second lap motion.

I don't think anyone would describe Chad's skating as poetry, I think it's more Texas Football. However if you look at his push direction in slo-mo, it's as precise as Shani's.
Chad skated a shockingly fast 1500m. In fact, it was a new Pettit National Ice center record. Here he is, in the last 120 meters of his 1500, giving the finger to all those people who had written him off & declared his career over in the rough years since the 06 games.
Well, actually, that's his index finger, but still, it's a funny thought…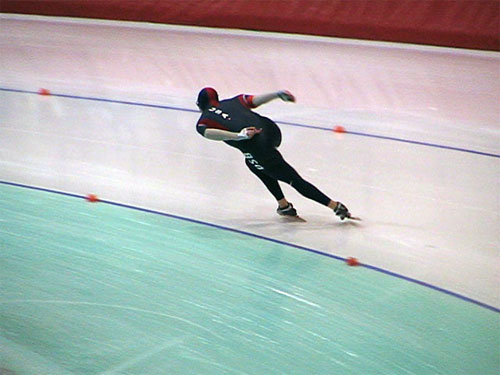 And finally here, this is your men's world cup team. The veterans Chad & Shani. And the youth movement in Trevor Marsicano, Johnathan Kuck & Brian Hansen. Brian's dad told me he was happy that his son was "flying under the radar" until this competition. Well. He is on the radar now. Congrats all.
Filed under: Olympic Trials