Posted on 26 Dec 09:39 pm
The day after Christmas/solstice dawns cold, clear; a squeaky snow kind of day that makes you want to wear your parka all day long.
A good day to be skating INDOORS. So many athletes have given up so much to be here. It's Olympic trials, part 2.
75% of the Olympic team has already been picked via the world cup results, but now it's a struggle for those last few spots.
The crowd was much smaller than Milwaukee, but local skater Parker Vance had some really supportive (and loud) fans.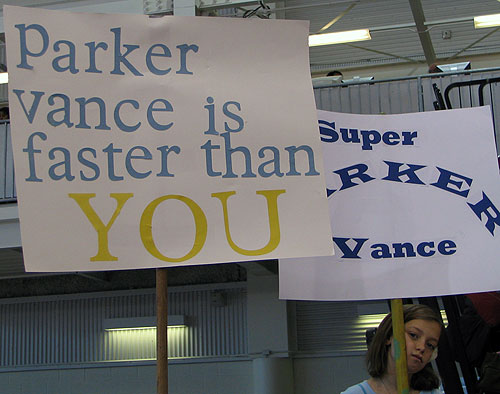 And yes, they are only a handful of people in the world faster than Parker. So for 99.99% of those reading this sign in person and here on the web, yes, it's true.
Not sure who these fans were cheering for- but it's all in the intense spirit of Olympic trials. (added note: this is the family of Rebekah Bradford).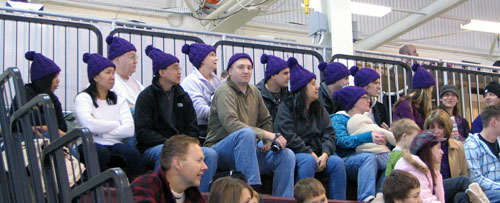 All those years of training, all about today.. Pat Meek is really a 5k specialist, but a lot of distance skaters do a 500m just to get the race jitters taken care of before it's their turn to shine. I wish I could do a 5k for the same reason.
Here is Mia Manganello doing those little things right that create big speed, this is her final crossover stroke, and straightaway transition into the backstretch.
She is on her way to a nice PB, note her coach Matt Kooreman's excellent coaching technique, urging his athlete onward.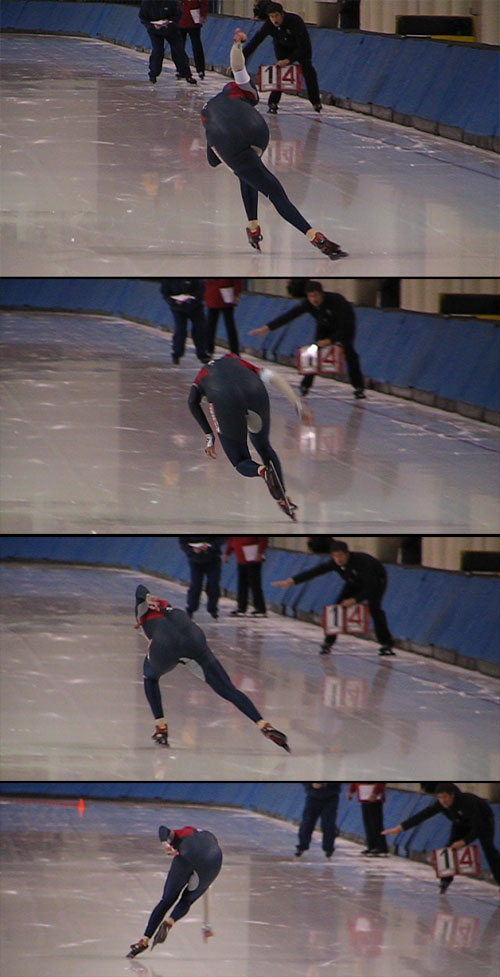 Anna Ringsred and Beckah Bradford ripping up the backstretch. They ended up 2nd & 3rd overall on this day. They are both finesse skaters with reletively long legs, and if your body type is like that, it's good to watch these two closely, they both get everything out of their pushes.
Lauren Cholewinski zipping through the final corner, on her way to an Olympic team. Lauren is a blazing bundle of fast twitch muscle fibre. Her challenge was technique. Oh how she has learned!
I had published a picture of Lauren's mom (with permission), after her son Clay's horrid crash last October. This is the other end of things, she is jumping through the air, & celebrating her daughter's success. This is one happy mom.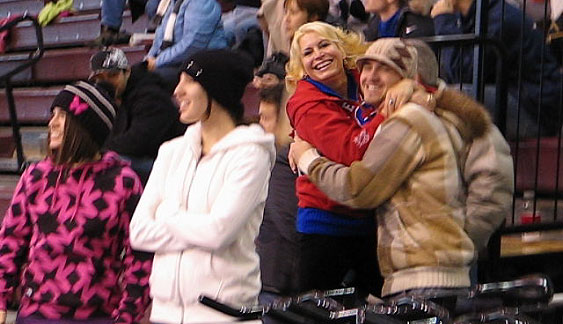 Speedskating is 99% sacrifice and pain. But that 1% is unlike anything else in the world. We have seen mom's 1% smile, here is Lauren's- She is now an Olympian. Full results for the women are here.
Chris Needham, in his 4th & final Olympic trials. Soul on fire & good for 7th place. This is the last 20 meters of his 500, but I have an identical image from 80 meters into his race.
People come from a smattering of other sports into speedskating. Tony Sargent has taken possibly the hardest journey, from a top level golfer to a speedskater. He likes this race face, & skated a huge PB in today races. The day it counted.
Robert Lawrence, the newly crowned USA junior short track champion. He skated a 2 hour ST workout this morning, and just is racing for "fun".
The slight twist you see in his spine is not "orthodox" turn technique, but it works very well for Robert to get that extra tiny bit of pressure from his extremely muscular & compact frame.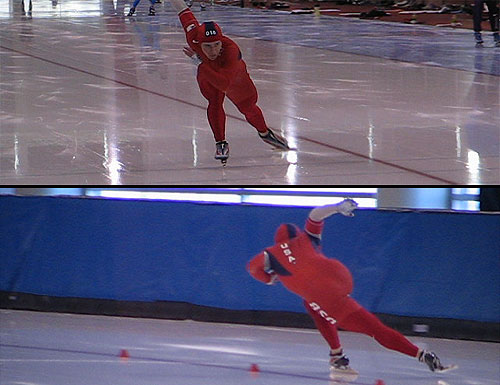 Mitchell Whitmore grabbed the last Olympic team spot in the 500m. The impressive thing was how physically ON he was. He did not skate clean races, and still came out on top.
Here he his, shoulder to shoulder with Brent Aussprung, a few meters from the finish, and then Brent congratulating him, as the enormity of it is sinking in to both men.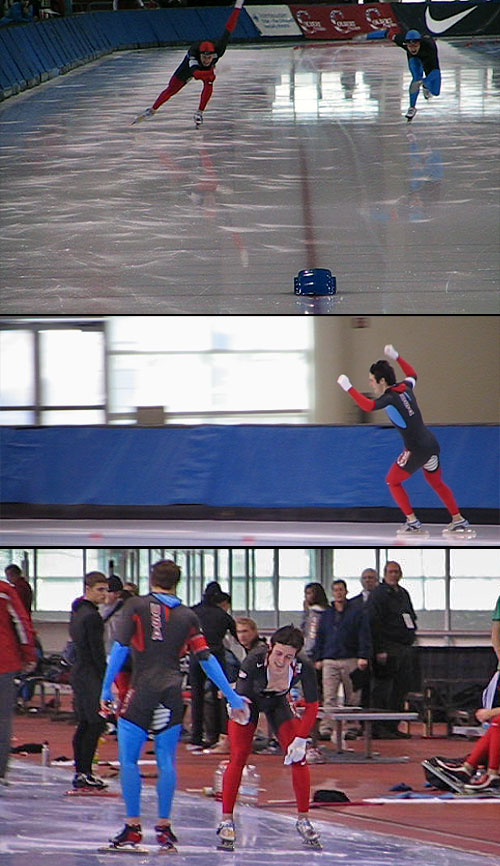 Losing is never easy when racing is the focus of your life. But there is no shame at being this good, going this fast, and missing by a tenth.
Many tremendous athletes are staying home this February, people who would be on the Olympic teams from many other countries.
Look how close this results board is! Measure your self-esteem, weigh years of effort in tenths, in hundredths, and desperately hope you come out on top. .
So few do. Today, just one….
These results are for the 2nd 500m. The team was the combined times from both races, full results for the men are here.
Matt Plummer threw it all in, skated the races of his life, and missed the Olympic team by a whisker.
Both Matt & Brent are total class acts, and the first thing they did was congratulate Mitch.
Just another triumphant and heartbreaking day at the soulblender called Olympic trials.
Filed under: Olympic Trials