Posted on 03 Mar 07:27 am
(on the flight, I did work on my report from Masters Sprint Worlds, almost a month late, but I will publish it this week.)
17 nations, almost 300 athletes. It wasn't the Olympics, but Baselga di Pine in Italy did a great job hosting Masters Allaround Worlds.
This competition is a wonderful blend of the best Masters athletes, + those who do skating for the pure joy of it, all came together to try their best on the beautiful outdoor ice.
Day 1-
When outdoor weather is great, there is nothing like outdoor racing. However, outdoor skating is often feared, because of conditions like this-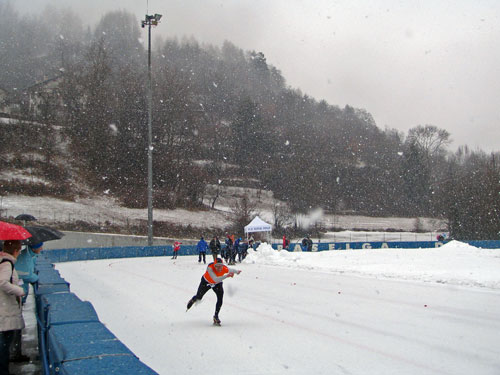 This is the Netherland's Bram de Vries, fighting through some extreme snow. He is the Dutch Rep to the IMSSC, and has as many ranked masters in his organization as there are speedskaters in the USA.
The weather became rain mixed with snow crusting into a sodden mess on the ice. Marty Haire of the USA keeps his spirits up; because this veteran of Lake Placid & St Foy knows an ancient speedskating secret; you go faster if you smile.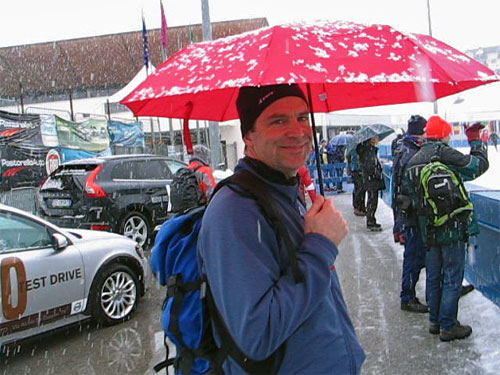 The women got the worst of the conditions. Many were 7 to 10 seconds slower than their 500m PB. Sorry I have no images of that, I did not want to take my camera for a swim.
Things did get gradually better as the day went on. The ice went from almost unskateable to just crappy, then from crappy to almost passable. The snow stopped, and things began to improve.
Vladamir Tkachenko of Russia here, in a skinsuit covered in galaxies, starts to see better ice.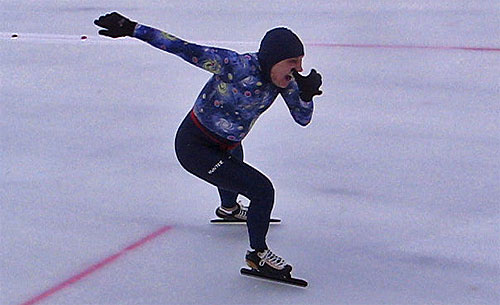 I slipped 3 times during the first 50 meters of my 500, and never really "sat down" into a good skating position after my slips. Here I am passing Dutch goodfella Ard Neven 210 meters into the 500.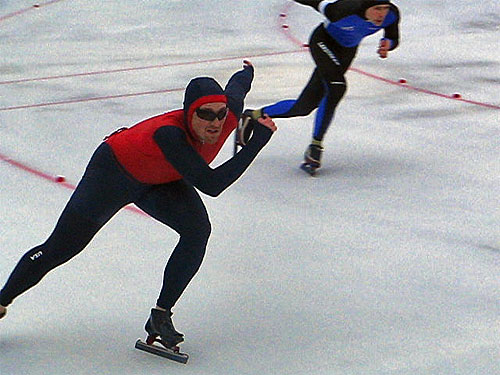 Even though I won the 500 in my age group, I really needed to put 3+ seconds on talented all-rounders like Ard in the 500m. In this race, it was only 1.6 seconds, and Ard would make up more than that deficit in the 3k & 5k. I skated a great 3k (well, great for me), so had hope for the 1500 tomorrow.
But really, I lost my realistic shot at the podium during my best event. Funny how sports work.
Italian Sylvia Tassara, racing a 1500m past rain soaked pads. There is some physics thing happening here with her push direction of her foot, and the pointing of her hand.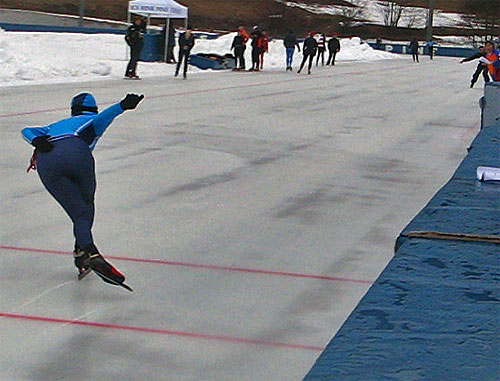 As the Men's categories began their 3,000m races the clouds lifted to reveal beautiful soaked & frozen mountains, (click on image for a larger one).
I think this is a German skater, in matching green fast suit & boot covers. The central building behind him was wonderful. Locker rooms, full bar/café. Indoor rink, etc (click on image for a bigger one).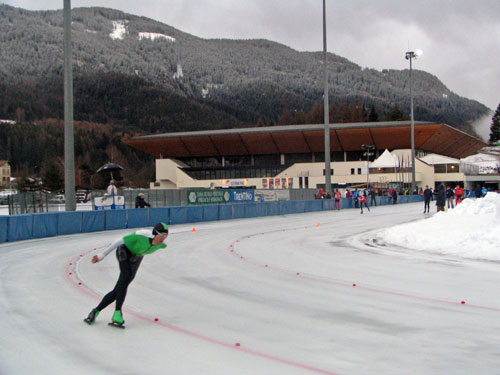 One of the matchups everyone was waiting for this meet was Dutch Skater Jan Duif and American Marty Haire. These two phenomenal athletes had gone toe-to-toe for the past 2 years in a row, with Marty coming out on top both times.
After the 500m and 3,000m on day 1, they were practically tied. Amazing.
Day 2
WHAT A DIFFERENCE!!
Here is one of the top Dutch women driving off the line with relaxed power during a 1500m under bright sun. The early morning condtions were great.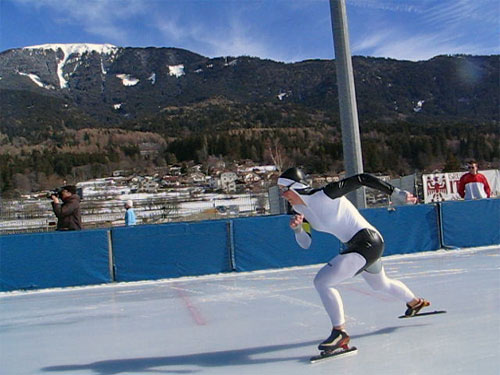 A lot of 1500m races on tap today. The pain cave of the 1500. You can see the intensity of the sun in the shadow of this Dutch skater

Canadian Randy Plett skating phenomenally all weekend. Here he chases Russian Boris Orlov in a 1500m, they solidified their placings in 3rd & 4th overall out of the 20 competitors in 45-50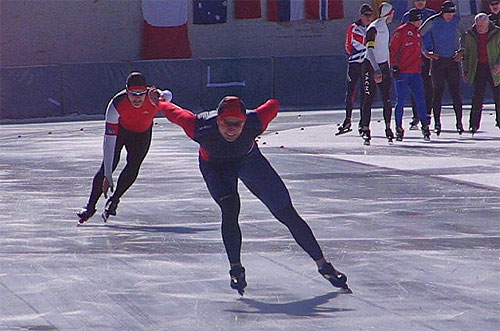 Jon Gauslaa from Norway. Some athletes do this funny thing with their tongue at maximal effort. Greg Lemond was well known for it. Jon shows it here.
There should be a name for this technique. PowerTounge?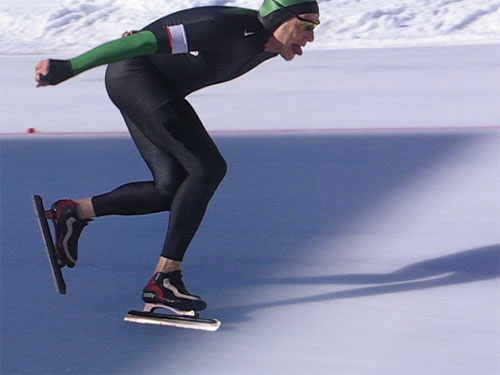 Jan & Marty were paired in the 1500m, the whole rink went beserk watching another tremendous battle, Jan's raw speed vs Martys short-track endurance.
They traded leads several times, and had another tie at the finish line!!!
My own 1500m was not so good. I overcooked the start, and was cooked on the last lap. Instead of taking time out of the Allarounders, I lost a full second. Meh.
Tiredness comes in so many flavors, we need more words to properly describe it.
You can be happy tired, discouraged tired, inspired tired, or just crusty tired. I have long said that Masters speedskating allows an individual to experience this sport any way their hearts direct them. It's the best blend.
You can be serious, or not, and if you are tired & discouraged, no one begrudges you a few glasses of wine at the end of a long, hard day of skating.
In fact, when it comes to Masters Skating, they will pour the glass for you, and join in freindly conversation. Somehow, that makes tiredness all the sweeter.
Filed under: RACE DAY