Posted on 05 Mar 04:18 pm
Masters worlds is much more than just the racing. It's also the people you share it with.
For example, here is the amazing Arne Kjell Foldvik, cheering on another Norwegian. Arne is in the 75-80 category. I asked him how many are competing in the 75+, he said with a huge grin "3 survivors!". Arne trains a lot with 10-15 year olds.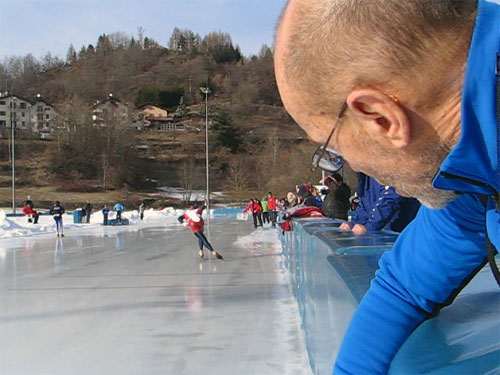 Arne is as sunny in his outlook on life as the morning conditions were on the ice.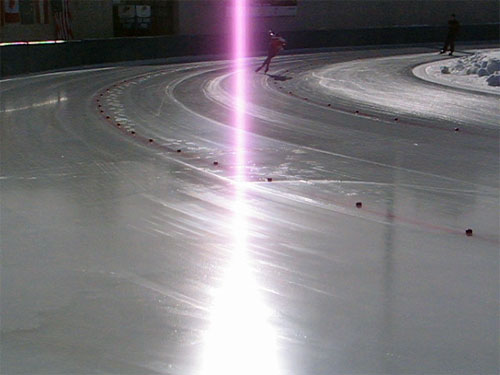 A 3 day allaround is a long meet, and it's not just a physical contest, it's a contest of emotions and expectations, the battle on the ice and the one in your own heart. (Final results of all this heart-effort, are here)
And heart is what is needed to race a 5k hard. Finnish sprinter Pertti Kiiskinen has a lot of heart, and a good pain face, 3 laps to go! (nice pictures Jess!)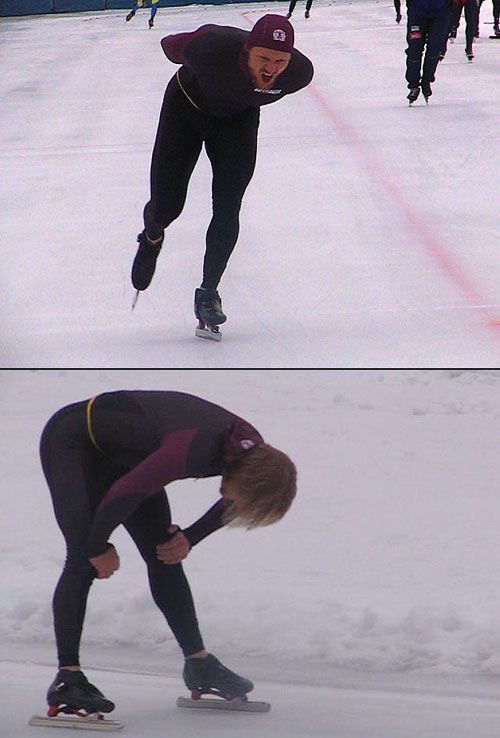 His father Pentti also was racing, finishing 3rd in the 65 category.
One of the tightest races, as expected was the USA's Marty Haire vs the Jan Duif from the Netherlands in the Men's 45+.
As it has over the past 2 years, it came down to the 5k, this is where Marty has proven stronger. They matched each other stride for stride.
Jan put in a surge, in the crossover, Marty had to give way & stood up for a moment.
Jan hit the warp speed button, and swung his arm in the straightaway for the last 6 laps. FINALLY finishing ahead of Marty. You can see how close each race was in the results.
Jan came across the finish line a burning mess. Totally spent, and so happy.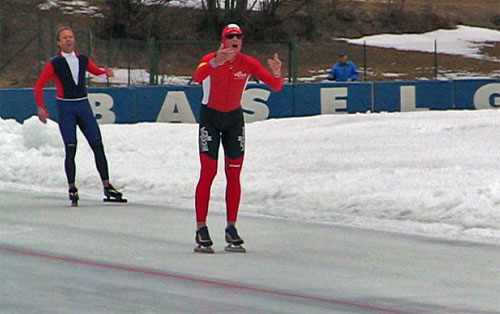 In my own race, I tried to go out easy, and then pick up the speed halfway through. My pair, Thomas Roste of Norway, went out hard. Here he is, pulling away-
I have just been passed by the other pair, Thor Olav Teveter and Ard Neven. Who went on to finish 1st & 2nd.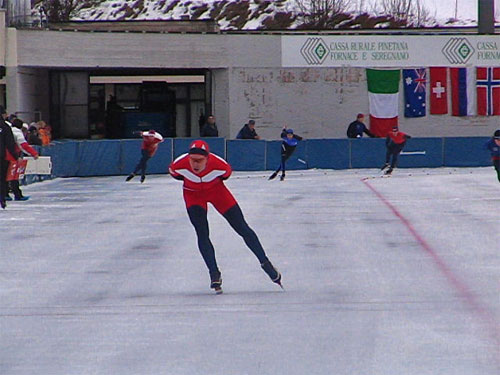 I tried to hit it hard here, and for a lap, I dropped my lap time from a 39 to a 37, but then my legs blew to bits, and I crawled to the finish line. Dropping from 3rd to 5th overall.
Norwegian Masters Speedskating co-ordinator Sven-Aage Svensson or Norway. Coaching. He was not skating this year, but was still there for the strong Norwegian contingent.
Note his surgical booties, gripping the ice.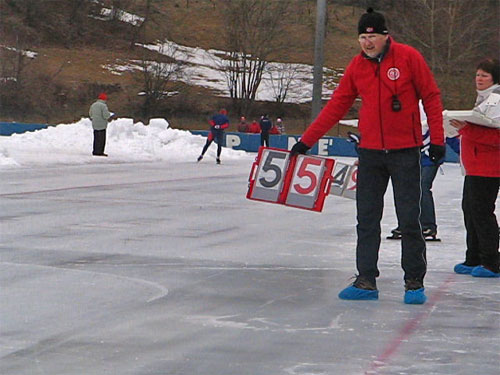 Did I say how strongly Norway loves it's skaters? Here is an example: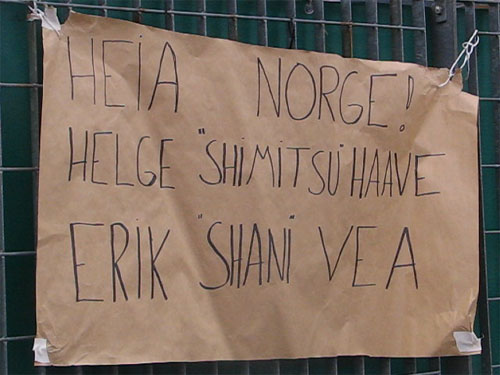 These masters are true fans. It was quite the experience to watch the EuroSport coverage of the Olympics, in a room full of Finns & Norwegians, talking trash about their cross country skiers.
As the 5ks began to wind down. Jessica & I took a walk into the town of Baselga di Pine. It's pretty quiet.
But it does have all the good things- skating, skiing, camping, sleeping, pizza, and coffee.
Ragnvald Naess, he won the 3k and 5k, and is on his way to 2nd place in the 55+, showing some old school technique here. You often see this with lifelong skating masters, the old toes up push from fixed blade habits. He does this on the left foot as well.
(more soon, will finish this entry later)
Filed under: RACE DAY