Posted on 17 Mar 04:48 pm
How does that saying go? It's not over till the fat lady sings? I have an addition to that saying, specific to speedskating.
"The season is not over till Mahoney slides"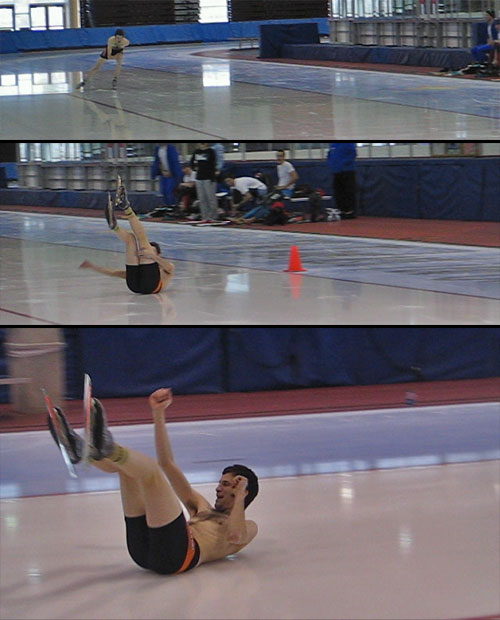 I've seen Charlie do this to ceremonially end the season a couple of times. He gave himself some pretty nice iceburn on his back. At least he is already a medical professional.
His skills were unfortunately needed at the Champions Challenge this year, as top athlete Kelly Gunther had a horrible crash, one of the worst seen on the long track at the Utah oval in a very long time.
She snapped her leg in multiple places, and is going to have a very long recovery. So many of us wish her a speedy recovery.
Many of the SLC crowd ended their season here. I ended my season the moment I stepped off the ice in Baselga three weeks earlier. I won't lie, it's been a hard year.
Two disappointing ice seasons in a row now.
There certainly were some good things that happened this year; but when it comes to me vs. myself, I'm not satisfied.
Speedskating is such a brutally difficult sport, if you are not making clear progress, it can leave a bad taste in your mouth.
However, so many other good things are happening, I am at peace. Things like this–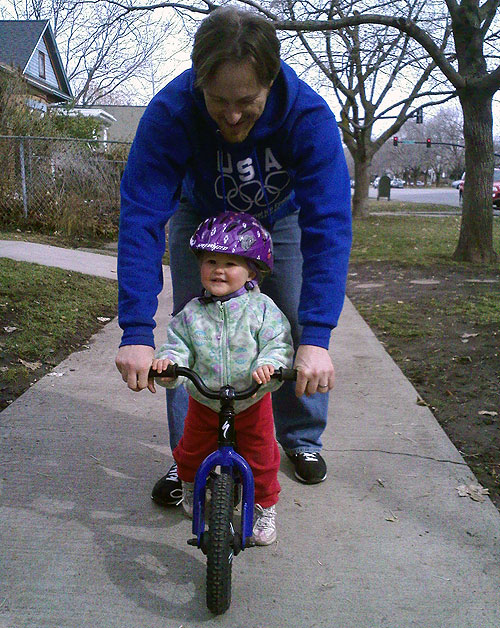 RZ is on a kickbike here. It has no pedals, and so she can walk along with her feet on the ground. Eventually she will figure out that she can pick up her feet and coast along after a good strong kick.
Most kids who learn on a kickbike never need training wheels.
Daddy is very proud.
Ice… SchmIce… my daughter has a BIKE!!!!
Filed under: from home