Posted on 05 Aug 12:12 pm
In the news today, an article in the salt lake tribune about my fellow high 5 team-mate Eva Rodansky. (and I need to give full attribution to the photo here, its from the article, that is Boris right behind Eva, followed by Nate DiPalma and Kirk. )
And a week ago, there was an article about Kim and Eric Kraan, and their skating school.
It's interesting to see something in the Salt Lake tribune. The oval is full of Japanese media, taping & interviewing the large numbers of Japanese skaters training here, as well as some of the well-known American skaters.
After years of training on my own, It's pretty cool to be at one of the international intersections of speed skating. Here in this picture below, A Japanese skater is followed by a French skater, who is then followed by good guys/phenomenal US skaters KC Boutiette and Chris Callis.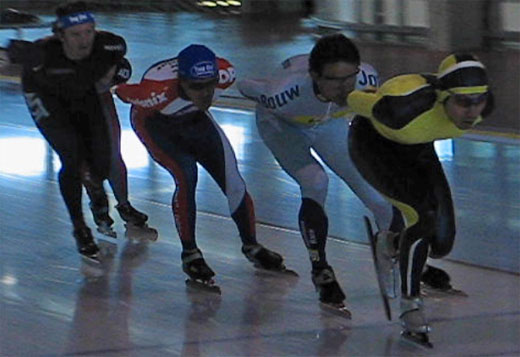 and here are some Japanese sprinters going fast.


The Japanese skaters all have excellent technique, but there are often visible differences in style between them and European/North American skaters, one thing you can see in this photo is how the back 2 skaters in line have their shins almost vertically straight up and down, with the knee even with the toe. Lots of Asian skaters seem to do this, whereas a Dutch skater is the polar opposite often bringing the knee waaay forward to create the same length & pressure push,

as you can see this is picture of super-stud Gerard Van Velde.
Some say there is a different femur/tibia length ratio between many Asians & Europeans, and that accounts for differences of technique. I am not so sure, I think this might be a case of both approaches being sound technically in creating pressure into the ice, but just a different stylistic approach.
I race for the first time this year tomorrow. I am just doing it for mental training, my first race of the year is always horrid, better to get it out of the way as early as possible.
Filed under: from the coffee shop