Posted on 18 Apr 08:21 am
(Originally written on the 18th, pubished on the 30th)
By myself at an empty public skate session, just my battered boots & me.
Drills, easy laps, orientation of the complaining body to the skates again-
Skate politics is filling my brain, as much as my hips are being oriented again to the unnatural pain angles of the skate position, my brain is being oriented to spending hours on the phone discussing, learning, absorbing, caucusing with like-minded.
Sit on the push, back half of the blade, let the right position make the pressure- don't force it-
So little blade actually bears our entire weight+gforces+muscle power, it's a wonder short track is possible at all-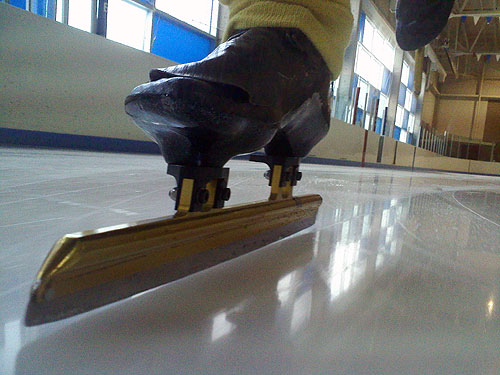 So it might be in skate-politics.
There has always been a lot of vehemence in skating politics. There are REAL chunks of money flying around, careers, ego, thriving and dying clubs, Olympic teams, endless investment of hours.
Listening to the new board orientation conference calls, forcing my heart to be as positive as possible. Is this how they really are, or how they want to be
US Speedskating has traditionally been like a 4 year phoenix. Immolating & reborn every Olympic cycle. The attrition among office staff has been frightful.
Lots of empty cubicles at the US Speedskating offices; tracks of who has gone before. I'm looking hard at these trails in the ice, what techniques are tried by what people.
It's so easy to throw bombs from far off. To kvetch to your social circle; To organize/suggest workable policy is awfully hard.
Early season, just feel the push, dammmmm… Let momentum & level shoulders/hips carry you through ouch+ouch+ouch.
execute from depth.
There were a number of things that have been said by some of the experienced board members to me. In rough paraphrase
The athletes are getting better, faster, of a higher level every year. The governance of this sport needs to up its game as well!
Every 4 year cycle seems to get more intense, there are more demands, more specificity.
Recover—recover between sets makes each effort more- Protect your eyes so you can see no matter the wind (& flying ice chips)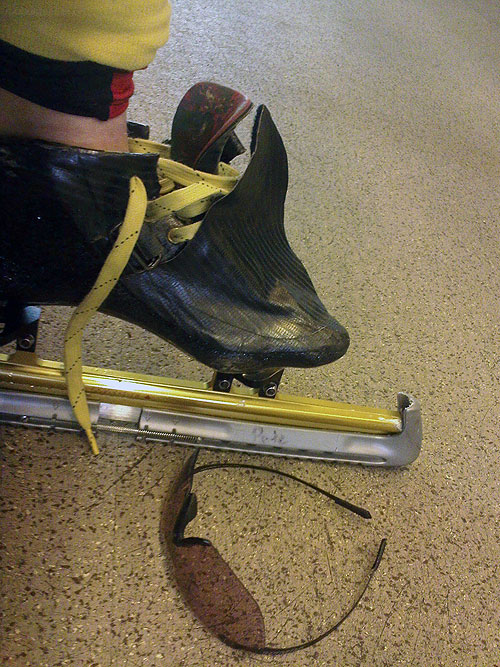 Skate quiet off the back half of the blade, pressure; just skate right.
Then try your heart out–
& fall 10 times, fail 100 times, then get back up again. Understand and execute. Finally.. Fly.. Speedskating. Speedskating policy.
3 Comments »
Filed under: USS board