A sighting of the Carla beast
(to be read aloud in your best "crocodile hunter" voice)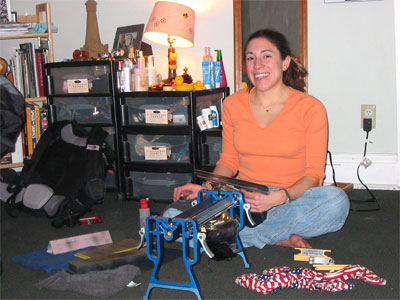 And here we find a photo of the rare and exotic Carla skate beast, seen in her natural habitat.. oddly enough for a creature best known for winter sports prowess, the Carla beast prefers a habitat temperature of approximately 82 degrees, and only tolerates brief exposure to sub-freezing temperatures, the "on training safari" photographer noted the full power space heater just out of the camera frame.
Like many of the homo sapiens evolutionary branches, the Carla beast is well known for tool use, careful grooming, and irreverent humor. This can be observed in this photo by her meticulous sharpening and de-burring of her primary tools, watched over the Carla beast's shoulder by an assortment of rubber duckies, a winnie the pooh iconographic statue, and an assortment of mane grooming and enhancing products.
First observed in the asphalt jungles of Manhattan, the Carla beast's habitat is gradually expanding westward, first to Michigan and then Wisconsin. Scientists estimate that her heart and VO max lung capacity must be completely off the charts for a mammal! Probably even rivaling the 4 footed mammals who regularly measure in the high 200's. Also known by the natives in wisconsin as "last lap Langenthal" She seems shy at first, but in the ice biome, a noodle bowl restaurant, or foraging for nourishment at a natural foods store, her true nature is quickly revealed.
Action shot captured in minnesota, the carla beast intensely dislikes cold, very unique for a winter sports mammal. Her protective coat is quite thick in this photo.

Moments after this first photo was taken, she shed her outer layer, and went really fast!