Posted on 28 Sep 08:19 pm
The first races of the year were at the Utah oval this weekend. Liam Ortega continued his strong recovery from his head injury.
Here his is watching his teammates April Medley & Ashlee Barnett wizz by during a 500m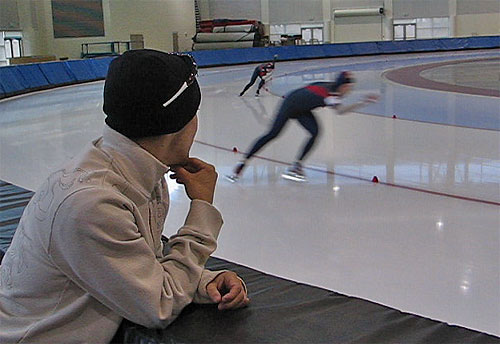 I asked him how he was doing:
I don't have any memories from the day of the accident, but one of the trainers here at the oval told me that when I woke up, & was told I was going to the hospital. I said "What! That's expensive!!"

Its awesome to be back here & seeing how everyone is doing on the ice.

The lasting effects from the accident are mostly testing my patience to get back to working out, & staying positive. However I did lose my senses of smell & taste.

I do have the 4 basic tastes, sweet salty, sour & bitter. But I have the memory of how things taste, more than actually tasting things, so my mind is kind of filling in the gaps. When my mom asks me if dinner is good, I can't really tell her, since I am missing 10 or 12 flavors.

Not having a sense of smell is kind of funny, I actually have better hygiene now, because I don't want to be the smelly kid by accident.

I'd like to compete again soon. Hopefully at nationals, but I will leave it up to the Doctors.
Interestingly enough, I saw quite a bit of traffic coming into this blog from some Dutch speedskating discussion boards. Evidently a crowded rinks/helmets discussion is going on there too.
I want to make a comment, about how when stuff happens, that is when your close family & friends really count…
This is Liam's mom Kate, taking a video of him skating at nationals last year
She has been in Utah since his accident, helping out till he is cleared by the doctors to drive again, and here they at the oval on Saturday.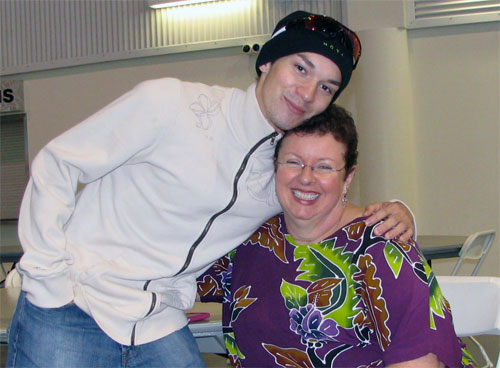 Recently I have been told, that once you have your own kids, and you hear about something happening to someone else's kids (no matter how old the kids are) it just hits you in a different way.
As I am just a few weeks away from becoming a dad myself, I've watched Kate & Liam, and felt that small stirrings in my own self (Jess is being kicked by it, no stirrings at all)
Someday soon I will understand this more clearly.
8 Comments »
Filed under: from the coffee shop