Posted on 31 Jul 01:48 pm
I couldn't sleep worth a damm last night; too darn hot & my legs/back/knees were sore & complaining from self-assigned evil dryland.
At some point, tossing and turning all night turned into morning, and since I was awake anyway, might as well cool off & skate some morning ice at the Utah Olympic Oval.
All the usual suspects were there; the younger skaters all a year older & more powerful (some of them quite visibly so), and the veterans still optimistic & a delightfully long way away from mid-season burnout.
Everyone was happy to be on the skates, & beginning to put hard-earned summer fitness to use.
Here is current US junior national champ Mia Manganello leading Ron Macky, Catherine Raney & Pat Meek. A soul-train of national team ability & effort.
A lot of good technical things are going on in this photo. Mia has excellent nose-knee-toe alignment, & everyone's glide blade is pointed right down the ice. Sure, these are very strong athletes, but it's the controlled application of strength that creates speed.
When I mentioned Chad Hedrick in a recent post, a few people perked up in comments & said "so how's he looking?"
He is very fit & I hear some serious determination in his voice. This year will be quite different than last.
Here is Chad, leading John Loquai, Liam Ortega, then Pat, Catherine & Mia. The previous image was about glide; this one is about pressure.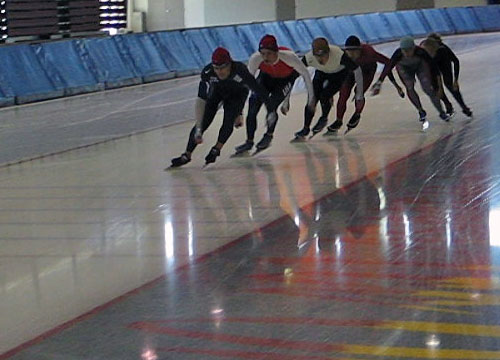 Again, the blades are pointed pretty straight down the ice, but it's the exceptional control these athletes have that let's them go from the glide moment to this pressure moment seamlessly.
No one can do this when they step on the ice the first time. No one. It takes a lot of work.
I think it took me about 3 years until I could feel the "pressure moment" correctly. I'm still working on the glide. It seems to go against my personality, and is the reason why I skate similar times indoor, outdoor, good ice, bad ice, etc. I just push hard & barely glide.
Here is another moment of speedskating, Liam is leading Chad & John.
At this split second Liam is driving his body forcefully into the first turn step. You can see Chad's skates behind him beginning to lean, and John in 3rd, straight up and down.
A split second later, John's body will be driving into the turn like Liam's.
I bet anything that Liam's arm swing is also out to the side a tad more than normal, so he can use it's momentum driving across the front of his body to give a tiny extra "ommph" of directional change as he leans into the G-forces of a fast turn.
It would be easy to write endlessly about turn entry & exit mechanics, suffice it to say that tiny things like this matter more & more the higher the speeds are.
You can also clearly see the effort on their faces; the trick is technical perfection while also trying very, very hard.
Finding that balance is enough to drive a soul friggin batty.
As I am writing this, I am also I'M-ing with Kip Carpenter. He is in the hotel across the road from the Viking Ship indoor rink in Hamar, training with the DSB Dutch professional speedskating team, I included the image of Chad leading the group in our chat, and he observes:
damn,, i miss that ice
I did too. Forgot how much until I stood on it again. It's good to be back among the tribe.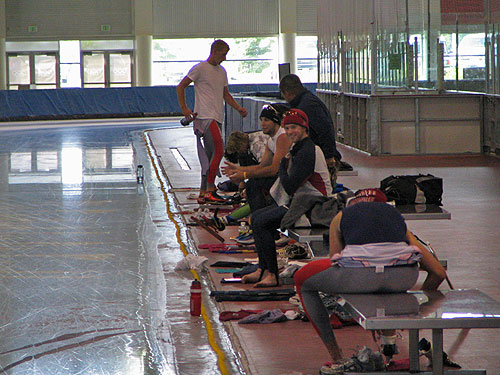 25 Comments »
Filed under: from home