Posted on 28 Aug 01:05 pm
It is always good to see friends who "knew you from way back when".
I know many of the good folks of the Rochester skate tribe, from racing & training in the blizzards of Lake Placid, and also from a dryland clinic I ran for them two seasons ago.
This week three of their members, Tim Doherty, Lisa Floryshak-Windman, and Jim Cornell, flew out to Salt Lake to attend a level 3 speedskating coaching clinic. They had an absolutely fantastic time, and on Saturday morning got to taste the fast & furious ice at the Utah Olympic Oval (it's a huge shock if you are used to natural ice, or the oval at Lake Placid).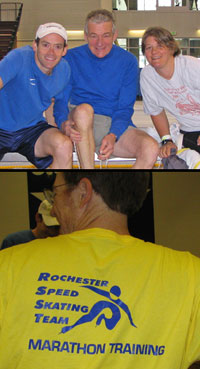 You can see their speed-addled grins here. Well, actually, this bunch is usually smiling. They also have a great sense of humor, and gave me this yellow shirt.
I have skated dozens of inline and ice Marathons, but I sure as heck am not training for them anymore. I think I could survive maybe 5k of a marathon, and then my fast twitch optimized self would simply crumble into tiny flaming bits.
People wring their hands about the state of the sport, the future of this or that. Usually this is talking about the upper orbits inhabited by a tiny number of international caliber athletes & coaches.
However with dedicated volunteers like Tim, Jim, and Lisa (who spent their own money to fly out here and take the course) and so many other folks like them in the 133 clubs that US speedskating has listed, I think the sport will be ok.
(and Lisa, good luck running the Ice Marathon National Championships, I will post a link here once you get your website up & running)
6 Comments »
Filed under: from home