Posted on 26 Aug 12:32 pm
all photos here from the amazing Tom DiNardo…
For many speedskaters, qualifying for Olympic trials is a HUGE moment. It's that moment where you KNOW, that all that suffering has paid off. Certainly there are higher goals, world cups, O-games, medals, media immortality, etc, but for the vast majority of the athletes. QUALIFYING is the goal, and a moment that they remember forever.
The first time you do it, it's a lightning strike that sets your heart on fire.
For short track, like long track, you need to skate a qualifying time to make the Olympic trials meet. This past weekend at the ST Desert Classic, quite a few qualifying times were skated on the fast Utah ice. .
Here is one story, my friend Liz Looby.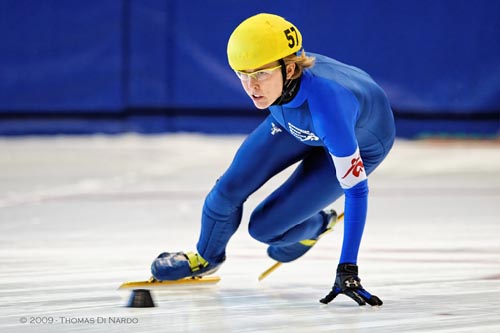 This alumnus of the Rochester speedskating team, who moved to Utah in pursuit of this goal, described her experience like this–
I can't recall any other time in my life where I've cried out of happiness. After seeing the time, I got off the ice as fast as I could, ran to my coach and gave him a huge hug.
Everyone probably thought I was a crazy person, running crying and yelling, but I didn't care because it was my moment, the moment I've suffered, sacrificed, and slaved to experience and it was worth every drop of blood and sweat I've shed.
I would gladly go through years of more long days at the oval doing double ice sessions and 4 hour dryland sessions till I drop if there's even a possibility that I could have this kind of experience again.
I have this card with all my long term goals on it that I made a few years ago, there are 7 goals on it, and until Saturday, I've never been able to cross one out, or even come close. So even though all I did was make the qualifying time it marks a giant step in my skating career.

I think her smile says it all:
Many other skaters also qualified for the trials, I don't have enough words in this keyboard to even scratch the surface of this. But here are a few images from Tom's massive archives.
Liz had a great meet in addition to her qualifying time. Her chin is where her center of gravity is, and shows how lean generates speed, as in this moment she has just planted her left foot.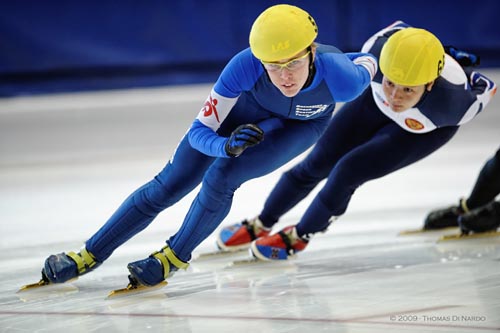 Anthony Barthell also qualified, and although Anthony now has his sights set higher (top 16 at the trials themselves) I hope he takes some moments to appreciate & celebrate this accomplishment he has worked so hard for, after moving here from Florida.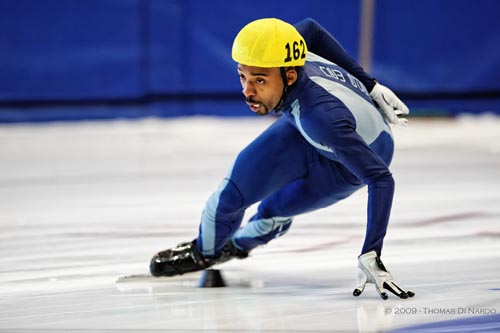 Riddle me this— Why do we do this sport?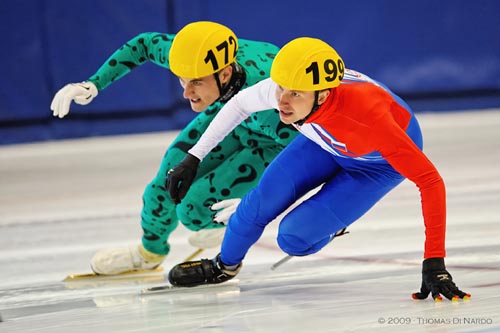 I think this is a Zach Fuller, out here from California, passing a Russian. I don't know him, but I know something about what he has experienced to get here.
The definition of qualified is this
Main Entry: qual·i·fied
Pronunciation: \ˈkwä-lə-ˌfīd\
Function: adjective
Date: 1558
1 a : fitted (as by training or experience) for a given purpose : competent b : having complied with the specific requirements or precedent conditions (as for an office or employment) : eligible
I'd like to add to this definition, by taking Liz's experience, Anthony's, all the short trackers who have worked so hard for the 2009 Trials, pour it into a pot, digitally boil & distill for 4 years, then splash it onto TV screens worldwide, just before an Olympic short track gold medal final.
Maybe then the "normal world" will understand us a little bit better.
8 Comments »
Filed under: from the coffee shop