Posted on 26 Jun 08:10 am
Are you a role model for your kid? Absolutely. They mimic your expressions, tone, & communication styles constantly. If you smile while eating breakfast, it's likely they will too. If you talk to them, and play on the beach, they will talk back, and maybe love the ocean like you do.
They are absolutely their own person/personality, but they are figuring it all out, based on what surrounds them.
This I expected.
But what I have been most surprised by, is how much my daughter is teaching me. RZ is teaching me about a whole range of emotions, levels of effort, "true strength" & selflessness that I did not know I had within myself. I am a better man because of her, and I think I grasp some things about this world better, because of her.
It's a wild ride.
She wants to grab my keyboard right now, she is talking that baby talk string of vowels at me.. BaBaBaDoDeeDaDaDa. I can't write. Jess is sleeping and the baby is wriggling.
Oh, I am in Puerto Rico right now, my brother is getting married this sunday to an amazing lady who has a lot of family on the island. Like Puerto Rico itself, Esther is American, but then with some other amazing identity entirely her own blended in, it's a fascinating place.
Ocean, family, good times. RZ, lets keep teaching each other through all the swells & waves, Ok?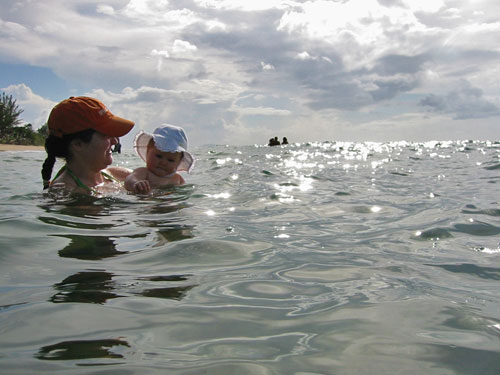 I thought I would do some dryland this week, just easy stuff… the Utah oval opens in two weeks, but it's just not happening.
Oh well, hand me another cerveza to wash down my mofongo..
RZ, can you teach me to be ok with that too?
5 Comments »
Filed under: on the road