Posted on 22 Mar 05:09 pm
60+ bicycle racers at the start- by the time we were ripping towards the final turn of the race, there were still 40+ in it to win it. The pack was boiling back and forth across the road like a scalded snake.
Earlier: Sounds of coffee percolating, was on baby duty last night, I question if I should race this afternoon. Woozy on my feet. Pot 'O coffee 1 does not do the trick. Pot 'O coffee #2, and I feel moderately better.
Am in 5th position, feeling solid, clipping along at 32mph, saved lots of energy to spend in this push to the line. The pack surges on every side, suddenly I'm in 25th place. Crap! Cyclists fill the road curb to curb at full power towards the final corner.
Earlier: New race wheels, new pedals, the balance point of my bike just feels a little different during warmup-, or maybe it's just my lack of sleep headache- maybe I should not race today—
In the final 160 degree turn I am on the extreme inside of the pack, passing people, the rider in front of me crashes, I lean deeper and make it past, on the absolute limit of traction.. The leading riders are out of the turn, going straight and begin to sprint, Still leaning hard, I get out of the saddle and start hitting the big gear to catch them.
Earlier: That little voice starts again: I'm getting old, crits are dangerous, why do I love doing this so much?
My front wheel folds, I flip over the handlebars, and smash headfirst into the pavement at race velocity
Sunglasses shatter and my helmet cracks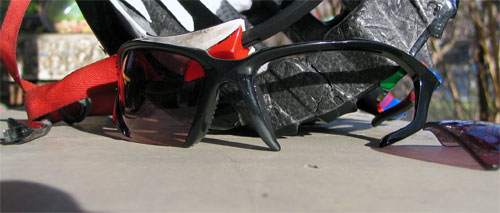 Right shoulder digs into the asphalt and my elbow gashes through arm warmers-
Back, hips, and ass slam into the pavement, like a flyswatter.
Numb, spinning, disoriented, full body shock. Sounds of the race wizzing by, sounds of more crashes, yelling. Then silence.
This is not happening. Total sensation too powerful to speak or move. Crushing… I can…. breathe… again… ohhhh…
Others on the ground as well. I see blood on the pavement. Blood on my hands, My face? Where is it coming from?
After a few minutes I sit upright, the EMTs are there. Peeling off my arm warmer already stiff with dirt & blood, copious amounts of skin are stuck to the inside.
So that's where I am cut. So many friends come riding over to me. Blur of faces.
Are you ok? Do you need a ride home? Wow Andrew, that's gonna need some stitches!..
One offers that he did this as well last year, did not notice his concussion until his drive home. Chris Needham is about to start his first bike race today. Takes one look at me, asks if I am ok, then they call him to the line.
Strangers I don't know come up, asking if I am alright. One fellow says "wow, did you clip a pedal? your rear wheel went straight up into the air before you slammed down!!"
Under an hour later, am in the ER, getting soaked & scrubbed.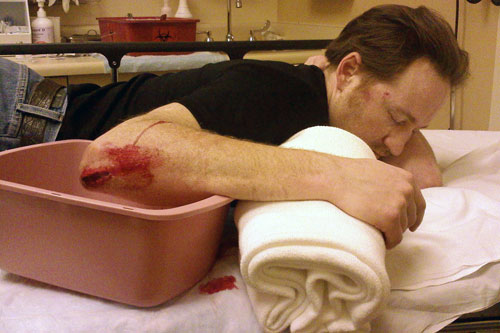 The crash was my own damm fault. Maybe tiredness, maybe the different balance point of my new wheels, but I got out of the saddle too early, maybe I was thrown off by that crash right in front of me. But it was rider error. Stupid
A few more pedal strokes seated, finishing the turn, I would have been fine–
But really, what is to be learned? Maybe only that I need to be kinder to myself when sleep deprived. I am not young enough to bull through it, not when high speeds are involved.
My wife never said "Why the hell do you do this to yourself". She understands, and accepts this part of me that is completed by racing. By trying hard, and sometimes failing, sometimes even falling.
She and the awesome ER doc had a great time comparing stitching techniques as I was being sewn up. I felt like a valued knitting project.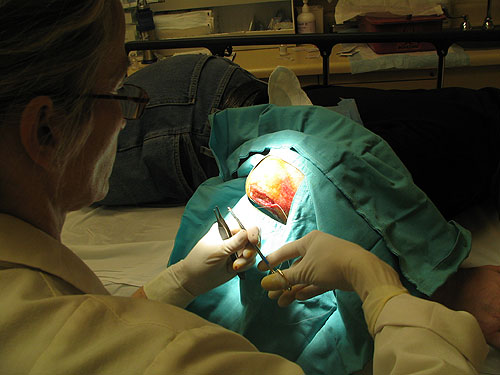 I've felt almost no pain from this nasty looking gash. A lot of other things hurt more, getting off the table after an hour of lying down, my hips and sternum were screaming at me. I never felt the needle.
There is a line between injuries and owies, and this is a very nasty owie.
If I draw my perspective correctly, it fills my glass half-full, and if I learn a lesson from this, hug my daughter a little tighter and cherish my wife a little more, the glass will be all the way full.
But right now, I need to heal.
22 Comments »
Filed under: RACE DAY