Posted on 30 Nov 08:01 pm
A few of the hands around my Thanksgiving table. Except for Jessica, evert single one of them are people I would never have met unless I had started speedskating.
Indeed, all over Salt Lake City, there are many gatherings of athletes who came here just to train on the frozen hamster wheel.
How many are there? The best guesses range between 120 & 150. Of course not all are still training daily, some came for the ice, and stayed for the mountains.
America is a mosaic of weird & fascinating subcultures. This is the one I am proud to be a part of.
And what better way to recover from a turkey-induced stupor than a crushing workout? Here is Mia Manganello, the day after Thanksgiving, lacing up for the last hard set of the day.
I was chatting with Chad Hedrick at the rink after my own workout (Chad is going to be a new father in March as well), and he said that the thing he hates the most about ice speedskating is how it often wrecks Thanksgiving and Christmas.
I agree 100%. I spent 3 years of Thanksgivings in Calgary, by choice. The Can-Am event was one I needed to keep developing. No one forced me to be a speedskater, but the stopwatch only really loves you to the ultimate when you are prepared to sacrifice & sacrifice & sacrifice (This is why my 500m is over a second slower now than it used to be).
Here are Chad's new boots & blades; he used a pair of Simmons inline boots & L-R Maple clap arm slots for years. Now he has a more conventional long track boot, set up with Viking blades.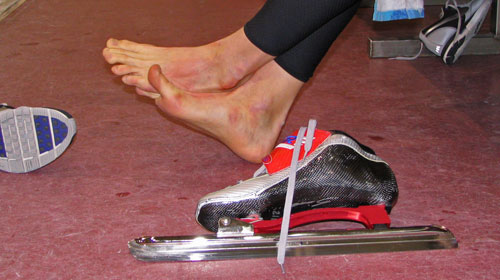 Even though I am not in sacrifice mode anymore, I still love going fast, and focus as hard as I can when I am skating.
Here is National Team Sprinter Mike Blumel, doing perfectly what I was working on this entire day on the ice.
Mike has perfect shoulder & hip position pressing into the turn. If you look at where his just-planted left foot is compared to his center of gravity, he is creating immediate pressure the moment his blade touches the ice.
Most skaters "reach" too much with that left foot, and are not creating the immediate pressure they could.
Mike is pressing his upper body into the push, but also keeping it square with the turn. Hard to do. I wonder how many Thanksgivings with family Mike has skipped, and will skip during his tenure with the National team, to skate with such precision?
Want to beat him someday? It's easy: Be amazingly talented, twine years of excellent coaching together with willpower to suffer, and then spend a lifetime sacrificing more than Mike has.
So simple, and so hard.
2 Comments »
Filed under: from home