Posted on 30 Aug 12:03 pm
Boreas: the Greek god of the north wind, is speaking:

"Force is what fits me, force! By force I drive the weeping clouds, by force I whip the sea, send gnarled oaks crashing, pack the drifts of snow, and hurl the hailstones down upon the lands. I, when I meet my brothers in the sky, the open sky, my combat field, I fight and wrestle with such force that heaven's height resounds with our collisions and a blaze of fire struck from the hollow clouds leaps forth. I, when I've pierced earth's vaulted passageways and in her deepest caverns strain and heave my angry shoulders, I put ghosts in fear, and with those tremors terrify the world … ' With words like these or others no less high, he waves his wings and, as they beat, the whole world felt the blast and all the wide sea surged. Trailing his dusty cloak across the peaks, he swept the ground and was clothed in darkness."

- Ovid, Metamorphoses 6.681 (this was written roughly 2,000 years ago)
Hurricane Katrina is battering the middle of the US, and last night a quick and sudden cold front swept through Utah from the north. Like wrestlers, the south wind (Notus) pushes in one place and the north wind (Boreas) pulled back in another. It was warm and still when I walked the dog at 10pm, yet at 3am the wind was roaring & gusting, the windows shuddering and the trees skittering like a crowd of worried people, a distinct cold in the air, waking jess and I. This morning it was chilly, brezzy unsettled air, a dim white haze to the sky burning off like tissue paper in blue sky fire.
High temp at 5pm yesterday, 100 degress, today, 72!
We are masters of so much due to our technological wonders, but we are still at the mercy of nature. We are not that far from the polytheistic wonderings of the Greeks and Romans, otherwise why do we name hurricanes? Why do so many watch the weather channel as if it's a sport? It's human habit to give a name to aspects of fate beyond our control.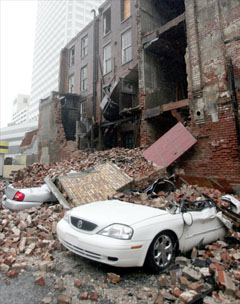 A hundred thousand people probably have been made homeless, and hundreds killed by that soggy swirl of wind and water. There are costal communities that are simply "gone". I think of my high school friend Jeremy Lyons, New Orleans resident, who was probably in the jaws of Katrina. This photo is a CBC photo of downtown New Orleans, remember, these bricks were moved by wind. When I visited Jeremy in New Orleans years ago, he was in walking distance of the water. I imagine he is ok, as he has too much talent & gravitas to be just washed away, no matter what gods are wrestling nearby, besides, higher powers usually like musicians. But when I hear that 30,000 people have taken refuge in the superdome, I hope he is not one of them.
Shifting gears a bit, there is no Greek myth that goes well with this: I crashed yesterday at top speed; I was doing the very last crossover step before the straightaway, and under the pressure of the turn (low 27 sec lap/33mph), my hips and shoulders were pulled out of line, so that when I put my right blade down making the transition from turning to straightaway strokes, it was not pointed in the precisely correct direction, it threw me onto the ice immediately. I slid diagonally up the straightaway for 50 meters, and gently bounced off the padded wall. It could have been really bad if I had made that mistake a few moments earlier at the apex of the turn, as I would have gone straight into the wall wearing 17.5 inch machetes (skates) on my feet.
The cause of the crash was really all the fatigue I have built up over this last training cycle, I was too tired to hold my technique together properly. But everything means something along the interconnected web we walk during our days, and this crash was a warning to not become to confidant, to appreciate everything I have this very moment, both past accomplishments & present health. It could be taken away in a second. Admittedly this crash was my fault, not like a no-fault hurricane, but where I fell was luck/fate/chance, just like where Hurricane Katrina came ashore.
3 Comments »
Filed under: Quotes, from the coffee shop