Posted on 31 Jan 10:47 am
Pictured below, friend Jannicke Mikkelsen skating on a fjord in Norway…
However she is missing a crucial piece of equipment in this lovely photo taken on sea ice…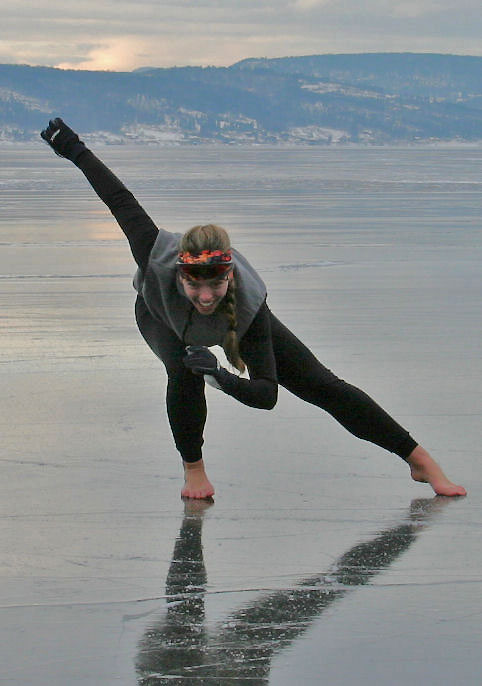 For more images of her actually skating in gorgeous scenery, dodging cargo ships, describing falling into the North sea, and some excellent pictures of the recent World Sprint Championships in Hamar check out her website
Claiming to speak for a group of people is usually a prescription for trouble, but I can confidently say on behalf of the Salt Lake City skate tribe:
"Janni, you are missed… Good luck and we hope to see you back here someday!!"
Speaking of being cold, the little toes on my left foot got a dash of frostbite last weekend. It's not bad, but it reminds me of Minnesota with every ouchy step (and hack/cough, I am still sick).
Dano & Colton Barrett's father Dan emailed me this image of the very cold master men 30-39 category doing our best impersonation of "skate ninjas." We are in the first 50 meters of the 500 here. From L to R you have Mike Anderson, Tony Morabito, Mark Yanagihara, and myself.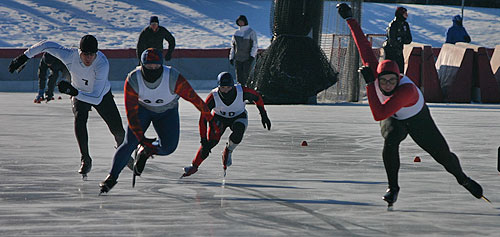 Technically, there are some interesting things going on in this photo. It's hard as a sprinter to "get over your skate" between pushes, and then create big pressure into the ice when stepping. They are opposite moments of balance that need to be executed at "blender" footspeed.
Mike and I are in the "over the skate" moment and Mark and Tony are in the "big pressure" moment. Tony stayed right on my shoulder all the way down the 100m, and Mike barely passed him at the finish line. I think Mark hit the wall somewhere during this 500m journey.
I need to shorten my arm swing a bit and turn that glide skate to be pointing directly down the ice, World Masters Speedskating Championships in Calgary is less that 3 weeks away!
9 Comments »
Filed under: from the coffee shop