Posted on 02 Jan 06:17 am
It's 6am, and I have already been up for 4 hours. Why? Well I am trying to get myself converted early onto Norwegian time! Tomorrow I leave for 3 weeks of racing in Europe
Now that Olympic Trials are over, and my worldview is only slightly less myopic, here is my racing schedule for the rest of the season.
January 7th-8th Hamar, Norway, Masters International Single Distance Races
January 14th-15th Davos, Switzerland, Masters International Davos Meeting
January 21st-22nd Inzell, Germany, Masters International Sprint Classic
January 28th-29th Salt Lake City, North American Long Track Championships
February 4th-5th Roseville, Minnesota, National Long Track Championships
February 18th-19th Milwaukee, Wisconsin, ADT Long Track America's Cup Final
February 25th-26th Milwaukee, Wisconsin, Masters International Long Track
March 11th-12th Salt Lake City, World Record Challenge
March 21st-25th Calgary Olympic Oval Finale (maybe, I might be burnt out by then)
If you see a talkative redhead in ugly sunglasses at one of these races, it's probably me, come on over and say hello!
Why am I going to Europe? Well, it's very possible that I might never again be as fast as I am during this very narrow window of time, and there are several international/world Masters 35-40 age group records that I have a good chance of breaking, especially the 1000m. Also I have a dear friend in Switzerland, who I am so happy to go visit.
It's worth mentioning that I could not even BEGIN to think about this much travel without the generous support of my sponsor, POWERCRANKS. Andrew Weber and Frank Day have been terrific. Powercranks are an incredible training device that I use all the time in the summer and fall. Almost ALL of the top cyclists and triathletes use these ego-crushing additions to normal bicycle. They have been my secret hamstring and hip flexor weapons for the last 2 years. Need a pair? Shoot me an email: spdsk88er (at) yahoo (dot) com, and I can get pretty good deals for speedskaters, as it's a new market Powercranks is interested in. I know a half dozen ice skaters & coaches who use them & love them, inline superstar Kalon Dobbin also has a set. (sorry for the commercial here, but I do believe in these odd cranksets as a device to make cycling much more skate -specific training).
Ugh, The sun is not even up, and it feels like lunchtime. Several well-traveled skaters have given me recommendations on how to prepare optimally for the dramatic time change I am going to experience. So I have them to thank/blame that two hours ago, at 4am I was driving around Salt Lake looking for a good cup of coffee, it was a futile expedition.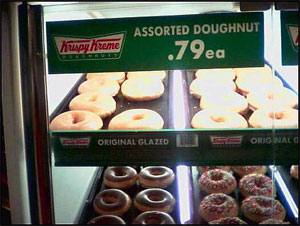 Many people dream about winning, some have the will to try and win, but does one really have the will to prepare to win? That is the really hard part. I find it hard, yet vitally important to do the things like making every rep as technically perfect as I can, refueling my body immediately after workouts, not partying to all hours-or even at all!, working obsessively on weaknesses, and today -waking up crazy early so the euro-time change is less of a shock to my body.
Lest I sound holier-than-thou, in some aspects of willpower I utterly fail. Cruising Salt lake at 4am looking for coffee, I saw the Krispy Kreme truck restocking this shelf with new, warm, delectable Krispy Kremes. My willpower completely crumbled, and I ate one. Sigh… Maybe the victory was that I didn't eat 12!!!
Filed under: from home