Posted on 08 Jul 10:08 pm
A new face showed up today at practice, and suddenly the goofyness level of the high 5 speedskating team increased dramatically. Nate DiPalma and I just fed off of each others energy, and were chattering and goofing through much of the workout today. We were serious when it was time to work, but making all sorts of noise the rest of the time. How well do I know Nate? Actually not that well, just a half dozen conversations over the last year, but sometimes you meet someone who truly marches to the beat of their own drummer, and you enjoy the music of said drummer quite a bit.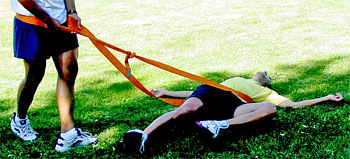 He was not tired in these pics, just goofing about after throwing down some good turncable technique. Nate has been training in Italy recently, as he has dual citizenship, and seems to have a really solid base to add skate fitness on top of. I think he is going to take a shot at Olympic trials in both countries. I look forward to chasing him this year, I need fast people to skate with, and it's a bonus when they come with a good sense of humor attached.
I mentioned in an earlier previous post Salted out in Salt Lake that John Dimon is having knee surgery, he went under the knife today at 11am east coast time. He says he has gotten many calls from readers of this blog wishing him fast healing (thanks folks!). John joked with me over email that he was looking forward to anesthesia, because he really needs to catch up on his sleep!