Posted on 21 Jan 02:18 am
for every picture in this post, click it to see a larger version
This is the central station in Milan. I think this train looks more like a rocket than a train. I rode it for several hours from Milan to Bolzano, and although we did not leave earth's atmosphere, it was quite comfortable and fast. The passenger car compartments seated 6 people facing each other. I felt linguistically inept for the hundredth time since I arrived, as I was with 5 other people with whom I couldn't communicate at all.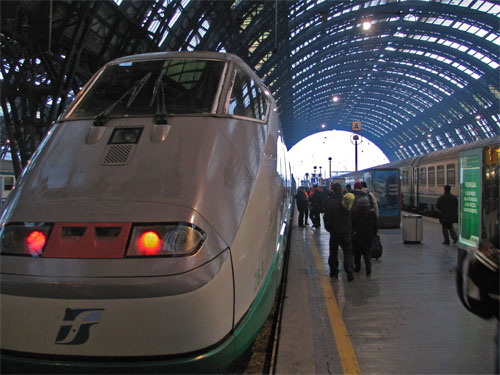 And here is a better view of the really cool roof.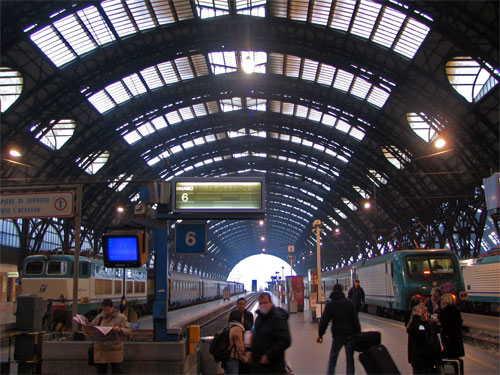 Boris on the small commuter tram in Collabo/Kobelstien, we took this to a gondola that rode down the mountainside into Bolzano. It was not really for tourists, it was for people commuting to work.
The view down the tracks in Collabo/Kobelstien, complete with a very old man in a stained work apron walking down the tracks. As he shuffled by me, I showed him the picture; he gave me a huge toothless smile from under his green felt fedora, and said something to me in German. A person is faced with choices in life, places where tracks diverge, and sometimes when you choose one track, you can't go back.
I like the view from the track I have chosen; this is Austria, just outside of Innsbruck. Innsbruck was the site of the 1976 Olympics, and the physical outlines remind me oddly of Salt Lake; a fairly large city in a wide valley, surrounded on two sides by gargantuan mountains.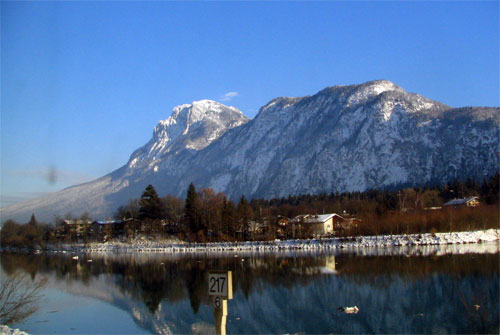 A whole bunch of VW's & Audis blasting by waiting commuters in the Austrian Town of Rosenheim. This train was quite long, it could have stopped and picked us all up, each to our own new car.
Me on the train, hiding my "travel hair" under a baseball cap that probably identifies me as an American from 100 feet away. Gosh I have a huge chin.
4 Comments »
Filed under: on the road