Posted on 29 Dec 12:43 am
This is the inside lining of my superfast racing skinsuit. Like practically every skater who is competing at Olympic trials, I would not be standing at the start line without support (emotionally and otherwise) from my family and friends. I asked my family to write their names on the inside of my racing suit, to make it even more explicit that they are with me every step of the way.
After a sweaty day at the races wearing this unbreathing, vinyl sock, I now have vague wordy shaped blue blotches my chest and back!! Ha!
However, I felt like it brought me luck today. 600 meters into my 1000m race today, I was in a ton of pain, and was struggling with my corner technique at top speed. At that moment, I was .2 slower than my former personal best race. Hitting the final backstretch, at that precise place in the 1000m when my legs usually lock up from the lactic acid burn, I felt myself accelerating the straightaway with a new reserve of speed. My whole family was making tons of noise right there on that final corner, and I skated the fastest final lap of my life, and set a new personal best, 1:14.47, .6 faster than ever before.
Here I am, about 25 meters to go. Still driving, and feeling the "big ouch!"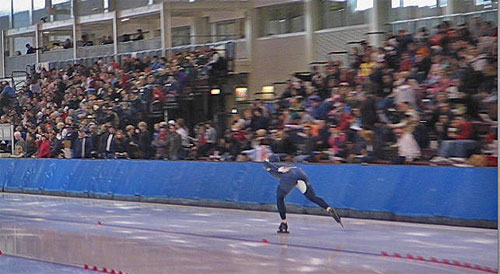 I had to look at the scoreboard a few times, to really mentally connect a 1:14.47 to my name! I have improved my 1000m by 2.6 seconds from my fastest of last year.
I was really happy, I slowed down and coasted/staggered back to the part of the rink where my family was. I saw them celebrating & dancing around as the announcer mentioned it was a new PB for me. Seeing their joy, my own feelings just about completely overwhelmed me.
An Olympic medalist once told me that the most emotional part of actually standing on the medal stand, and getting that medal hung around his neck, was seeing his mother's face in the crowd, and seeing what it meant to her.
I think I understand that comment now, even though no one hung anything on me. I don't really care in some absolute sense that I finished 21st of the 29 skaters who dared the lactic rites of the 1000m (and there was some serious pain out there today). What I care about is the joy in my family, and that I can look in the mirror and say to myself that during Olympic trials I went faster than I have ever gone before.
Sure, It would have been nice to PB in my "best" event yesterday, but live, learn, celebrate with loved ones when you can, and always forge onward!
Filed under: Olympic Trials